In May 1968, a well digger named Wilbur Riddle traveled along U.S. Route 25 in the Kentucky backwoods, collecting glass telephone pole insulators. In the midst of his search, he came upon a bundled up green tarp. Riddle nudged the mass with his foot, sending it down an embankment. In the rapid movement, the tarp unraveled to reveal the bundle within.
It was shaped like a body.
Riddle panicked and ran to a gas station, where he phoned the sheriff about his discovery. A short time later, the sheriff arrived and cut away the covering. What he found horrified him. There, frozen in the stiff position of someone trying to escape, was the badly decomposed body of a young girl. She looked to be a white teenager with short brown hair. Apart from the decay, her appearance was unremarkable.
Once the press took hold of the story, the unidentified female was quickly dubbed the "Tent Girl." Police issued a public appeal for any family members with a missing relative. No one ever came forward. Despite a few false leads, the unknown victim was finally laid to rest in Georgetown Cemetery in 1971 with a heartbreaking epitaph:
TENT GIRL
FOUND MAY 17 1968
ON U.S. HIGHWAY 25, N.
DIED ABOUT APRIL 26 - MAY 3, 1968
AGE ABOUT 16 - 19 YEARS
HEIGHT 5 FEET 1 INCH
WEIGHT 110 TO 115 LBS.
REDDISH BROWN HAIR
UNIDENTIFIED
Decades later, a man named Todd Matthews began dating Wilbur Riddle's daughter, Lori. Lori recounted her father's story to Todd, after which Todd became somewhat obsessed with researching the case. He traveled to the Tent Girl's gravesite and visited area newspapers in search of any small clue that might push him in the right direction. In addition to press coverage, Todd was interested in finding reports of missing persons from the same time period.
The Internet did not yet exist, and Todd's research was limited to phone calls and interviews. For 10 years he gathered shreds of information from various sources, but nothing valuable materialized. Finally, the age of the Internet dawned, and Todd was thrust into a world where distance was no longer a barrier.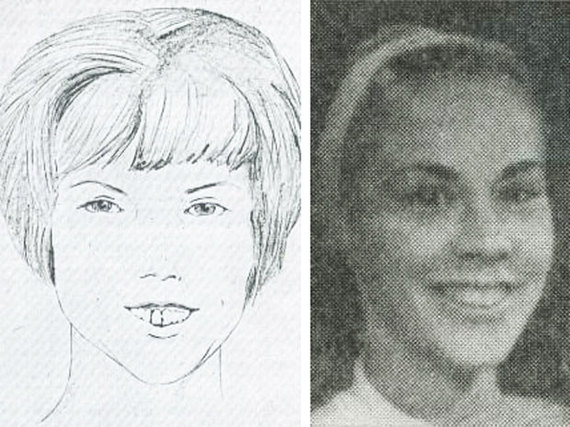 On left, a sketch of 'Tent Girl' released after the discovery of the body. On right, a photo of Barbara Ann Hackmann-Taylor. Photo: Via Lancaster Online
Through a community of people who shared an interest in cold cases, Todd stumbled across a posting one evening in 1998 that put a lump in his throat. It was from an Arkansas woman named Rosemary Westbrook; she was looking for any information on her older sister, who had gone missing after being seen in Lexington, Kentucky. The description given by the woman matched the appearance etched into the Tent Girl's tombstone.
My sister Barbara has been missing from our family since the latter part of 1967. She has brown hair, brown eyes, is about five feet two inches tall and was last seen in the Lexington, Kentucky area. If you have any information, please contact me at the address posted.
Todd contacted the woman and put her in touch with Kentucky's forensic medical examiner. On March 2, 1998, the Tent Girl's body was exhumed and sent to a laboratory in Frankfurt, Kentucky. DNA testing was conducted using a cheek swab from Rosemary and pulp from one of the corpse's teeth.
The results definitively identified the Tent Girl as 24-year-old Barbara Ann Hackmann-Taylor.
Barbara had moved to Kentucky without her family's knowledge. At the time of her disappearance, she was working in a restaurant and had a young daughter. She was also married to a carnival worker named George Earl Taylor, who claimed he hadn't seen her in years and that she had left him for another man. By the time Barbara was identified, George Taylor was long dead, having succumbed to cancer in October 1987. He was never officially implicated in her murder, though Todd Matthews believed him to be responsible.
Solving the mystery of the Tent Girl's identity gave Todd Matthews a sense of purpose. He joined the Doe Network--a bulletin board of missing-person cases--and helped build it into a national database. It now contains thousands of cases. Todd also assisted in the formation of EDAN (Everyone Deserves a Name), an organization comprised of volunteer artists and sculptors who donate sketches and facial reconstructions to help with the identification of bodies.
In a final act of dignity, a second grave marker was placed beneath the original stone in Georgetown Cemetery. It bares Barbara's full birth name (minus her married name), her nickname, and an approximate death date.
She is Tent Girl no longer.
Related
Popular in the Community