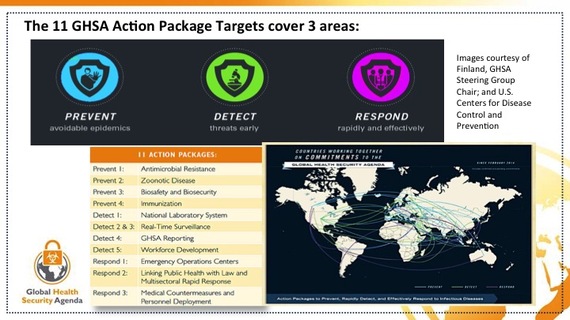 Imagine a world in which everyone pitched in to make us safer and healthier. A place where diseases did not fester for months or years until public outcry demanded action. A world where the risk of intentional or accidental release of horrible diseases was dramatically reduced. A world without pandemics. A place where we -- the public -- participated in public health rather than waiting for the medical community to fix our problems. And a time when we took a global view of health rather than hiding behind our borders.
The seeds of that world were sown last year by an international community of like-minded organizations and governments from Finland to Indonesia and from South Korea to the Netherlands, working together under the flag of the Global Health Security Agenda.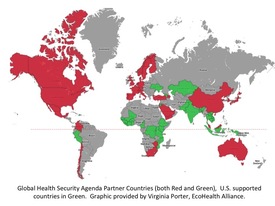 This week, the U.S. government announced our commitment to help 30 countries help themselves to do a better job with health promotion, disease prevention, early detection and rapid response. In a globalized world, everyone's health is intertwined.
I had the opportunity to ask Ambassador Bonnie Jenkins a few questions earlier in the week. Dr. Jenkins is the U.S. Department of State's Coordinator for Threat Reduction Programs in the Bureau of International Security and Nonproliferation. In addition to working with governments around world, she has been actively seeking ways to include organizations and businesses outside the world of government.
WBK: A big part of your work has been focused on reducing chemical, biological, and nuclear threats. What is it about the GHSA that gets you charged up every morning?
BJ: The GHSA is important because it is an effort by more than 45 countries to work together to prevent infectious disease threats. It is an effort that reflects leadership by many countries who want to support the strengthening of health systems. Not only are governments working together, but within governments, different sectors are working together on this initiative. Relevant international organizations are also engaged.
WBK: Is this really about Ebola?
BJ: GHSA is about strengthening health systems for every country. That means that GHSA will help to prevent, detect, and rapidly respond to infectious diseases like Ebola. GHSA was actually launched in February 2014, which predates the time when Ebola was identified, though cases of the disease had been occurring in West Africa. Ebola helped highlight why a global effort to strengthen health care systems is needed.
WBK: Is this just for governments or is there a role for the non-governmental sector of society?
BJ: Many sectors outside government are already engaged in the area of global health security, and they were so engaged before the GHSA was launched. These entities include academic and research initiatives, the private sector, industry, think tanks and philanthropy. We have been working with the non-governmental sector since the launch of the GHSA and groups have been organizing themselves into GHSA networks and also a GHSA Consortium.
WBK: Where does the next generation of concerned people around the world fit in?
BJ: There is a "GHSA Next Generation" initiative that started last year and continues to develop. We recognize the importance of the sustainability of our efforts and ensuring our youth understand the importance of a strong health system. We also want the next generation to begin to work across sectors early in their careers.
WBK: Thank you for putting your skills and energy into this initiative Ambassador Jenkins. The GHSA could be a game changer for tackling disease problems that plague us. I'm particularly impressed by three of the core principles that I heard Dr. Beth Cameron from the National Security Council speak of recently and I would like paraphrase them here:
Be Bold: Make smart and targeted investments in vulnerable countries to prevent, detect and rapidly respond to outbreaks before they become epidemics.
What gets measured gets done: Develop and put into practice independent methods to assess progress and how our investments are making a difference.
Invest in the Future: There is no better time like the present to engage and support the next generation in securing a healthy and safe future.
Popular in the Community