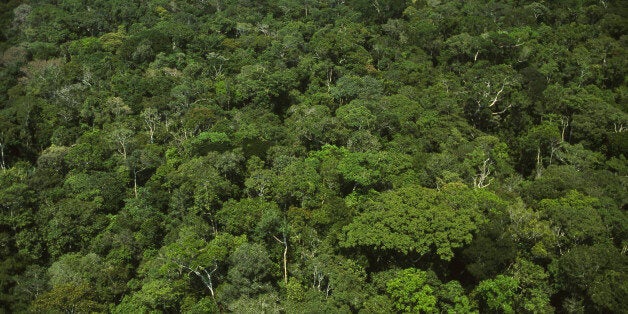 Every day, the attention towards forest and trees seems to grow and make headlines around the world. Why?
First, there's a sense of urgency that we must protect the world's remaining standing forests so that people, animals and plants can continue to access basic resources to survive. From Pope Francis's encyclical on "care for our common home" to E.O. Wilson's recent call to preserve "half the earth, for the rest of life", there is growing public awareness that conservation is critical. Climate change, in particular, with its severe impacts on lives, yields and ecosystems, has helped focus people's attention on the planet and its health. Mudslides, floods, water depletion, and soil erosion connected with deforestation are having impacts too dramatic to ignore.
Second, the narrative has changed. There is now recognition that the sustainable management of forests creates benefits for livelihoods, governance and GDP. Forests deliver for humans, as well as for biodiversity.
At the 2015 Climate Conference in Paris in December, about 90 countries included the sustainable management of forests and land use change in their commitments to fight climate change and its impacts. Forests also featured prominently in the Sustainable Development Goals adopted by the United Nations last September - they are a core part of Goal 15 which aims to secure "life on land". Last week the World Bank Group announced an ambitious Forest Action Plan that places forests squarely at the heart of the development agenda. This week we're hosting a high-level panel discussion called Think Forests: Why investing in forests is the next big thing.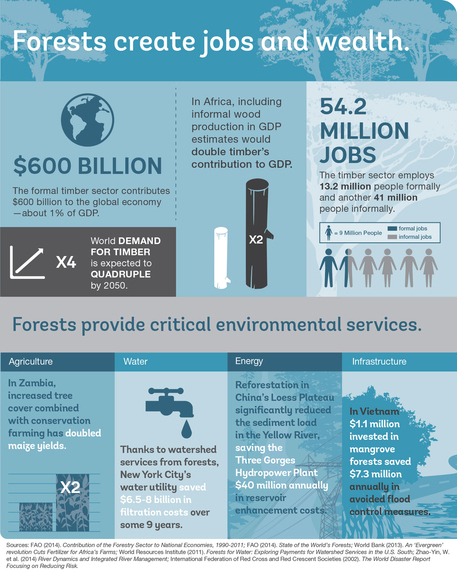 Globally, about 2 billion hectares of deforested and degraded forest land could be restored to functional, productive ecosystems, taking some pressure off remaining forests. Forests, natural regeneration and land restoration are at the heart of many solutions to our most pressing needs such as producing food to feed a growing population, storing carbon, making our land better able to withstand climate change impacts, and generating opportunities for jobs.
When we think about forests, we should see a web of essential systems that can support growth well into the future. Forests and trees make roads more sustainable. Agroforestry increases farmers' incomes, productivity and resilience. Well-forested watersheds produce cleaner and more abundant water and generate more hydropower than hard infrastructure alone. Mangroves protect coastal communities from deadly storms - the list goes on and on.
What is obvious to me, however, may not be so for others. At the World Bank last week, we decided that we would take steps to make the evidence surrounding forest opportunities harder to ignore. We said we would help policy-makers make more informed choices by giving them a clearer picture of their forest assets and the role these could play in building long-term, inclusive and sustainable growth.
Internally, we will partner with colleagues working with government counterparts in sectors such as agriculture, transport, energy, mining and water to identify trade-offs and seek out win-win solutions at a strategic level. We are calling this more holistic approach "forest-smart" - it is rooted in good sense, applied to our common home.
Calling all HuffPost superfans!
Sign up for membership to become a founding member and help shape HuffPost's next chapter