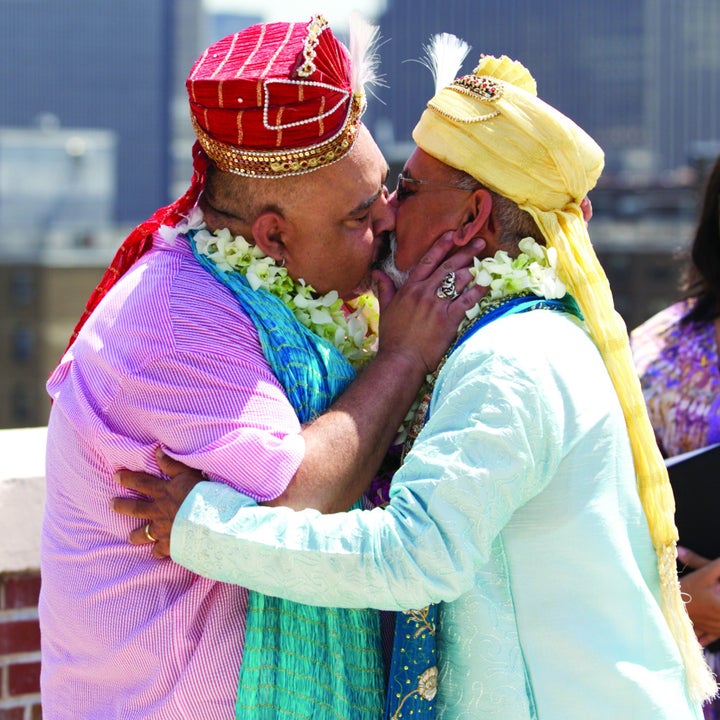 Be ready to cry and laugh as you read this charming love story. When I heard about this couple, I knew I wanted to interview them. They were about to be married by a colleague of mine, the Rev. Samora Smith in New York City, and she introduced me to them.
One came from Hollywood, the other from Bollywood. They were born on opposite ends of the earth, but on July 6, 2012, David and Anil exchanged vows in an intimate ceremony on a Chelsea rooftop. In the hot sun and before a few close friends, they vowed to care for each other as they have for the last 20 years.
David was born in Hollywood on June 1, 1961, to parents who had come to California from a Utah mining town. He has fond memories of being four years old and his mother -- a Methodist minister's daughter -- singing to him at home. Even at that young age, David started singing harmony back to her. Realizing he had talent, his mother, Dixie, enrolled him in a music school, and he learned to read music before he could read words. David went on to sing with the Cathedral Boy's Choir nationally and internationally for over 10 years, until his voice changed, never missing a single Saturday morning rehearsal.
Much of David's boyhood and youth was consumed by music and church. His parents were raised as Christians but had distanced themselves from religion, until they started attending David's performances at churches. Their faith was rekindled and they became born-again Christians. David was an active participant in youth group.
David also loved to cook, and he started innovating with recipes when he was eight years old. "One Hamburger Helper disaster after another, my dad bought me an Encyclopedia of French cooking, and not unlike the "Julie and Julia" story, I went through the entire book," he said. His parents worked at -- and later owned -- a Mexican restaurant near their house, and David started helping out at Taco Lita as a child.
Anil was born in Mumbai in 1952 into an affluent family. The seventh of eight siblings, he recalls a happy, fun childhood. "My brothers wanted to make a man out of me. When we played hockey, they hit my leg first, then the ball," he said, bearing no resentment. His father owned a business and his mother looked after the kids.
Both of his parents were Catholic, and Anil grew up fixated on becoming a priest. But when he was finishing high school and planning on entering the seminary, the rules changed. He'd have to first get a college degree, and only then could he join the priesthood. His mother urged him to take time to think it over, but then his priest told him he wouldn't fit in. "When I told my priest about my sexuality, he said it was a bad idea for me to be thinking about the priesthood," Anil said. "It was like someone pulled the floor from under my feet. I was totally devastated."
Yet Anil did not turn against the church. "I learned to pray and to rely on God to help me through my trials and tribulations."
David also felt rejected by the church. "I still have a very strong belief in God, but I'm more New Age and karmically interested," he said. After high school, he spent three years performing with the Continental Singers. He then earned an associate degree from Citrus College, and a bachelor's degree in theatre arts from Cal State in Los Angeles. After his first performance in a musical -- he was in the chorus for "Fiddler on the Roof" -- he became enamored with musical theatre and knew he wanted to be an actor.
In 1984, two years before he graduated from Cal State, David won a bronze medal for his performance of the title role in "Sweeny Todd" at the Kennedy Center Terrace Theater. He was awarded a competitive scholarship for the master's program at Rutgers University and he jumped on it, knowing it was a prestigious school and it would get him close to New York City.
Anil studied economics and political science at the university in Mumbai. He wanted to study psychology, but it wasn't offered early in the morning, which is when he went to school. He worked all day in a bank. By the time he graduated, Anil's father passed away, and he and his siblings were all eager to start working as soon as they could. His sister was living in Kuwait, and Anil joined her there when he was 24. The money was better than in India, and because he worked for an airline as a freight officer, he could help his family travel to see each other. By then, the siblings were spread out on several continents.
Life in Kuwait transformed him. Until then, he'd only visited Montreal, and had been fearful of travelling. But working for an airline changed all that, and he got to see the world. He initially lived with his sister, renting a room together from a local family. Eventually he got his own place, but his social life was limited. Drinking was banned, and there were not many options of what to do. Even so, he made lots of friends and learned Arabic. "I had a very good life there, I can't complain. I'm very grateful to the country for what it afforded me," he said.
During his 14 years in Kuwait, Anil saw his mother frequently. He travelled to India every two months, and she visited him every March. They also travelled abroad together to visit his siblings in the US and Canada. "My mother and I had a great relationship and we travelled well together," Anil said.
David came out to his family not long before he moved to New Jersey, when he was 22, though he is certain they knew already. He called his mother from a Gay Pride parade, crying and emotional, and telling her he was gay. "Tell me something I don't know," she replied. Unlike his mother, who accepted his sexuality immediately, his father took a while longer to come around.
David loved life on the East Coast. Even after he finished his master's program he continued to live in New Jersey, taking the bus or train into Manhattan to teach voice at HB Studio and to audition. Yet he felt lonely, and after a messy breakup, he was dead set on staying single.
In 1987, the same year that David enrolled at Rutgers, Anil moved from Kuwait to New Jersey, into an apartment five minutes away from David's. "I knew it was a much better life here," Anil said. Not being from Kuwait, his opportunities for growth were limited if he stayed there. Anil was also tired of being in the closet. "I wanted to be able to live my life the way I wanted to live it," he said.
He got a job at a freight company and made lots of friends. Not only did he have the opportunity to interact with many more gay friends, but his eyes were opened in other ways as well. He particularly remembers the first time he went to the Metropolitan Community Church and saw a female preacher. Anil also pursued his love of country western dancing. "I'm an Indian honky-tonk," he said.
Five years after Anil moved to the US, he and David met at a bar, the Casablanca, in Roselle. Anil was there for the dancing and David was sitting at the bar. Anil saw David and thought he was Egyptian. He was too shy to do anything more than wink, and before he knew it, David had left. Anil reminded him of the boyfriend who had recently burned him, and David wanted to keep his distance.
A few days later, May 31, 1992, the two men saw each other at Casablanca again. "It was the night before my birthday, and he was staring me down," David said. Anil remembers seeing the bartender buying David a drink, so he raised his glass to David. "He thought I was asking him to buy me a drink," Anil recalled. The two men shuffled halfway toward each other. As soon as David heard Anil's British accent, he wanted to meet him.
Anil exuded a genteel calm and a peaceful energy that David had never experienced in a gay man. They saw each other the next day, but in the evening David went to celebrate his birthday with old friends.
Two days later, for Anil's birthday, David cooked for him. It was Anil's first taste of champagne. "He prepared me this most incredible meal, and I think it sealed it for me," Anil said. "I just felt such a strong affinity toward this man. I knew, talking to him, and from his energy, that he was the most wonderful person, and I knew I wanted to be with him." That day also marked the first anniversary of Anil's mother's passing. "Meeting David was my mother's gift to me," he said. Anil had not come out to his mother until she was already comatose. "I'm sure she'd had an inkling," he said. "When I told her, I felt her hand in mine, and that was good."
By the end of the summer, David knew he was in love with Anil. "A lot of unconditional love pours out of that man," David said. He asked Anil to get dressed up one evening, and took him for a walk along the river in Princeton. Anil felt certain that David was going to end the relationship. In fact, David wanted more.
About six months later they moved in together. They were poor but they lived a wonderful life, going to the beach, the theater, and sushi restaurants. David introduced Anil to the musicals, and cooked him warm meals. In the summer they hiked Bear Mountain and had picnics at Harriman State Park. They brought their teddy bears, Boobee 1 and Boobee 2, with them. Boobee 1 had been a gift from Anil to David when he was recovering in the hospital after an accident, and Boobee 2, a look-alike, had been a lucky find a while later.
"The bears were our alter-egos," Anil explained. "We conversed a lot through them, and all the stuff that was difficult to say, Boobee 1 and Boobee 2 would say it. They've always been a great part of our lives."
It was 1995 when David's mother became ill. Anil did not hesitate for even a second about moving to California. They packed 130 boxes and settled in Pasadena, caring for David's parents and eventually taking over the restaurant. "I had lost both my parents, and I felt the Universe loved me and gave me a chance at parents again," Anil said. David's father George had completely come around, and loved Anil so much that he wanted to adopt him.
Years later, after both his parents had died, David started itching to get back to New York. They bought an apartment in Chelsea so that David could split his time between acting in the City and being with Anil in Pasadena. The distance has done nothing to their bond. "We are very close spirits," Anil said. "David is warm, and so loving and so kind. You can't but help love him more and more."
Anil is now helping to run Taco Lita, and he feels that he owes his confidence to David. "I blossomed into management, which I never thought I would do," he confessed, adding that other adventures, like skydiving, were never a part of his life before he met David.
When the same-sex marriage bill passed in New York in 2011, David started secretly thinking about proposing. On June 10, 2012, at Anil's 60th birthday, David did. At an Indian-themed party in their garden, before all of their friends in California, David got down on one knee and asked Anil to be his husband.
Less than a month later, they brought five good friends together to witness their marriage. In the Hindu tradition, they touched each other's heart as they recited their vows, and David shared a poem he had written for Anil. The celebration continued in their apartment, where they shared champagne and a homemade pineapple-blueberry wedding cake with their guests.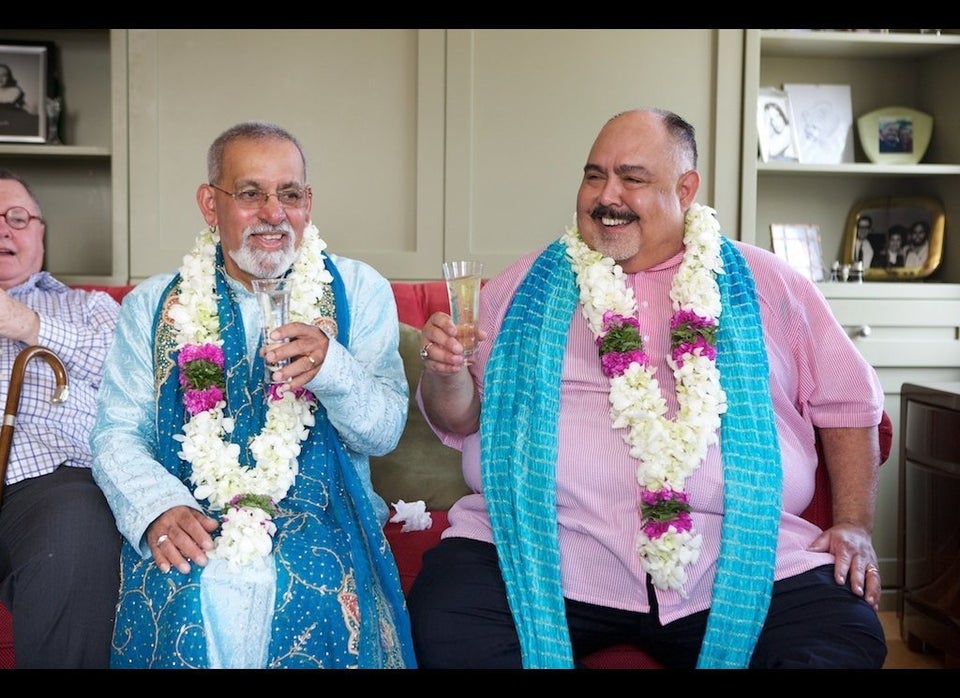 Bollywood-Hollywood Love Story
Support HuffPost
A No-B.S. Guide To Life
Related
Popular in the Community