NFL fans haven't been able to stop talking about Laremy Tunsil since video leaked on Thursday of the Ole Miss offensive tackle (and NFL draft's No. 1 ranked prospect) smoking out of a bong-slash-gas mask. Everywhere, there have been stories and hot takes and videos questioning the man's character.
What Hill did to his girlfriend is horrendous. According to the police report, Espinal told an officer that Hill "threw her around like a ragdoll ... She explained Tyreek has a volatile temper and that he thought it was OK to punch and choke her." Yet most of the conversation around Hill has been about whether he can use the sport of football to change his life, while Tunsil continues to get dragged through the mud because he fell victim to a phone-hacking crime.
By comparison, Tunsil's personal messages, photos and social media accounts were all compromised just minutes before the start of last Thursday's draft -- the perpetrator first leaking an old video of Tunsil smoking marijuana out of a hardcore-looking gas mask bong, then text messages between him and his college coach in which Tunsil appears to ask for money to help pay his mom's bills.
The leak caused Tunsil to fall from near the top of the draft all the way to the Miami Dolphins at No. 13, which may have cost him $10 million in contracts. After months of thorough vetting and scouting, some NFL executives didn't respond well to watching a video of a college kid rip some bong. The draft's top-ranked prospect suddenly became unwanted — New Jersey Governor Chris Christie said he would've "cuffed" Tunsil — and some teams even removed him from their draft boards altogether, according to The MMQB.
Hill's name, however, stuck to boards throughout the weekend. Eventually, Kansas City picked him in the fifth round.
If you read the responses to the above tweet, you'll notice that strong condemnations litter the replies. But overall, Hill attracted much less attention to than Tunsil did in recent days. You could argue that Tunsil got more attention because he was drafted higher, and that's fair enough. But it's also worth asking why there has been so little attention on exactly what Hill was accused of, and why some teams pulled Tunsil off their draft boards, but not Hill.
Hill pleaded guilty to domestic abuse charges in August 2015 and was sentenced to three years probation as well as completion of an anger management course and a 52-week Batterer's Intervention Program. No jail time, but on the surface, an effective sentence nonetheless -- domestic violence advocates don't see outright punishment as the solution to ending violence against women, but rather behavioral rehabilitation. Hill's doing what advocates believe is best for his future well-being.
Nevertheless, only 16 months after he beat the mother of his future child, Hill is now an NFL player, and there are very few people in the league or outside of it who appear to care all that much. The reason football coaches keep inviting men with abusive pasts back into the league is obvious: talent. Hill was once called "fastest guy in the world" by a prominent college coach. If he can manage to stay out of the hands of the law and produce touchdowns, his crime, which will be expunged from his record by 2018 if he completes his sentence, will disappear from our collective memories and from the legal record.
But after two years of known abusers Ray Rice and Greg Hardy dominating headlines, the NFL has created another place in the NFL for a player who's a convicted domestic abuser, and yet, all we can talk about is a bong.
The Chiefs have "uncovered every possible stone that we possibly could," head coach Andy Reid said about Hill on Saturday. Reid maintains that Hill will continue his counseling sessions and receive the Chiefs' support in his treatment. Aware that many fans were upset at the pick, Reid asked for them to give his staff the "benefit of the doubt," per the Kansas City Star.
It's hard to do that, however, when the Chiefs provided no transparency into what they uncovered — Reid gave no details, saying that he talked to Hill's old coaches and teammates but failing to comment on whether or not he spoke to Espinal. Not interviewing Espinal would've been a tremendous oversight on the Chiefs' part, given that coaches and teammates probably didn't know the side of Hill that was capable of abuse. Instead of clearly explaining why Hill deserved to be drafted, Reid was more interested in planting a potential feel-good story:
I just ask that we let the young man get on with his work and life and help encourage him so we can get a positive out of this. That would be great for humanity itself, and then whatever he does on the football field is icing on the cake.
The recovery of Hill's victim, of course, won't involve headlines for "humanity itself" or any celebratory cake. Just a victim watching as her abuser continues on to NFL-sponsored fame and fortune.
It bears repeating: Violence against women is a horrible, complex crime. Ripping a bong in a video is not. To the 44 percent of Americans who've smoked marijuana, it's amusing and common and barely worth thinking about beyond a chuckle. But within the NFL's world, a player's recorded recreational use of a drug that's killed literally no one is graded as a demarcation of character and worthy of virality, all while another player's domestic abuse record is slyly held up as an example of what football can do to to help rehabilitate a man. Has that much really changed?
Related
Before You Go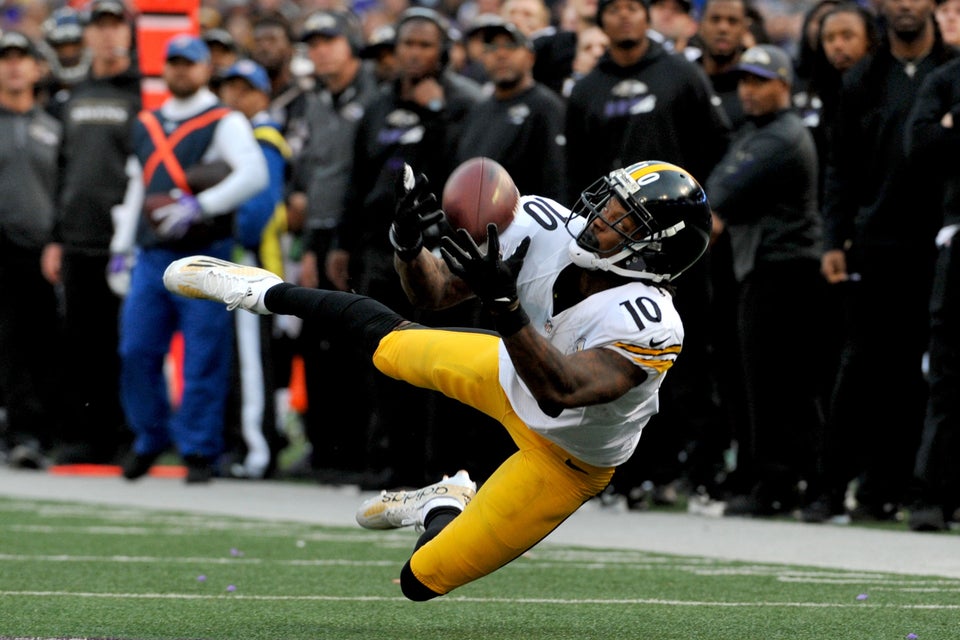 Acrobatic NFL Catches
Popular in the Community