Here we have an interview with Rita Catinella Orrell, LEED GA, an author and design journalist working in New Jersey. She's been a member of the design press for almost two decades, covering interior design, home furnishings, kitchen and bath design, and architectural building products. She was products editor for Architectural Record for over 14 years and was the founding editor of SNAP, an award-winning building products tabloid. She's also the author of a new book on a totally different kind of products: snappily designed sensual objects. It's called "Objects of Desire," and we interviewed her via email yesterday: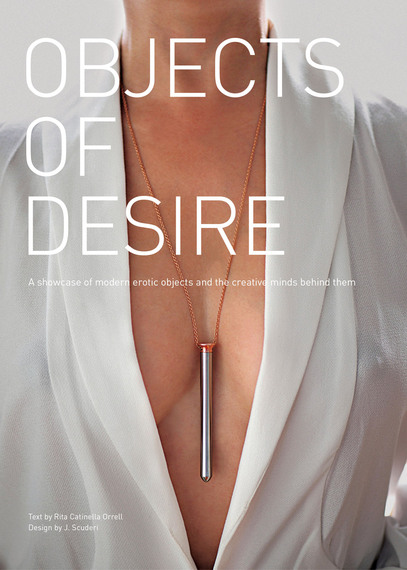 So where did the idea for this book come from?
When I launched my product design blog,designythings.com, in 2011, I started researching new products to cover and discovered that sex toys like vibrators and dildos were winning major industrial design awards around the world. I started collecting and sharing cool new designs with family and friends and there was great interest. I also noticed there wasn't a book on the market that was focused on functional, smartly designed objects for sensual pleasure. I thought it might be fun to pull them together in a book for others to enjoy. I reached out to my friend, designer Jason Scuderi, to see if he was interested in coming up with a book design and he was intrigued. For us the book was always about product design first, sex second.
Our goal was to show the level of design that is now being applied to products that were once cheap, toxic novelties.
What are you trying to convey to the reader?
We wanted to show that even objects used in the bedroom go through the same R&D process as an electric razor or other personal accessory. Designers are applying the latest technologies -- like 3D printing and app-controlled devices -- to develop objects that help bring joy and pleasure to individuals and couples. We wanted to convey that their design and function should be taken as seriously as any other product on the market.
How did you go about researching it?
I had a good group of products that I'd collected for about a year. I visited sex toy review sites, sex toy shops, a sex toy show, and did a lot of online research as well. I interviewed retailers to see what brands and categories impressed them, from fashion to furniture, and went from there. If possible, we got samples, but that wasn't a requirement. It was never about our personal experience with the products.
How long did it take to develop?
It was two years from conception to being ready for the printer, then another 6 months until it was ready from the printer.
Where did you find your inspiration for it?
Museum displays and catalogs were an inspiration for the look of the book. We wanted it to be modern, clean, and of course, sexy. We think our publisher, Schiffer, did an amazing job with the final product.
The challenges in writing it?
Entering into a market where I was an outsider was a challenge for sure. I needed to gain the trust of those who never heard of me before, particularly the bloggers. Like with any new industry, I asked a lot of questions, and as I grew more informed I become more comfortable in the industry. At first, writing about sex wasn't in my comfort zone, but I needed to push past that to focus on the good work that is being done. It was our job to share that news with readers.
What struck you most about the creative minds behind the products?
I think what was most interesting was that most designers came from other industries. There are not a lot of designers coming straight out of school, although we do have some in the book. There is a huge potential for designers to enter into this industry - we hope some become inspired after reading the book.
Related
Popular in the Community