"You must let suffering speak, if you want to hear the truth."
-- Cornel West
Paper Love, the debut book of journalist Sarah Wildman, unearths the story of Valy Sheftel, the woman left behind by Wildman's grandfather Karl when he fled Nazi-occupied Vienna in 1938.
Wildman "discovers" Valy following her grandfather's death when she finds photographs of the smiling young woman in Karl's home office. When she asks her grandmother about the woman in the pictures, the response startles her: "She was your grandfather's true love."
With this answer, Wildman begins a decade-long journey across continents, initially to fill in the gaps of her grandfather's escape story. She is quick to recognize that the version of the truth with which she grew up - that Karl was so lucky to have come to America with his immediate family - was an incomplete narrative. After all, he was already a grown man, a trained physician, when he arrived on the shores of the US. Though he came with his family, he left the trappings of his young adulthood, including classmates, friends, and lovers, behind.
In Paper Love, Wildman not only reconstructs Karl's lost world, but also works tirelessly to "un-disappear" Valy, and in so doing to "memorialize the un-memorialized victims" of World War 2 - those whose stories don't end, but rather, vanish into thin air. What happened to Valy? What was her fate?
To learn the more complete truth, Wildman lets the suffering speak.
Relying on a combination of letters written by Valy to Karl and her own unrelenting journalistic skills, Wildman recreates for the reader in harrowing detail what life might have felt like for Valy. She explores Valy's inner world, her psychology, characterized by a keen instinct for self-preservation (apparent in her clinging to the memory of a love that flourished in a time of freedom) and a desperation for escape. Wildman also depicts Valy's outer world, the highly impractical practicalities of day-to-day life as a Jew living within the Reich: the difficulty keeping warm when laws forbade them from buying new clothing, the impossibility of staying nourished when regulations limited what food they could buy, at which shops, and at what hour. Wildman painstakingly fleshes out the deprivation and trauma experienced by the culturally, intellectually and physically starved Jews of Europe so that we all might join her in making legible, again, a life nearly erased.
Throughout Paper Love, Wildman wrestles with the value of the telling and retelling of past traumas. Trauma, as defined by mental health professionals, refers to contact with actual or threatened harm, injury or violence directly or indirectly (that is, by witnessing an event or learning that such an event has occurred to a loved one).
Wildman provides several glimpses of the ways in which survivors of Holocaust trauma have chosen to survive. She thoughtfully explores the toll this has taken on them and their loved ones (describing, for example, the nightmares reported by the spouse of a survivor who was unable to share his memories with his family) as well as the effect it might have on future generations' ability to know the past and to digest it.
Wildman also reveals her own uncertainties about how to move forward and heal; she recalls childhood nightmares about the Holocaust, worries about the impact it will have on her own small children, and wonders if there is a way to "impart the history without the burden." But despite her discomfort, disgust and sadness with what transpired, she acknowledges the grave importance of burdening the next generation as the generation of eyewitnesses perishes: "It is important that we have one another. It's not possible to remember alone."
Indeed, for trauma to heal, it must be shared. The healing for those who suffer from emotional consequences of traumatic experiences is most often achieved through an arduous therapeutic process of prolonged exposure. This involves a vivid telling and retelling of the trauma, which over time teaches victims how to tolerate recollections of intolerable experiences without incessantly reliving them.
In Paper Love, the story of single, remarkably ordinary woman illustrates the collective trauma of a people and a generation. We are encouraged to engage closely with the storytelling and, by extension, the healing process. Perhaps sharing these burdensome stories - of the victims of genocide, slavery, and displacement, to name just a few - can relieve even a fraction of the weight of memory rooted in the hearts and minds of the victims and future generations. If so, then it is our collective obligation to tell, to read, and to listen to as many of these stories as possible. After all, there are too many moments of human oppression in our collective past, too many individuals (too many Valys!) whose stories do not end, but rather disappear, diminishing us all.
By pressing ourselves into service, by bearing witness, we can learn the delicate balance of holding history, as Wildman puts it, "selectively, simultaneously close and at a distance." In so doing, we are likely to feel not only more connected to the past, but more responsible to one another, and to healing, in the present.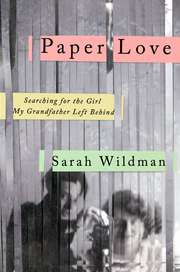 Paper Love.
Written by Sarah Wildman.
Published by Riverhead Penguin.
To hear more about the writing of Paper Love from the author herself, listen to this recent interview on NPR's All Things Considered.
REAL LIFE. REAL NEWS. REAL VOICES.
Help us tell more of the stories that matter from voices that too often remain unheard.