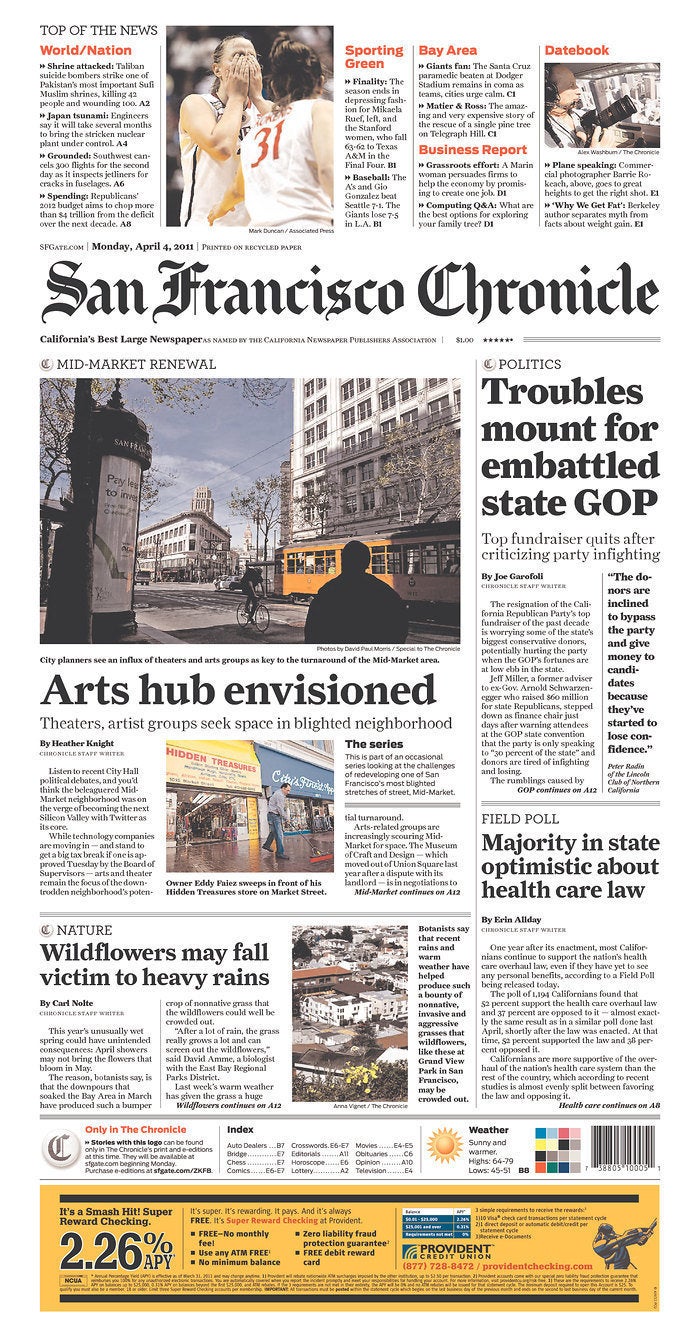 If there is or was a favorite "first business" in America for the past one hundred years, it is probably delivering daily newspapers as a newsboy. Now, that business has shifted from eager youngsters on bicycles to less enthused adults in pickup trucks. I think that's too bad. Every young person should have the benefit of learning what is involved in the business basics of buying, selling and working with customers. Even people whose work area is a cubicle in corporate America would be better off having these skills at their disposal. In reality, each of us is a chief marketing officer and a self-sales manager.
Think of the many times while watching old movies that we've seen a newsboy working an urban street corner shouting the latest headlines to attract attention for his product. "Extra! Extra! Read all about it," was a shout heard on the streets of Manhattan from the early nineteenth century onward. That was an inspiration for me when I first took on a newspaper route at age 12 to deliver the Sunday edition of the Buffalo Evening News while growing up in Niagara Falls, New York. Finding that I liked making my own weekly allowance money, a business expansion for me was switching to daily delivery duties for the Niagara Falls Gazette which meant a larger potential income.
It was a real business because I had to purchase the papers for x, sell for y and deal with an interesting variety of customer personalities. Whatever was left over was the profit. If customers were late paying, or didn't come up with the $.75 per week, the effect on my pocketbook was immediate. But I was proud to walk the grounds of the Center Court public housing project carrying the Gazette in twin canvas bags. An older sister taught me how to run a simple balance sheet and my mother gave me a Sanborn Coffee can to hold my funds. I remember proudly wearing a change making machine on my belt to keep the coins organized on collection days!
With the world of physical newspapers shrinking faster than publishers would like, the ranks of paperboys and girls is trending downward as well. In 1990 which doesn't seem like very long ago, about 70% of the newspapers were delivered by youngsters. By 2008 that number had tumbled to 13%. This happened because in the name of efficiency newspaper distribution systems adopted bigger bundles to cover wider areas. All of this requires people who are old enough to drive and who own a vehicle. Enter the era of the adult newsboy or woman.
Also, I expect that the mindset of boys and girls between 11 and 16 years of age has changed. A lot of them would prefer to work their parents for the money rather than working a business or job to get spending cash. Another factor is that in too many of our country's urban areas parents and kids are beset by the fear of walking anywhere. It was only recently that I heard the phrase "Stranger Danger" which is insidiously infecting our society.
I know that many successful men and some women trace their success habits back to lessons learned on a newspaper route. Smokey Robinson the famous singer-songwriter tells a story of how his earnings as a newsboy were used to purchase the notebooks he used to write his songs. I'm told that Walt Disney, H. Ross Perot, Tom Brokaw, Wayne Gretzky, Jackie Robinson, John Wayne and Martin Luther King all delivered newspapers in their younger years. Thomas Edison was hustling papers at age 12 and Warren Buffett sold copies of the Washington Post. Maybe that's why he tried to purchase the company later!
In our society, we mark the growth of our children by their first steps, first bicycle or roller skates. Whether it's a newspaper route, lemonade stand, or computer repair service, they should also get a chance to operate a first business, even if there's no immediate profit. They'll absorb lessons as valuable as those any educator could give them. I'd bet that Mark Zuckerberg's parents are immensely proud that he had a first business!
Calling all HuffPost superfans!
Sign up for membership to become a founding member and help shape HuffPost's next chapter