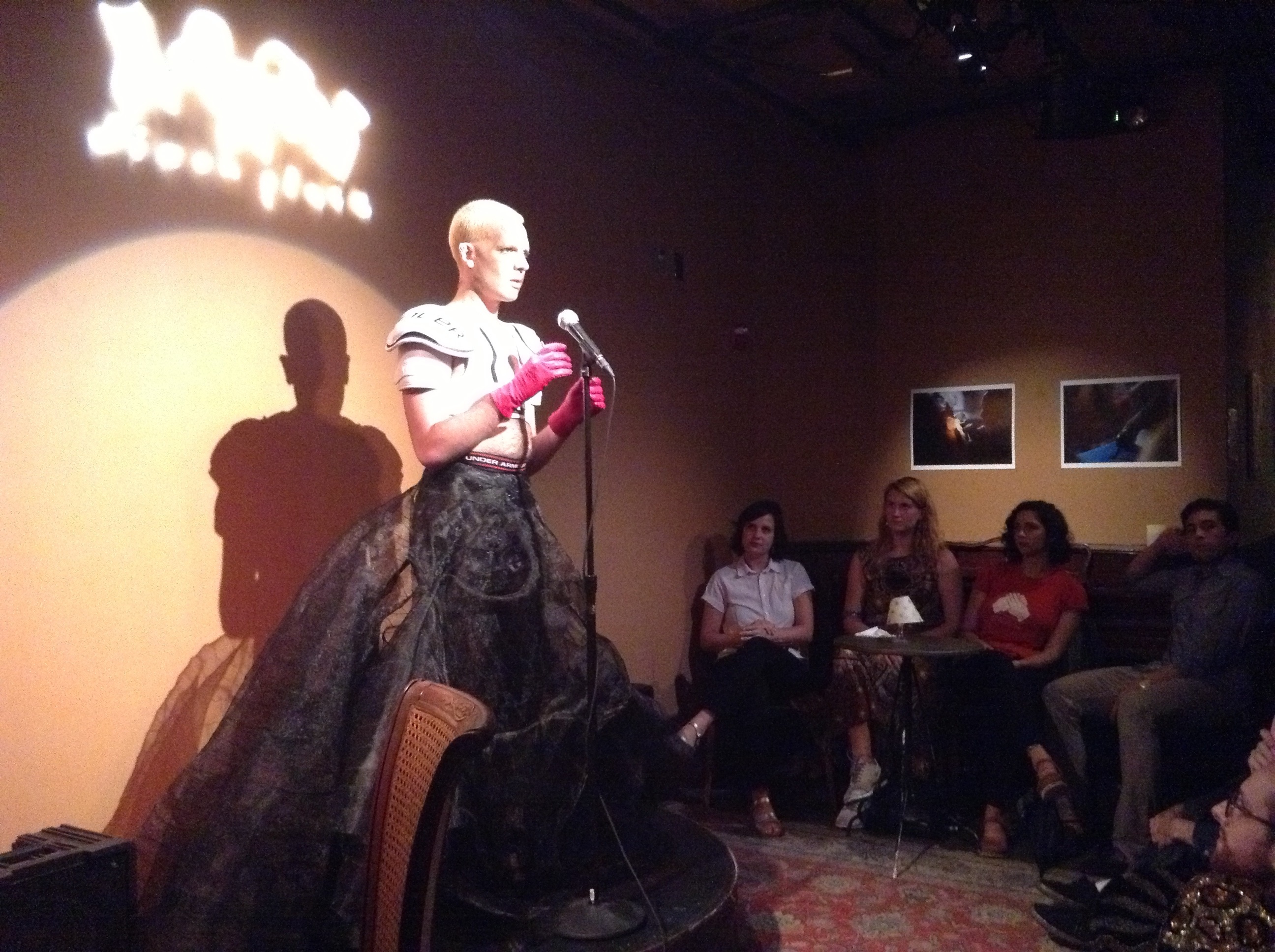 Hari Nef is not a drag queen. On stage at the Dixon Place cabaret on August 1, they (the preferred gender-neutral, singular pronoun is "they") don bulky athletic shoulder pads, a flowing toile flamenco skirt, and red leather gloves. They wear trademark rhinestone ear clips, reminiscent of both Breakfast at Tiffany's and Paris is Burning. Hari's eyebrows are shorn, and cropped blonde hair which frames a delicate and exquisite face brings to mind a young Annie Lennox. They wear little makeup save for a glossed lip and delicately-applied dirt-blotches on their face and décolletage. "The world has changed," says a voice on an audio montage which Nef has created for they's 30-minute show, I am Your Girlfriend. And so begins a brief exploration into gender and identity, which is not, under any circumstances to be considered mere drag.
If the world's oldest profession is women peddling their flesh, then it is very possible that the second oldest profession involves men adopting feminine attire, which at times in history was used in a brothel setting (Ancient Greece) or in the theatre (Victorian England) or to entertain marginalized masses in gay clubs pre and post-Stonewall. But drag today is as mainstream as cruise ships, disco, and RuPaul on Logo, which is good in the sense that it corresponds to a broader sense of acceptance of LGBTQ individuals. But for an artist who wants to do more than entertain, a dress, some feathers, a wig and some lipstick, are too much, and yet, not nearly enough.
"I've got nothing against drag," says Nef, "I got my start in the scene." But it's clear that Nef's work, along with that of the group they are affiliated with, Chez Deep, an innovative New York "drag sisterhood" which has done shows at Art Basel in Miami and the Ace Hotel in New York, uses elements of drag to create a new style of performance art that provokes and piques as much as it entertains. In I am Your Girlfriend, Nef performs to an audio track that includes monologues from a selection of disparate voices that they say were influential to their own trans-feminine consciousness. Some are familiar, like Giada De Laurentiis who happens to be making her man an omelette. Some are obscure, like the anime character who speaks to a version of her younger self. Some voices are humorous, like Margaret Cho, who recalls pooping in her pants, while sitting in traffic in L.A., an unforeseen result of a strange weight-loss diet. And one of the voices is sullen, and dark, yet surprisingly prescient, that of Aileen Wuornos, the Florida serial killer whose life was dramatized in the film Monster, which won Charlize Theron the 2004 Best Actress Oscar.
Nef doesn't just lip-sync the monologues, they inhabit the characters, and each change in voice corresponds with a distinct shift in facial expression and body language. The acting part comes naturally. They've been doing theatre since they were high schoolers in Massachusetts, and they even played Edna Turnblad in a production of Hairspray. In September, the 20-year-old will enter their junior year in the drama and theatre arts program at Columbia. They cite performers John Kelly, Alexis Blair Penney and their teacher Kyle deCamp as major influences on their work. I don't know if the skills a person needs to make a significant impact as a performer can actually be taught, but no matter, Nef's already got it. For now, they are less concerned with the audience reaction and more interested in "adding something of my own to the way people look at gender." With I am Your girlfriend Nef does just this. They suggest that within every human, there is both male and female and within every woman, there are many voices: a kitchen goddess, a superhero, a comic and a killer. And Nef's message -- like the drag world from whence they came -- is delivered with delicious wit and style. Photograph by Gerry Visco.
Calling all HuffPost superfans!
Sign up for membership to become a founding member and help shape HuffPost's next chapter