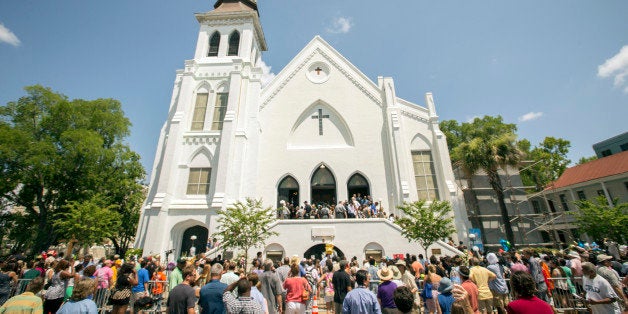 A crisis of racism as an idolatrous ideology is upon white Christian theology. White Christian theology needs to decisively break with this ideology, or lose the right to call itself Christian.
I believe we have reached what we should call a kairos moment in the U.S. Kairos is an ancient Greek word and concept; unlike chromos, or time understood as the ordinary sequence of events, kairos actually means a break in time, a time out of time in which everything happens all at once.
And it has. The immediacy of Twitter hashtags captures this break in time so well. #TrayvonMartin #MikeBrown #TamirRice #Tanisha Anderson #EricGarner #Ferguson #ICan'tBreathe #HandsUpDon'tShoot #McKinneyPoolParty #BlackLIvesMatter and now, #CharlestonShooting. And, of course, the list goes on.
The massacre by an avowed white supremicist of nine African American church leaders, including the pastor, in a Bible Study at Emanuel AME Church in Charleston, SC is clearly not an isolated incident. It is so much more. It is everything happening all at once. If you look carefully at what produced the massacre in Charleston, you can see American faith and life exposed, a freeze frame, a break in time.
The great twentieth century theologian Paul Tillich spoke frequently of kairos. For Tillich, crises in history are moments that demand an existential decision by human beings. That means, as he writes, a moment of history had appeared which was "pregnant with a new understanding of the meaning of history and life." (Systematic Theology, III).
There is a new meaning of history staring us in the face today in the United States, or, at least, a new meaning to many white Americans. White America has never dealt with slavery and its aftermath and now we are living with the accelerating destructive effects of that historical failure.
So, this much I do know: Decisions about where you stand (and I stand) on the ideology of white racism and what you (and I) do going forward must be made. Neutrality, or 'let's wait and see,' or, God help us, justifications for individual acts of racist violence, can no longer be in any way tolerated.
Liberation theology has taken on this concept of kairos as a crisis in a historical moment in which a decision must be made. One of the best-known examples is the Kairos Document in South Africa . That document begins, "The time has come. The moment of truth has arrived. South Africa has been plunged into a crisis that is shaking the foundations and there is every indication that the crisis has only just begun and that it will deepen and become even more threatening in the months to come. It is the KAIROS or moment of truth not only for apartheid but also for the Church."
There are other Kairos documents from other contexts, including other countries in Africa, Europe, and one of the best-known, A Moment of Truth: A Word of Faith, Hope and Love from the Heart of Palestinian Suffering. All can be found in the link above.
I have come to believe that this moment in the United States looks very much like a theological break in time. I ask you, if you are interested in pursuing this line of reflection yourself, to read all the Kairos documents linked above and perhaps find ways to pray and reflect with others in faith about this moment, and what has to change.
There are five things, however, that these Kairos documents suggest to me right now, and I offer them to you as my reflection on the fact that I believe thinking through a process to get to a Kairos America is now imperative.
White Supremacy is a Heresy
One of the real theological breakthroughs in the faith-resistance to apartheid in South Africa was when a group of theologians and religious leaders declared Apartheid is a Heresy.
In that volume, John De Gruchy wrote, "It has thus become necessary not only to recognize apartheid as a sinful policy, but also to reject it as a heresy that is dividing the Church and compromising its proclamation of the gospel of Jesus Christ. No Church, indeed, no Christian is exempt from taking a stand on the issue. To choose Jesus Christ implies rejecting apartheid; to choose apartheid means rejecting the implications of his gospel. The alternative is as stark as that, and the choice must be made."
Substitute "white supremacy" for "apartheid" and you'll see what I mean.
I have posed the question whether Americans Trust Guns More Than God but no one has made the point about the real faith status of gun worship better than Gary Wills. Wills wrote that guns are Our Moloch a slavering demon that craves blood. "The state itself bows down to Moloch, and protects the sacrifices made to him. So let us celebrate the falling bodies and rising statues as a demonstration of our fealty, our bondage, to the great god Gun."
"Stand Your Ground Laws," especially as applied in the racist fashion they have been, are the liturgy of the worship of the "great god Gun."
Confess, Repent and Change: Embrace the True Dynamics of Forgiveness
Some news outlets have led with the words of forgiveness by the families of the Charleston Church victims when they confronted the 21-year-old suspect during his initial hearing.
But here's what they really said. They described their pain and anger, and then talked about the full dynamic of forgiveness, "I forgive you, my family forgives you," said Anthony Thompson, whose relative Myra Thompson was killed. "We would like you to take this opportunity to repent."
This teaching is crucial: forgiveness cannot be separated from repentance. Americans are already far too prone to "forgive and forget." Instead, confession, repentance, change, and forgiveness constitute the full dynamic we need to keep in front of especially white America.
As people of faith, and especially as white Christians, we need to make a concerted effort to turn police back into community "peace officers" and change the culture of militarism in police forces. Police forces need to be required to take this step, along with confronting and eradicating the penetration of white supremacist attitudes in policing culture. Faith leaders must meet with their local governments and demand that these changes be made.
Listen to Jesus: Read the Signs of the Times (Matt. 16:2-3)
Jesus warned the religious leaders of his own times that they had no idea how to see what really mattered in their own time. "When it is evening, you say, 'It will be fair weather, for the sky is red.' And in the morning, 'It will be stormy today, for the sky is red and threatening.' You know how to interpret the appearance of the sky, but you cannot interpret the signs of the times.'"
This must be a faith imperative for all Christians today, but white Christians need to pay particular attention: read the signs of the times and realize that we have reached a crisis on racial violence.
Many more changes are needed in white theology than these few I have suggested, and perhaps we need a Kairos America. That would call for a widespread process initiated by the African American community itself if deemed wise, and it would call for a great deal of humility on the part of white theologians, including myself, to engage such work if it is undertaken.
But that does not mean I as a white Christian cannot do some work that needs to be done , and call for changes in white theology. I believe this means: rejecting white supremacy as heresy, calling out gun culture for the demon it is, truly confessing, repenting of and changing white racism, calling for the demilitarizing the police and promoting retraining, and in all this, listening to the teachings of Jesus Christ on how to read the signs of the times.
And that sign is: a break in time is occurring.
Related
Popular in the Community