Breast cancer. Two words that will change your life forever, whether you are the patient receiving the news or the support system in place for your friend or loved one. Nothing can prepare you for the emotional journey that will take place. That's how London fashion stylist Karina Givargisoff felt when her close friend was undergoing breast cancer treatment. "Having witnessed a person so dear to me suffer with an awful illness, my mindset has shifted permanently," says Karina. "Now my overwhelming question is: What can I do?"
To raise awareness of charitable causes, Karina started Mission Magazine – the first-ever fashion nonprofit media brand. With the tagline "For Fashion, For Beauty, For Good," Karina leans on her international network of fashion industry peers to share ways they're giving back. Every six months, Mission will use fashion to shine a light on a different cause, with all proceeds benefitting charities.
For Breast Cancer Awareness Month, I sat down with Karina to discuss the inspiration behind Mission and what we can expect from the first issue launching next spring.
What inspired you to start Mission Magazine?
My friend was diagnosed with breast cancer in 2013. I think the idea came after her first mastectomy. She was having a lot of trouble with it. There were a lot of complications. She went through an awful lot of seven- to eight-hour-long operations. I was on a photo shoot for an advertising client and it was hard to concentrate on the job, knowing she wasn't even halfway through this operation and worrying about if she was going to come through okay and how she was going to be afterwards. I was very worried about her, and it just got me thinking about how else I could use all my years in the creative industry to do good.
Your inspiration for Mission Magazine reminds me of Donna Karan who started a foundation after her husband passed away from cancer. Michael Kors is also passionate about breast cancer awareness. How important is it for your fashion industry peers to use their platforms to raise awareness about cultural, social, and health issues?
I think the impact is enormous. When you look at all of these brands, models and the shows, and how much they put messages out on Instagram and Snapchat, they have millions of followers. When you start to use that for social awareness and to do good, you've got a global reach then and not just the fashion industry. I think it's important for people to have those kind of followers, to not just educate a younger generation but to also want them to be part of it. Just posting something on social media can have such an enormous, powerful effect in a great way. It takes 20 seconds and it's free to do. That's one element of what we want to try to achieve and have people be inspired by. Not just in the fashion industry, but arts, film and music.
We've started a #MyMissionIs campaign on Instagram that we want people to participate in. I want those to be our teasers before each issue. People can say whatever they want to say. But for me, it's more important to not just talk about or take a picture of the food you're eating, the shoes you buy or a film you've seen. Let's mention something related to social issues that we're seeing and hearing about every day that are sometimes catastrophic. Sometimes we do have the power to help.
A lot of people have said to me that there isn't a social platform for this because it's never been done before. That's what drives me to do it. Everyone can be a part of this. It's not a niche title. I don't want it to be just the same old people you see involved in the magazines and fashion industry. I want new and fresh talent to be a part of this, too. Giving people a chance to break into a tough industry is something I care about, as well.
How difficult has it been to get the support of your fashion industry peers on Mission Magazine?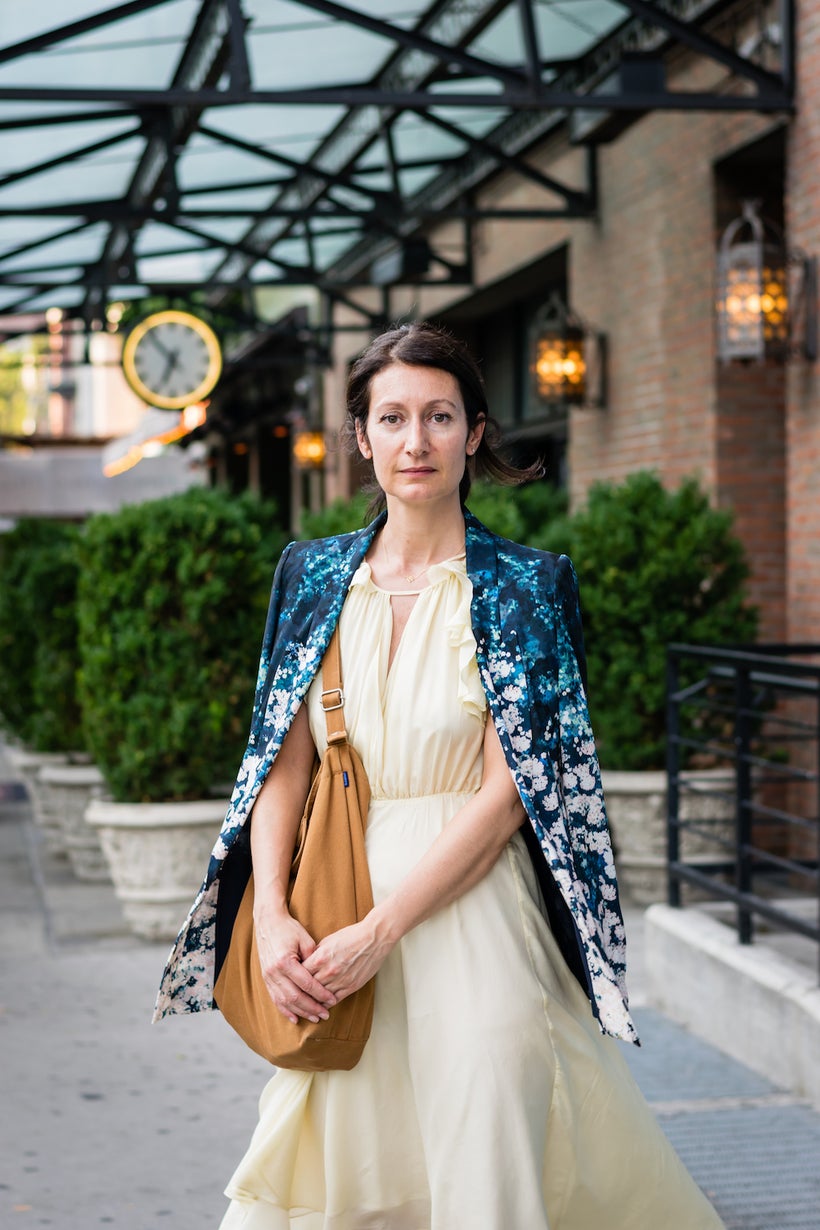 It's been incredibly difficult. I guess it's because I'm mainly known in Europe because I'm English and that's how I started my career. I'm not that well known in America. I've never played the game. I've always found it very difficult to play the game. I'm not that character. From my upbringing, I'm very normal and grounded, so I found it very hard to always be in an environment where there's lots of fabulous fashion people. My upbringing was a little different. My oldest brother had Down syndrome. I've had a very different outlook from the get-go. I love the creative process of my job.
The catalyst for this really stemmed from losing my mom and brother within 13 months of each other. That was what changed me drastically and gave a completely different outlook on the job that I do, and my friend getting sick was the tipping point to want to do something different. I really reached the breaking point of thinking "I can't do it anymore, but what am I good at and what do I love?" I didn't want to throw away 18 years of work and contacts to do something drastically different. There have been people I haven't spoken to in over 10 to 15 years that I've reached out to about this project and they've been phenomenal.
One amazing Norwegian photographer Sølve Sundsbø based in England does the most amazing and inspiring work. I hadn't seen him in about 14 years. I had a pamphlet with a mission statement, and he was completely willing to help with images because it resonated with him. My beauty director Val Garland has an amazing eye. She does all of the shows in Europe and lots of American Vogue covers. I went to her house and I showed her the same thing I showed Sølve. She said, "I love it, there's a real need for this." She agreed to be my beauty director. I felt very honored to be shown this support from the start with two really respected people in the industry.
I met Mary McCartney (Paul McCartney's eldest daughter) through mutual friends, and she was willing to help with whatever I needed. Many of the people I haven't talked to for many years are connected because of a close loved one or a friend who had breast cancer. I feel like I've been in a cave for three years building this, and I wasn't prepared to reach out to too many people until I had all of the things like barriers, hurdles, legalities, red tape and the business side locked down. I very much try to plan ahead for the worst-case scenario, and a couple of months ago I thought to go public with the charity because it was time to just 'GO'.
This is not a niche title or vanity project. We invite people that have the right mindset and want to make a difference to be involved. I hope that with more press, that will inspire people to reach out and be a part of it. My accent might throw people, but it's an American product coming out in New York City. Philanthropy was born into the American DNA, and I strongly believe in doing it here. I love this city I call home. I think it's the one country that really gets behind charities and supports them and can raise serious money to make a difference.
What have been some of the barriers in reaching fashion people?
There's a plus and a minus with Americans being so philanthropic. They hear the word charity and it has certain connotation when you say it, which is why I've always pushed to meet people face to face, so I can show them the prototype and they can hear what I have to say. Typing stuff in an email doesn't work. Even if we put the video and a PDF of the magazine in it, people don't have time to look at stuff these days. You have to get their attention in a minute or so.
I think once they take time to look at all of the material, they realize that I am serious and looking at charity in a new way. I want it to look like a cross between bi-annual magazines in Europe and W or Vogue magazine. I love Vogue's writing. I think the pieces that they do are very intelligent, inspiring and educational.
Once they see what I'm doing, they usually find it cool and say that it hasn't been done before, they love the look and aesthetic of it. The challenge has been getting face-to-face meetings with people to be a part of this, and having to fend for myself to connect with these people. It's so much work daily, and I don't mean 9 to 5, Monday through Friday. It's 7 a.m. until midnight sometimes, Saturdays and Sundays. It's all consuming, but I love that about it and I care about it so much.
We got our charity status last year in under two months, which is unheard of. My tax accountant Daniel Romano at Grant Thornton has patiently guided me through the charity aspect of all of this. He connected me with World Bicycle Relief. They donate bikes to third-world countries and they're possibly looking to reach out to India. Their bikes at $147 are custom made in America with an industrial frame and tires for the rough terrain of third-world countries. I had a conference call with them the other day and asked them to work with me because I've been passionate about India for so many years, and I finally feel like I have the chance to try and do something different for some young girl or woman there.
What drives your passion for India?
As a young person living in London, I would often see the atrocities that would happen to young girls on BBC News on my phone. I initially started to get educated on world issues, especially generated towards women with stories about arranged marriages, acid attacks and honor killings. Young girls don't have a safe sanitary environment, and live in constant fear of rape and attack. Reading that on a regular basis really angered me and it still does because it's still happening.
We are looking at different charities for us to partner with, support and give grants to, but I expect them to be part of Mission and work with us somehow. Camfed states on their website that it costs only $100 for a bicycle to give to girls in India. I live in New York City so that's one person's dinner sometimes or a pair of sneakers. I can sacrifice that to give a bike to a girl in India. To have that follow-through and the story of where that money has gone to help that person, that's what drives me.
We would love to find a girls' school and give them Mission SOS packages and they each get a box with a sweater, a beauty bag, sanitary products, underwear, socks, and a pair of shoes all in collaboration with different brands that can donate to us. Whether it's Estee Lauder, TOMS, Gap, Staples, Johnson & Johnson, how amazing would that be. They would each get something like a Christmas box. I think that would be so wonderful. Perhaps my optimism and naivety make me think things like this are not difficult. I think people just need to put the brakes on whatever else they're doing sometimes and chip in and help.
Help can come in so many different shapes and forms. It doesn't have to be monetary or merchandise. It can be using social media to raise awareness. We're going to be very guerilla and tenacious about making this happen because there's no platform for this. Not even just with girls in India, when you look at the news about Syria having no water, something needs to be done somewhere. A lot of fashion communities have charities they support, but I think that's a drop in the ocean compared to what everyone else can do. I really feel we should build a fashion ecosystem that everybody can be a part of.
What can we expect from your first issues of Mission Magazine launching next year?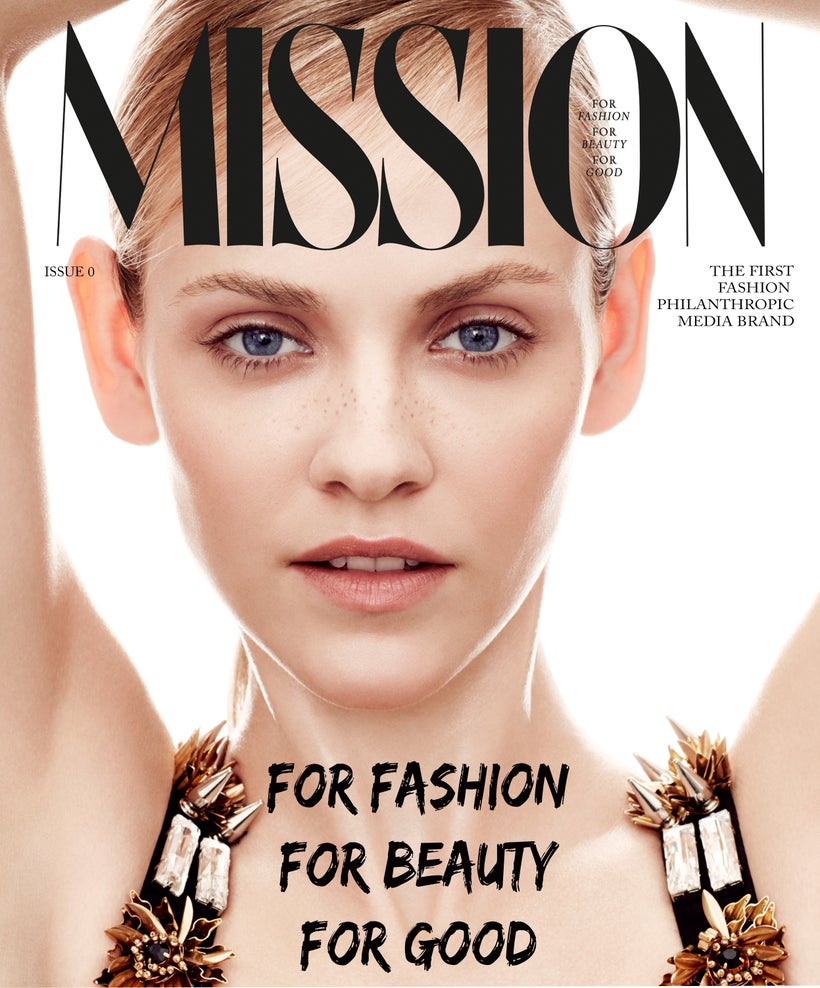 I can't speak too far down the road, to be honest, because it's a team discussion. The first issue being "Women of Empowerment," we will cover things such as diversity, body image, education, equal pay for equal work, women who are making changes in different fields, whether someone at an NGO or someone in the public arena who really champions causes such as Alicia Keys, Emma Watson or someone in technology. It has been a real eye-opener what amazing things women really are doing. Remarkable achievements. The second issue will be "Environment." Further down the line, we want to cover issues like poverty, sex trafficking, bullying and things that are prevalent in America, which I think aren't spoken about publicly enough on our own doorstep. Alzheimer's is another topic as well as mental health issues overall and a men's issue.
The sad thing is, I don't think we'll ever have a shortage of causes. We aim to have the website tell constant stories of who Mission has helped. It has to be continuous so that we don't forget about those causes and people.
I think with every issue until we're in our fourth or fifth year, we'll only be looking to work with two to four organizations. I don't think it should be any more than that because I don't want to dilute the money they get. I want them to be able to make a substantial difference with the grant we would give those communities. But also at the end of the day, we're a startup and we can't give lots of people lots of money straight away.
Another underlying goal for me is covering sustainability. That will be a constant conversation in each issue. I think the fashion community is slowly beginning to embrace that and wake up to that. I think it's such an enormous problem to address, that it will be constant in every issue on the website and in print. Mission wants to highlight causes with the end goal of being able to raise as much money for charity as possible. We want celebrities heavily involved in this because they have such a powerful voice that they can use. It's not going to be solely about their latest album or film.
I just got educated on Ellen Page's new documentary recently – GAYCATION on VICELAND. It's amazing, so educational and I found it very emotional and moving. Everyone should watch this. That's the kind of power a celebrity has, but that's what's been so tricky. People have said to me that a lot of people in creative industries are like sheep and you have to wait for the first one to jump. We have been patient, but now it's time. I'm going to be coming along and pushing them off that cliff [laughs]. I've jumped. Life's too short to just sit on the fence and decide if you want to be a part of something. Let's sit down. How can we do something to make a difference? I don't think it's that difficult, really.
Ultimately, what is your mission?
My mission is to make a difference to an individual somewhere in the world. I want to raise money for charity as well as awareness and education, but raising money for charity is quite a sweeping generalization. I want to be able to either personally or by way of a live video give some girl at a school a bike or a care package and watch that reaction to see the impact that has made on someone. That feeling of giving back to someone has to be like winning the lottery. It's phenomenal. I want to touch someone's life in a positive way and help them through their struggles, try and give them that break in life we all sometimes need.
I think we can take for granted how lucky we are to have a roof over our heads, cable TV and Snapchat on our phones. Facebook is banned in some countries. Some people don't even have TVs. People need to be a bit more selfless. My mission is to touch people to try and give a bit more.
What advice do you have for young women entering the fashion industry?
From the research we've done on our media kit, the next generation is very aware and mindful of their social surroundings. In the last year, we've found that a lot of them want to give back and help anyway. I'd like to think that it's ingrained in the younger generation to want to give back.
In my industry alone, it's so saturated and it's so tough to make it that you have to be really driven to want to succeed in it. There's so much competitiveness out there and so many things of the moment that don't stick. You have to have an original viewpoint and voice with original content. If you care about something passionately, don't give up. That's the one thing that has helped me get to this stage. I won't give up on this because I feel so strongly about it. That's the difference between people in creative industries who succeed and who don't.
You've got to be really determined because it's a really tough industry. You're being judged the whole time, whether it's what you put out on Instagram or what you wear when you go into a meeting, and you just have to keep in mind whether or not you care. If you're going to care what everyone tells you and get upset about it, this is the wrong business for you. You have to be really thick-skinned and turn negatives to positives. It's a tough and brutal business, and you have to roll with it and accept it for what it is. It is a great industry and we're very very privileged. I get paid to travel to work on shoots, put up in nice hotels, have catered amazing food. You work very hard and often long hours, but it has many privileges, too.
What are your thoughts on all of these brands with philanthropic business models where a percentage of every purchase goes to charities?
There are still brands out there that don't give the percentage that I think should be given. You have some luxury brands that give back five or ten percent, but what's that to them? Design something and give back 100 percent every so often, that would make a difference. I understand it's a business but when you're talking to brands that make millions and billions of dollars every year, surely it's a tax deduction as well as a halo effect.
We have so so many ideas of how we can creatively work with brands. Mission really does 'think outside the box.' We want to collaborate and work with a brand or corporation with a mutual end goal. So we really welcome different types of companies to join us, whether that is a JP Morgan Chase, Goldman Sachs, IBM, Calvin Klein, Delta, etc. Mission is not about being 'formulaic' in the traditional publishing sense. After operating costs, every single dollar will go to a charity we will have carefully vetted, with a follow-through, transparent approach.
Would you offer consulting for companies or brands? What are some of the brands you would want to work with?
I would absolutely offer consulting. I want to work with all of them. I don't think I'm going to alienate any of them because that's bringing a product or money into charities. We're not that elitist. It's for everybody and I know the brands will fall into different causes and issues and some things will speak more to one brand than another.
H&M has raised awareness about the shortage of clean water and accepted clothing that they would recycle. Are you familiar with their sustainability model?
Yes, we had met with them before. I haven't connected with them in a while. They get bashed a lot in the press about their sustainability efforts because of their factories and their workers. There was an amazing film that someone put me on to last year called True Cost about that. It was very educational. They do get some bad press, but you turn a negative into a positive. At least they're doing something, they're addressing it publicly and trying to make a difference. When you think of how long these companies have been around and their infrastructure that's in place, change doesn't happen overnight. It's going to take baby steps and it will be a slow long road.
Someone asked if we would do a whole issue on sustainability. I said no because that needs to be an ongoing conversation. There's so much we can cover. I'm trying to brace myself mentally to be prepared for this journey. It has changed me doing this and it's going to change me even more, connecting with people who live in poverty, or a girl who is denied an education, environmental issues and mental health issues. For me, it's very important to engage one-on-one with people that we're working with on supporting those causes. Whichever school we work with in India, Kenya, etc., I'd love to go and meet the people we're trying to impact. That passion and determination will be what keeps me going.
It's going to be really heavy some days, I'm sure. But I want to make charity and philanthropy sexy and cool. I want to have fun with it, bring a positivity to it. I want to make it exciting, different and engaging. The overall content won't be heavy or depressing because we have enough of that in our life already. It needs to be uplifting and engaging in a good positive way.
If you give money to charity websites you want to be able to see the positive impact and engagement you've had with that person, that's what our goal is. Our tagline is "For Fashion, For Beauty, For Good." Mission's name kept coming back to me, and it just seemed like the perfect title. It wasn't cheesy. I felt it seemed cool and impactful.
We need more people like you in the world.
That's something a few people have said to me, which is really lovely. We are in our first round of investment which is super exciting. Seeing this all come to fruition is beyond my wildest dreams. We are very open to having business partners, or so-called impact investors be part of this. I do have some days I think, 'what the hell have I taken on.' Then you see We Will Rise on CNN about Michelle Obama's charity, Let Girls Learn, and you hear their stories, and that's what keeps me going. That is one charity we want to try and work with for our launch issue. We really want to build a community of people to be a part of this. Whoever wants to be part of this they can – corporations, individuals, etc. Mission will give them that platform to do be part of a new vision, not just in fashion publishing but also in philanthropy.
Where can people find Mission Magazine once it's out in the spring?
We're going to do controlled circulation. That's in development right now. We will also have subscriptions on the website where people can subscribe and donate through PayPal because we want to be very safe, secure and transparent with it all. We'd like to take it to places like Coachella, Frieze New York, Sundance, Art Basel in Miami, and cultural events around America that we would want to partner with, as well as fashion shows in New York if the alignment is right. We'll have a download version as well for iPads and iPhones.
We're not doing the normal route of placing it in a Barnes and Noble or Hudson News. It's such a waste of money. Money that could go to a charity. I got that education last year with a printing company when I was told how much it would cost to put it on newsstands around America. If they don't all sell, I'd have to buy them back or they would be shredded. I'm dead set against that. I think that is wrong. I would rather donate them to charities, hospitals and schools. That would be the right thing to do. That is one of my many 'missions.'
REAL LIFE. REAL NEWS. REAL VOICES.
Help us tell more of the stories that matter from voices that too often remain unheard.
This post was published on the now-closed HuffPost Contributor platform. Contributors control their own work and posted freely to our site. If you need to flag this entry as abusive,
send us an email
.