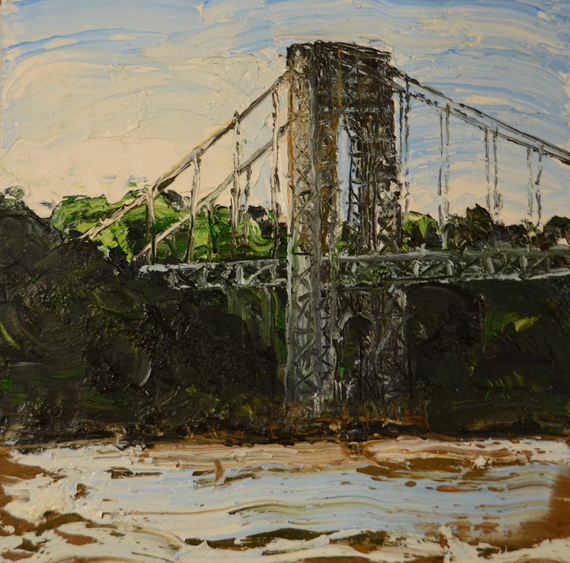 Below are excerpts from a long form interview I did with my friend the painter Jim St Clair on the occasion of his exhibition at The Morris Warren Gallery here in New York City. Enjoy.

MN: Do the paintings in the exhibition have a unifying theme?
JS: They do. I'm a Plein air painter and I have a small motorboat in the New York Harbor that I go around the waterways of NY & NJ and paint looking back into the city. Remote parts of the city, where you can't tell exactly where you are - urban or rural - can be interesting. I've always been drawn to the overgrown decaying post industrialist remains that used to, (now less and less), ring the city's waterfront. The haunted now visually anonymous history that is quickly reclaimed by nature or reclaimed by us and cleaned and built up. Watching the city itself grow like crystals grow. Witnessing urban decay and growth as seen in NY could be the unifying theme
MN: Tell me a little bit about your studio. I think it's interesting you work on a boat. Have you always worked on a boat?
JS: My studio is a 22-foot fishing boat that's pretty speedy and can carry a lot of gear, kind of like a truck on the water. It's also wonderfully private once you get to a spot to work. I've had a slip at the 79th St Boat Basin for approximately 30 years and I'm on my third boat. I've been painting out there the whole time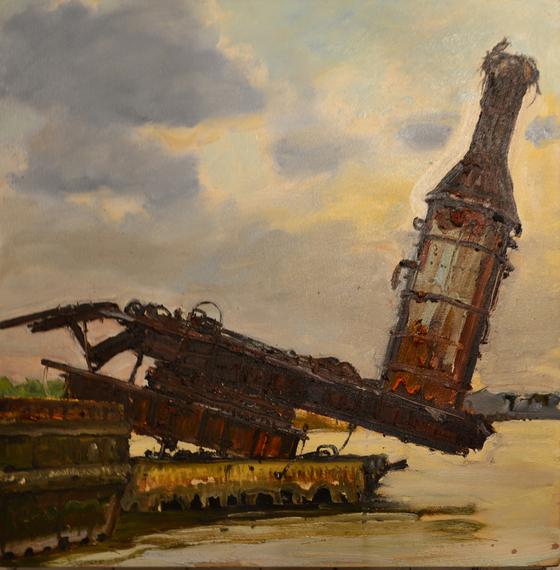 MN: What dates do these paintings cover in the exhibition?
JS: Roughly the last four years.
MN: In what ways have you seen the city change over 30 years painting by boat?
JS: It's totally changed. The skyline, of course, is really filling in. They've systematically cleaned up and reutilized the waterfront, which are a natural progression and a good thing. They've erased the patina of history and the mystery and soulfulness and astounding visual beauty of that.
MN: Do you maintain a studio on land as well? Or exclusively on the water?
JS: I have a woodshop of sorts, in my basement at home and I do ink drawings and paintings wherever I go. Mainly I work on the boat cause it works and I love it out there
MN: Are there months where it's too cold to work on the boat? If so what do you work on during that time?
JS: 35 degrees or less is unbearable, so winter's tough. I hibernate, doesn't everyone?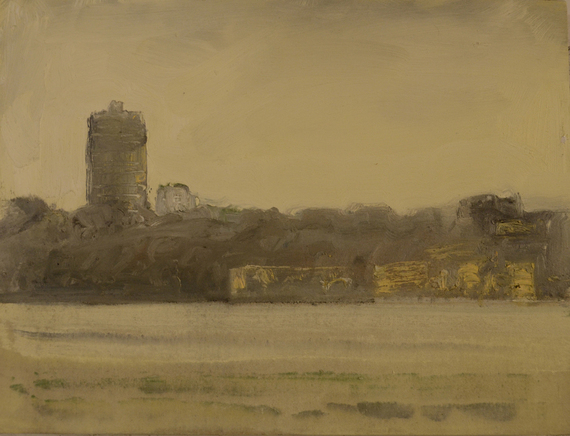 MN: What bodies of water do you tend to paint on?
JS: Anything within an hour or two from 79th St - Hudson R, East R, Harlem R, NY Harbor, Newtown Creek, Gowanus Canal, Coney Is, Jamaica Bay, Kill Van Kull, Arthur Kill, Newark Bay, and the Passaic and Hackensack Rivers
MN: Tell me about the current exhibition. How long will it be up and where is it?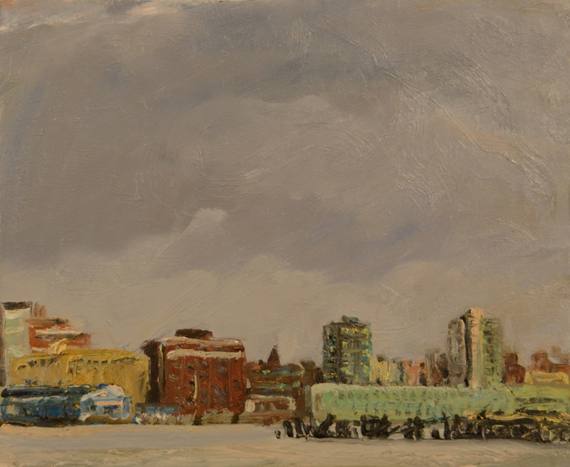 JS: The Morris Warren Gallery at 171 Chrystie St has been kind enough to put 15 of my paintings in their upstairs room until February 21st.
MN: I'm looking forward to our nautical studio visit when it gets warmer.
All images courtesy of Morris Warren Gallery
Thanks to Courtney Eddington for the edit.
REAL LIFE. REAL NEWS. REAL VOICES.
Help us tell more of the stories that matter from voices that too often remain unheard.