With everyone from Kanye West and Kylie Jenner to Lady Gaga and Madonna wearing grillz, people are once again scrambling to snag a set of the novel fashion accessory. Most people hail Nelly as the man who took them mainstream. Looking at the Google Trends data below, it's no coincidence interest in grillz surged shortly after Nelly dropped his song "Grillz" in late 2005. Others credit rap legend Slick Rick for introducing grillz to the masses back in the late 80's. You'd be right either way. But only to a certain extent.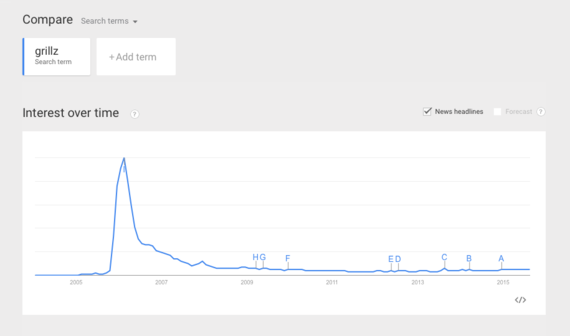 Here's the full truth: grillz have teeter-tottered in popularity over the past several thousand years (sorry, Google won't let me check that far back). In fact, researchers date the first grillz sighting to as far back as 2,500 BC when a team of early 20th century archaeologists discovered a man in Giza buried with two gold teeth.
Etruscan women wore grillz as a status symbol up until 100 AD. Mayans wore grillz too. Just not gold or diamond ones. Instead, they preferred to wear jade, inserting the stones directly into their teeth. Ouch. This was a popular trend for them up until the 1500's. Evidence also suggests that Filipinos sported gold grillz as early as 1500 AD.
When examining the origin of gold teeth and their 4,500 year history, one thing remains constant: what they symbolize. Power, status and wealth. They still do. They're also no longer reserved strictly for the hip-hop crowd, with artists and athletes across all genres and sports rocking them (i.e., Ryan Lochte).
Maybe that's because grillz have never been cheap. Johnny Dang, the grillz legend who made a cameo appearance in Nelly's classic "Grillz" video, offers basic gold sets starting at a few hundred dollars. During a 2011 interview on Jimmy Kimmel, Lil Wayne said he paid over $150,000 for his.
Not ready to hand over your whole paycheck to the jeweler? These cheap grillz from Refinement Co. are also a great choice, starting at just $39.99 bucks.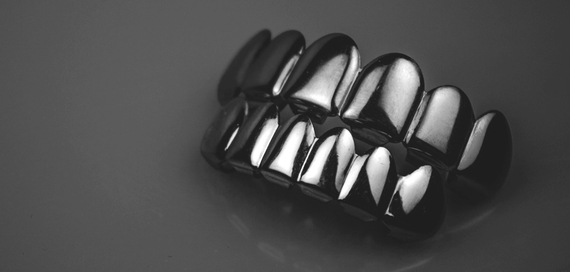 Would you ever wear a set of gold grillz? Why? Why not?
Related