A newly blond and supposedly woke Katy Perry is probably hoping she avoids similar callouts this Sunday as she takes the mic for her gig. There's no telling whether she'll show up in a space suit, as VMAs promos suggest, or whether the pop star's wardrobe will be as daring as Miley Cyrus', but we do know one thing for sure: This isn't her first go-around in VMA-land.
Let's take a walk down memory lane, shall we?  
2008: Katy's first VMAs appearance.
In 2008, Katy Perry was an up-and-coming pop singer, known mainly for the breakout success of "I Kissed A Girl." Her second single, "Hot N Cold," would be released just days after her appearance at the 2008 VMAs, which took place at Paramount Pictures Studios in Los Angeles. Perry was nominated for five awards.
On the red carpet, she got cozy with a still Disney-esque Miley Cyrus, her fellow nominee in the Best New Artist category. They even (gasp!) hung out with red carpet correspondent Taylor Swift, who was also nominated for Best New Artist. (All three, plus Jordin Sparks, lost to Tokio Hotel. We know.)
In the video below, Swift points out their shared nomination.
"I think that if we all weren't crazy about each other, that would be awkward," Swift said. Um.
Perry later performed "I Kissed a Girl" with no one to kiss. She ended the night with no Moonmen.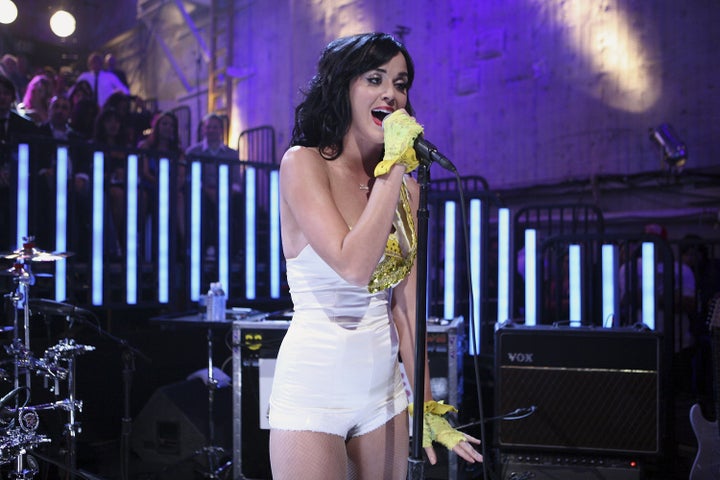 2009: Russell Brand hosts.
The 2009 VMAs, at Radio City Music Hall in New York, weren't the first place Perry and ex-husband Russell Brand (that year's host) noticed each other, but it was supposedly the show that brought them together.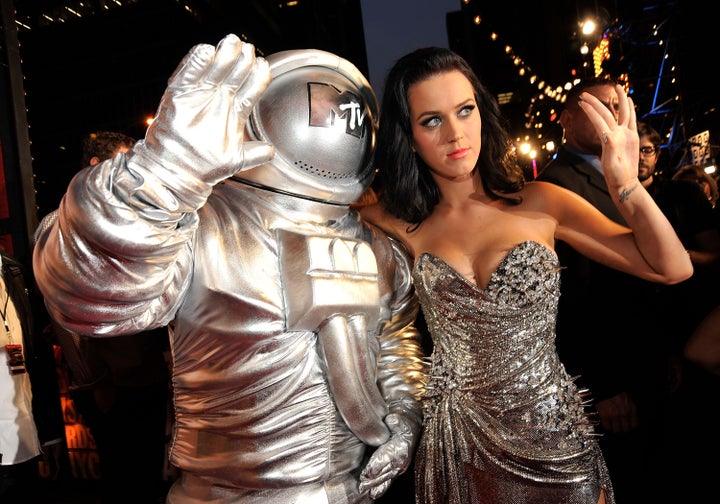 The pop star earned only one nomination that year — Best Female Video for "Hot N Cold" — but lost to Taylor Swift's "You Belong with Me." (That sound you hear is a tiny, baby feud coming into the world.)
Brand would later quip about Perry's loss, "Katy Perry didn't win an award and she's staying at the same hotel as me, so she's gonna need a shoulder to cry on. So in a way, I'm the real winner tonight."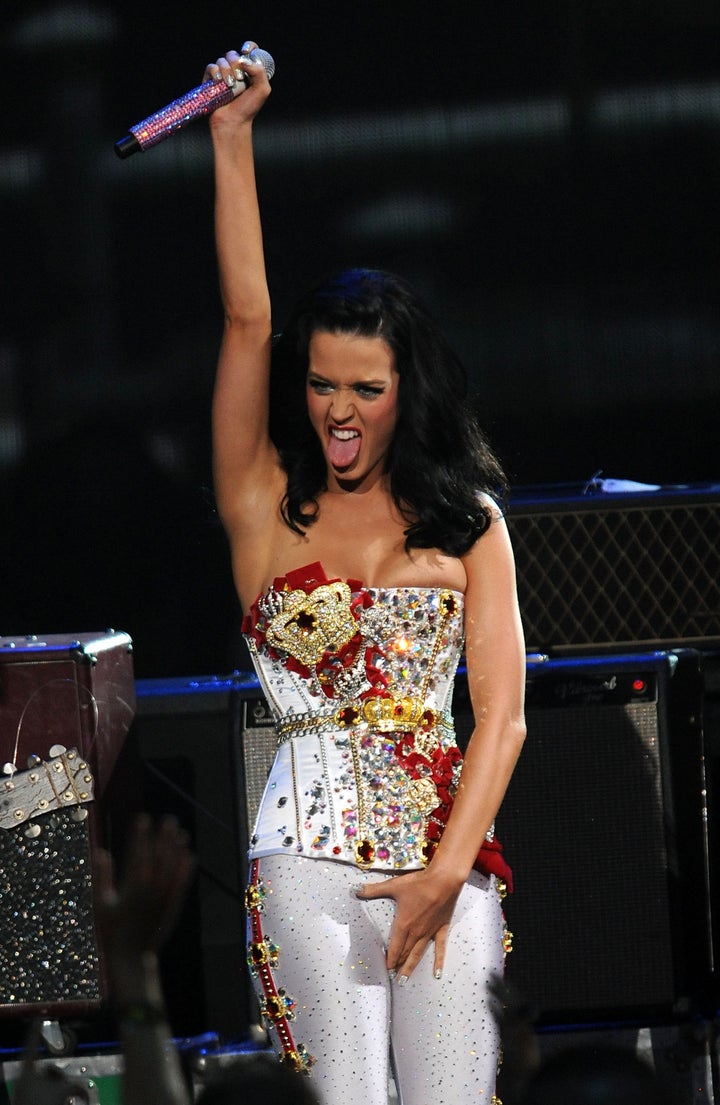 2010: The year of Russell Brand NAILS.
Yeah, we forgot about this too — in 2010, Perry showed up on the VMAs red (er, white?) carpet with a Brand-themed manicure.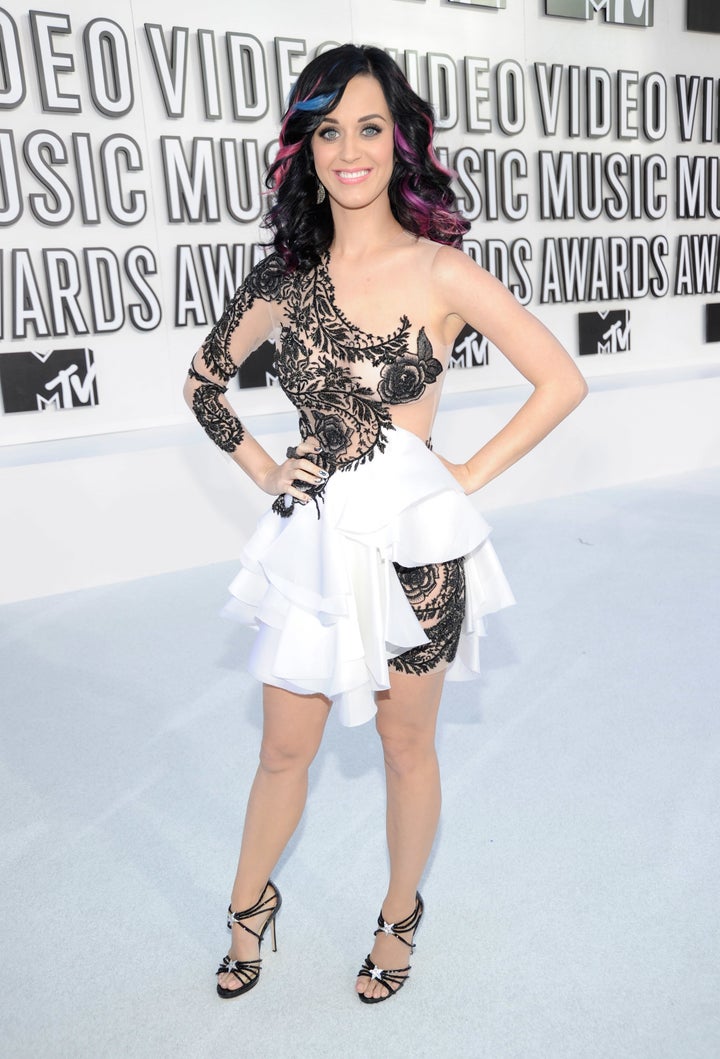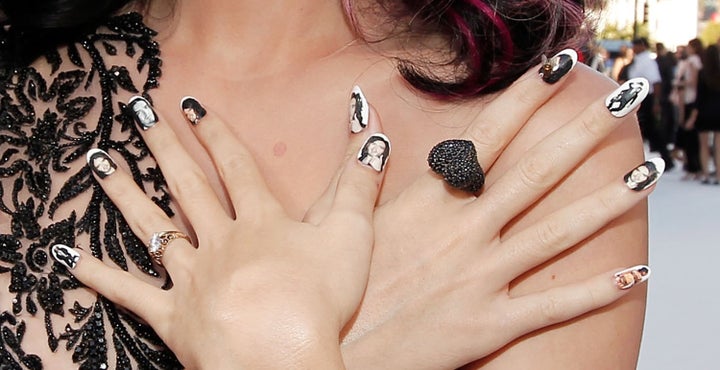 Honestly, it's not even that much of an out-there look for the VMAs. In a tweet, she explained that the manicure was in honor of "the 1 year anniversary of our love."
By then, she and Brand were engaged, and Perry told MTV, "my hubby-to-be is on my nails!" OK, that's kinda cute. 
Perry was there to see whether she'd finally snag a Moonman for Best Female Video or Best Pop Video alongside Snoop Dogg for "California Gurls." No dice — but she did make it to the stage anyway, presenting the award for Best Male Video with Nicki Minaj.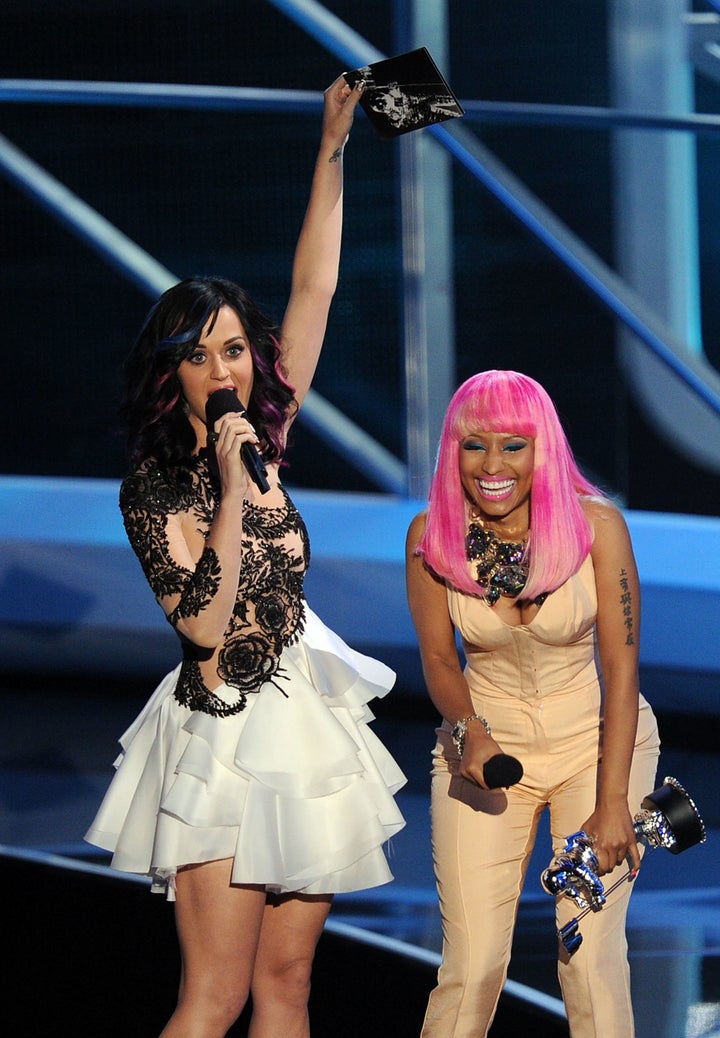 2011: Finally, a win. Rather, three wins.
After three Moonmen-less years, Perry had a good showing at 2011′s VMAs, where she also walked the carpet with Brand. Looking back, it doesn't seem like the internet minded Perry wearing what MTV called an "Asian-inspired ensemble," but perhaps her more egregious instances of cultural appropriation — for which she's since apologized, to mixed results — overshadow the cheongsam-esque neon outfit.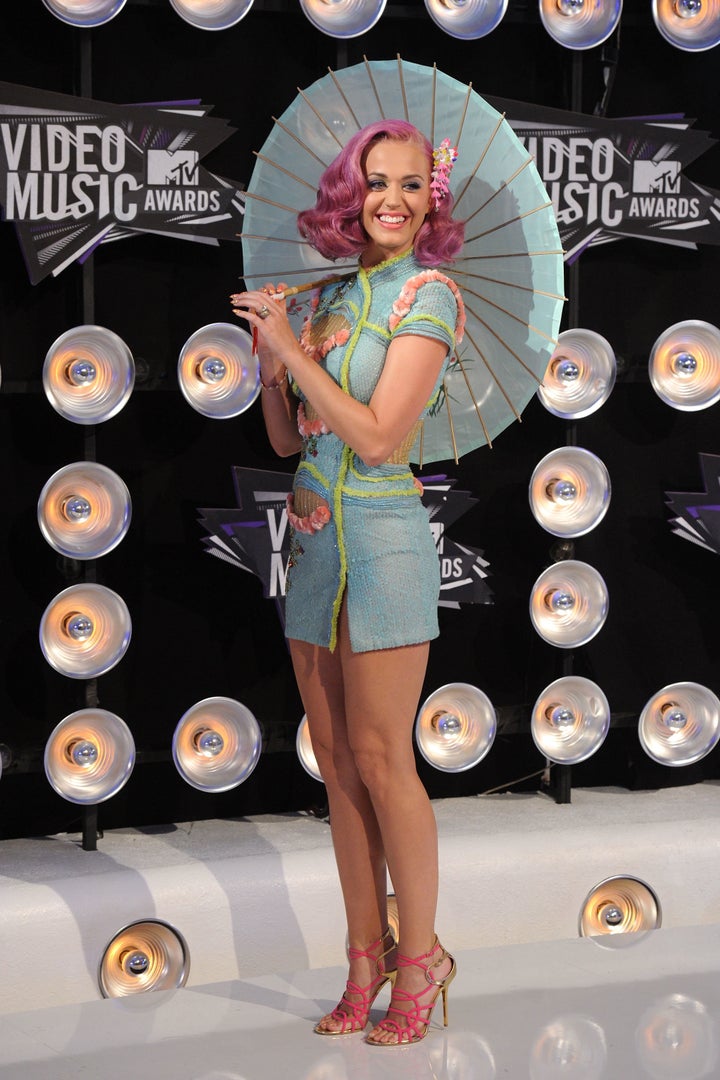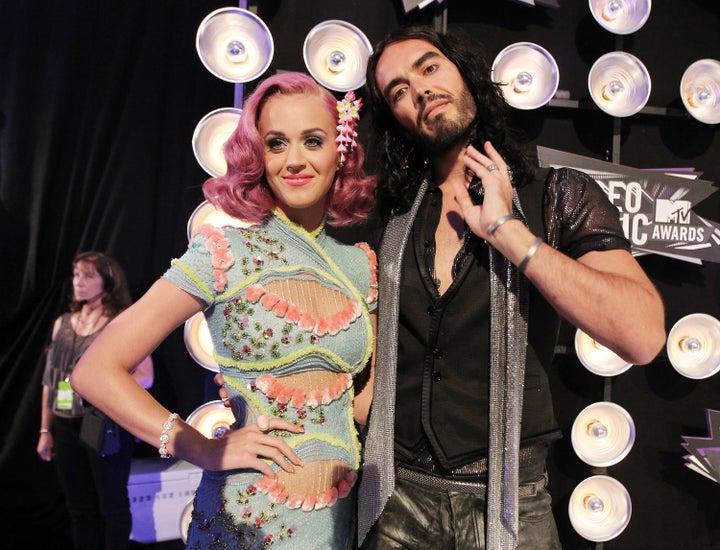 It was but one look we'd see from Perry throughout the night. She also threw on a pastel outfit, complete with a yellow cube headpiece, and a record-smashing one (you'll see).
Perry, who racked up the most nominations of the evening with 10, ended up with three awards by the night's end, including Video of the Year for "Firework."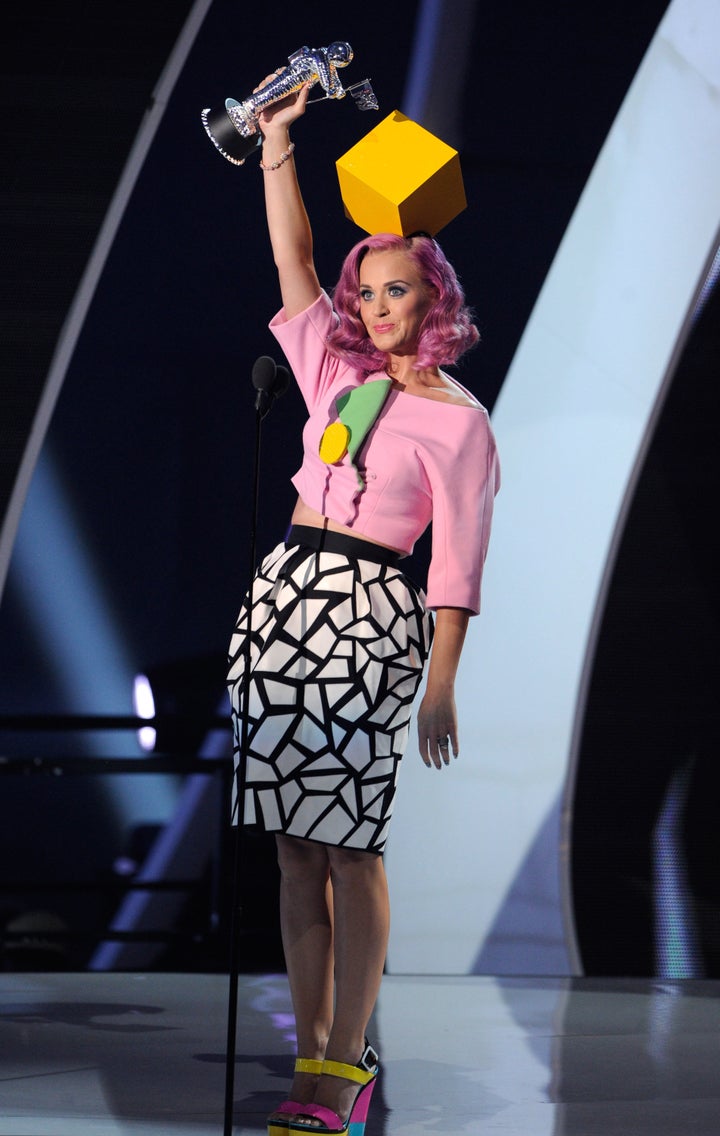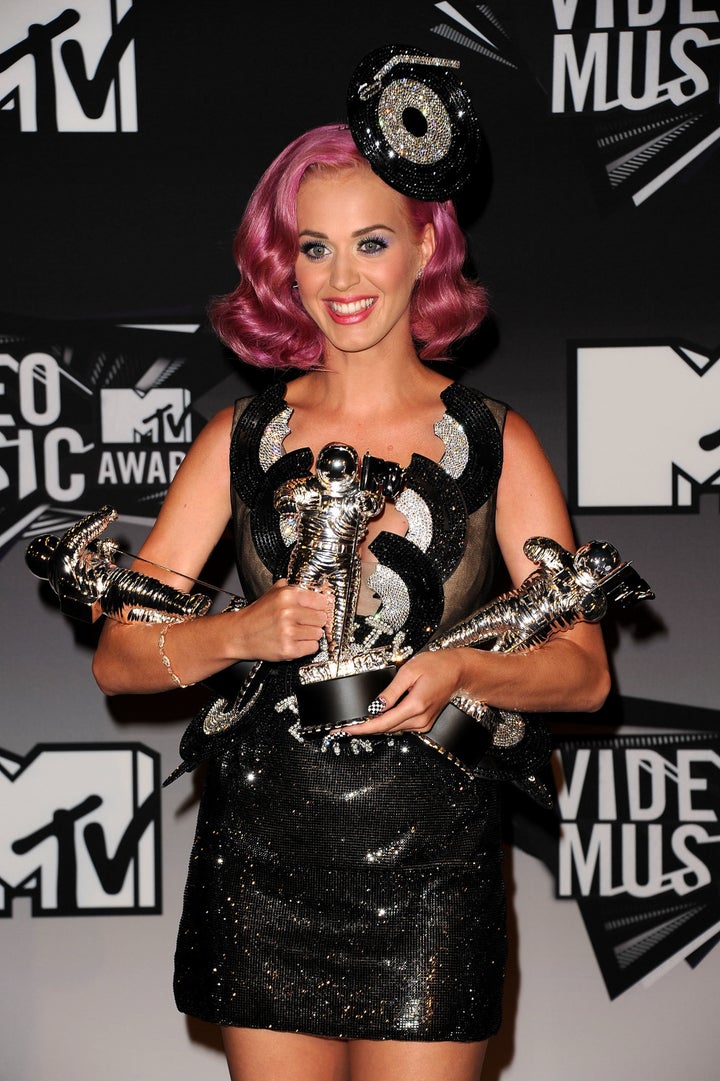 2012: KISSING. ONE. DIRECTION.
The year had been one of change for Perry, who split from Brand citing "irreconcilable differences" at the end of 2011 after just 14 months of marriage. Their divorce was final in February, and Perry took up with John Mayer in August. In between, she released "Katy Perry: Part of Me," which showed her grueling tour schedule and received positive reviews.
On VMAs night, the pop star was up for Video of the Year, Best Art Direction and Best Visual Effects for "Wide Awake" and Best Female Video for "Part of Me."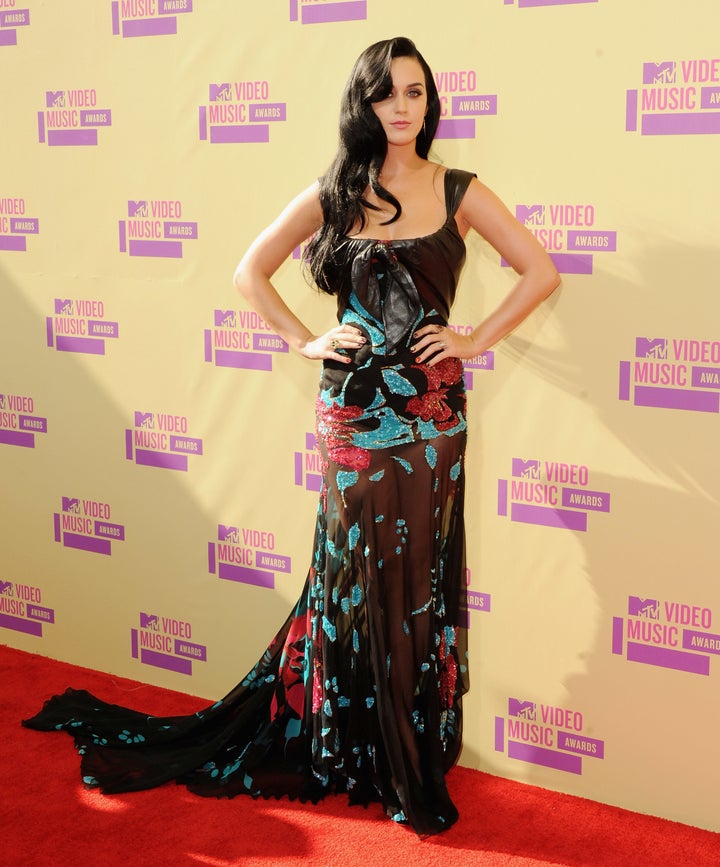 While presenting the award for Best Pop Video to One Direction — then known for their hit single "What Makes You Beautiful" — Perry planted a kiss on both Niall Horan and Harry Styles. Whew. Apparently, Perry lip-synced One Direction's lyrics to her seatmate Rihanna later in the night. Truly, a blessed time.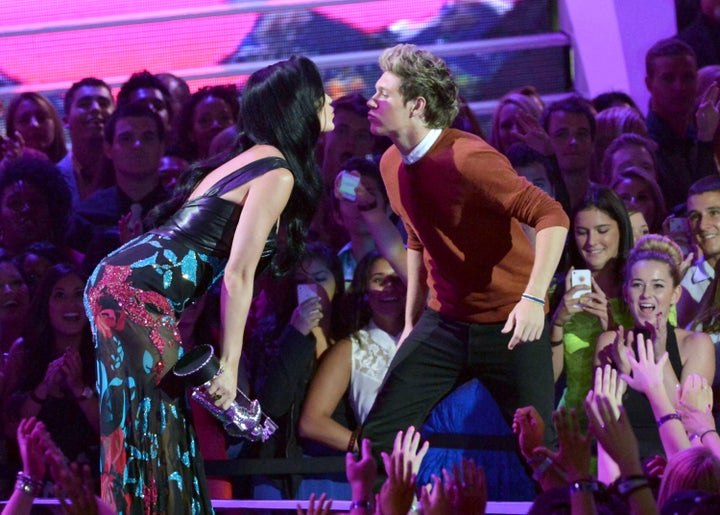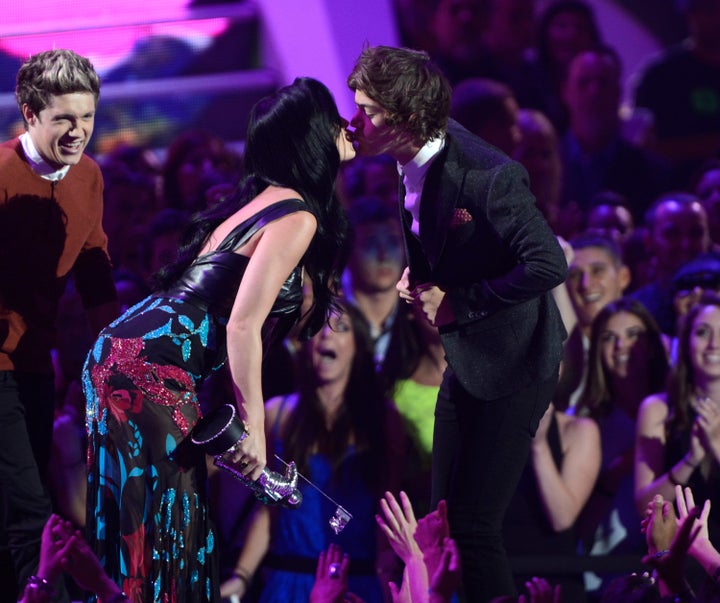 2013: Going heavy on the big cat theme.
In 2013, the VMAs traveled to Brooklyn's Barclays Center, and Katy Perry was there to promote "Roar," the lead single off of her album "Prism."
Naturally, she went hard on the big cat theme, sporting leopard print on the red carpet.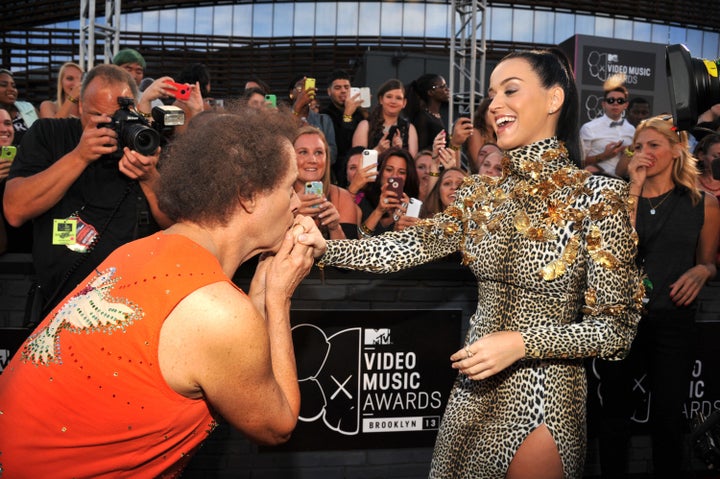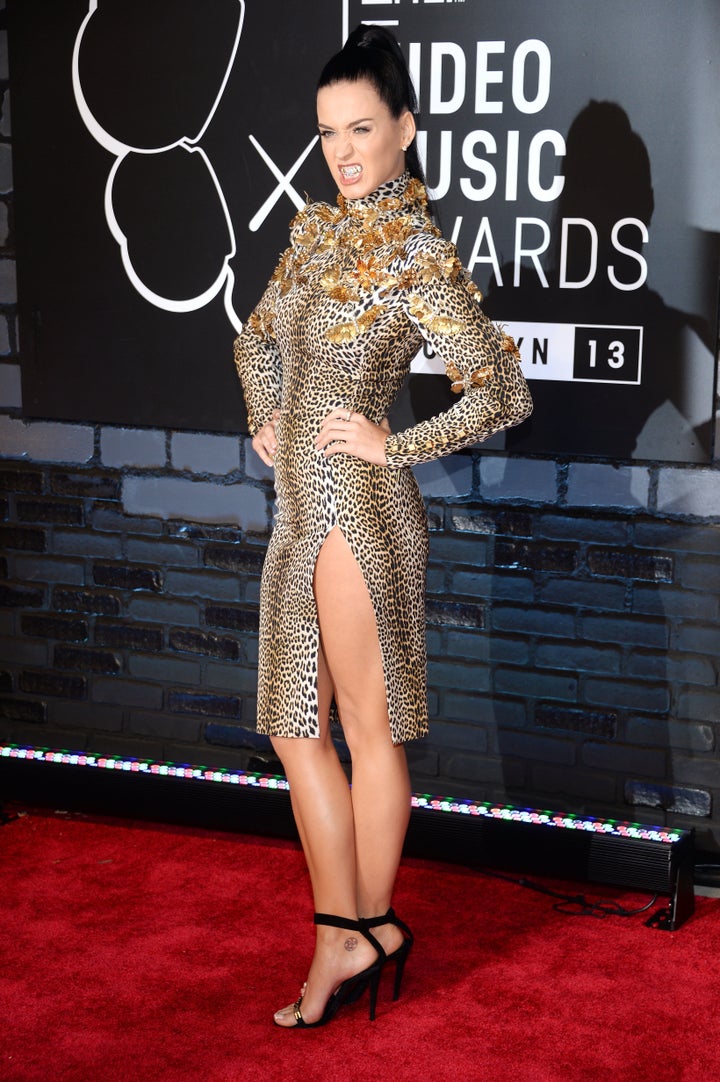 Later, Perry performed "Roar" nearby the Brooklyn Bridge, dressed up in a tiger-stripe sports bra and fiery shorts. There was a giant gold cat, fangs bared, there to oversee the proceedings.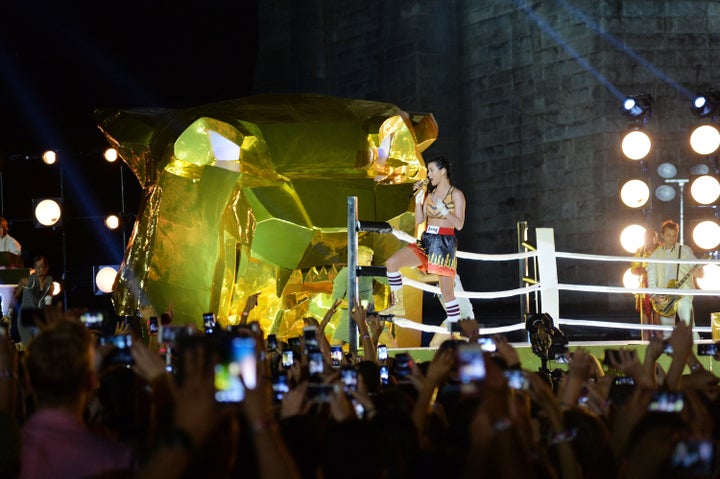 2014: Denim.
For her most recent VMAs appearance, Perry opted to recreate Britney Spears and Justin Timberlake's iconic 2001 all-denim look with rapper Riff Raff.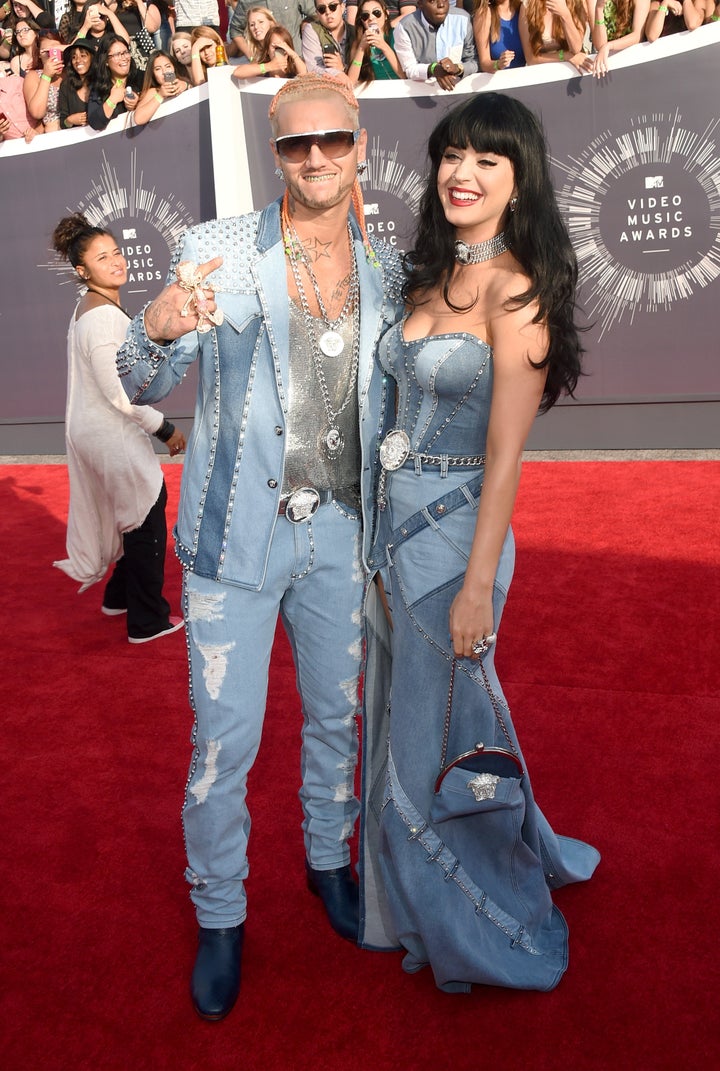 The "Dark Horse" singer sent a tweet to Spears, writing, "I did my best impression, hope u likey!" Spears, in turn, told Perry she "looked amazing." Pop icon recognizes pop icon.
Of three nominations, Perry ended up taking home one for Best Female Video for her collaboration with Juicy J.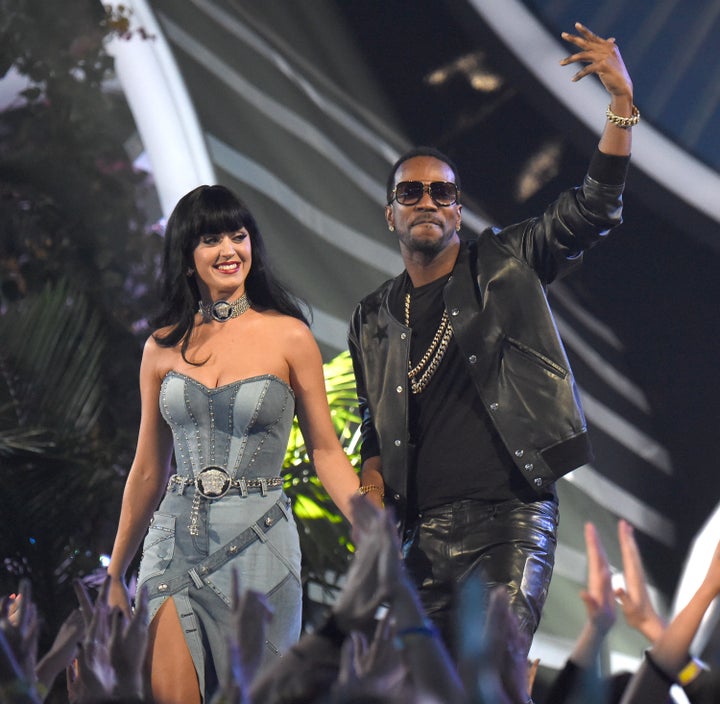 What will the next VMAs chapter in Perry's book look like? We'll have to wait until Sunday night to find out.
The MTV Video Music Awards will air Sunday, Aug. 27, at 8 p.m. ET.
Calling all HuffPost superfans!
Sign up for membership to become a founding member and help shape HuffPost's next chapter
BEFORE YOU GO
PHOTO GALLERY
Most Outrageous VMAs Outfits