There once was a time when an apron was considered maternity wear. It covered the space left open by tops that no longer fit around the belly or reached down to the pant line and were worn for centuries in the Middle Ages and beyond. Today, expecting mothers have a few more options. From workout clothes to business suits, maternity clothes have come a long way, baby.
If you were pregnant anywhere from the beginning of time through the 13th century, you simply made due with the clothes already in your "closet." Back then dresses did not follow the female form and therefore accommodated pregnancy nicely. No seams, just flowing fabric. It wasn't until the 14th century when western women's fashions began to hug our curves a little more and reveal more of the feminine features. It was in this era that maternity clothes were first conceived. Seams were let out to allow growth and the wealthy had dresses tailor made.
The Baroque period (1600- 1750) birthed the first recorded maternity gown called the Adrienne dress; it was a gown that was characterized by voluminous folds and flowing fabric which expanded with growing bellies. Also in that time women wore men's waist coats with laced vents in the back that allowed the wearer to adjust the size of the coat as she needed. In the Georgian period (1714- 1811) maternity clothes became more practical. The billowing fabric found in the Adrienne dress was again used in this era to accommodate changing bodies, but bibs were added at the bust line to permit breast feeding.
From late 1500's Elizabethan England: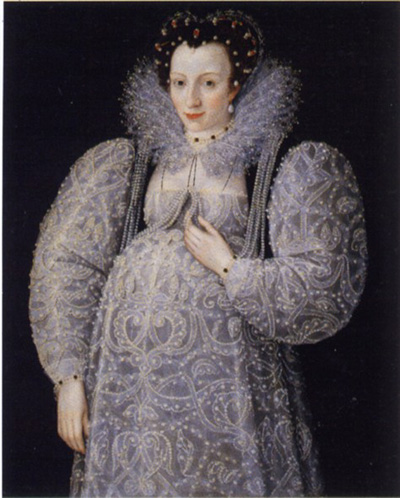 Maternity dress from colonial Williamsburg: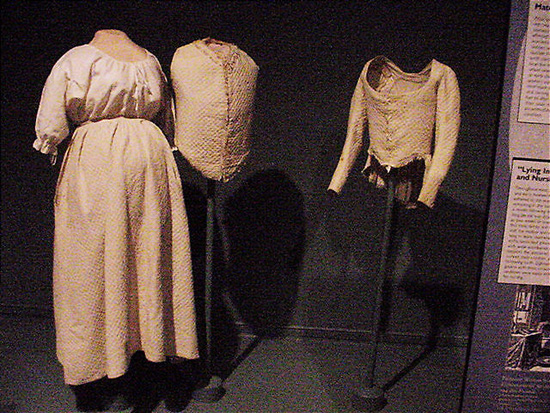 Georgian era maternity dress with removable bib: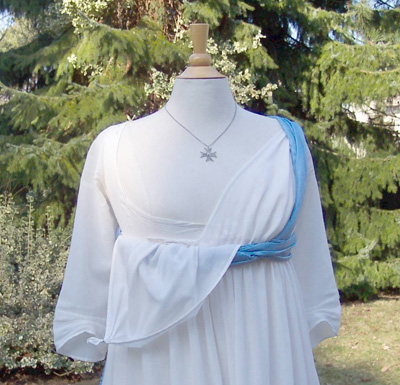 For most decades in the 20th century, maternity wear was still on the back burner. Pinafores, a sleeveless garment worn as an apron, were the maternity clothes du jour and could be bought in nursery shops. And pretty much from then until recently, maternity clothing was never considered a profitable area for design houses and manufactures. But that all changed, of course, with the paparazzi.
In the late nineties, media interest in celebrity pregnancies boomed and the trend has only gained steam since. I think Katie Holmes and Angelina know what I'm talking about. With this increased attention on celebrity moms-to-be, fashion designers took note. Between 1998 and 2003, the maternity clothes market grew 10% as non- actor/singer/heiresses wanted to look chic and feel comfortable while pregnant, as well. High-end denim lines like Citizens of Humanity and Rock & Republic launched maternity jeans. Michael Stars and Juicy Couture came out with maternity-wear, and so did The Gap and Old Navy. Wrap dresses, plunging V-necks, floor-scraping gowns, and chic tops were popularized by famous baby-bump wearers.
Gwen Stefani and baby bump: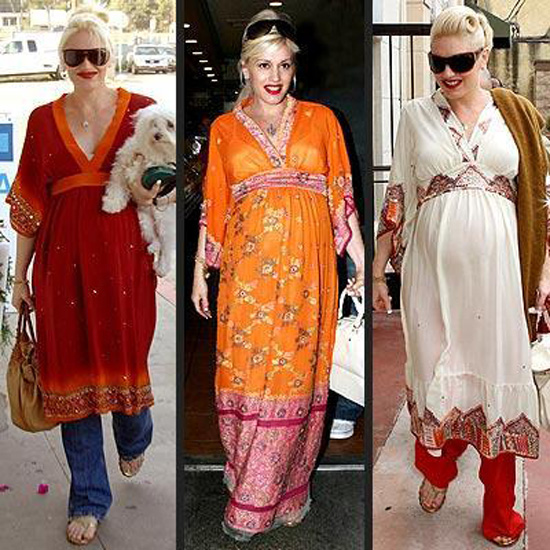 Angelina Jolie pregnant and fabulous: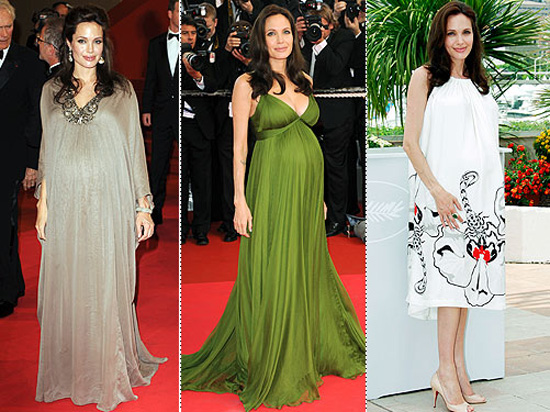 Katie (or is it Kate?) Holmes looking chic: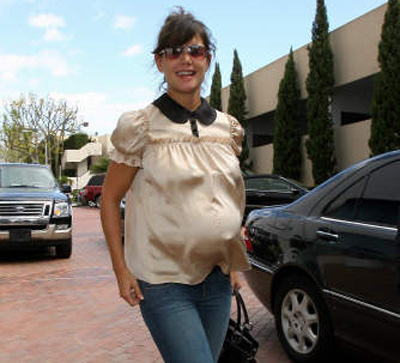 And now to make sure you look smooth underneath your maternity clothes, suck-you-in experts Spanx has developed a line of slimming tights, body shapers, and bras for the expecting.
As with most evolutions, it's hard to imagine what could possibly come next. But when that next big thing is born, I'm sure we won't be able to live without it. Although, that sack n' rope outfit from Colonial Williamsburg looks pretty comfy...

Related