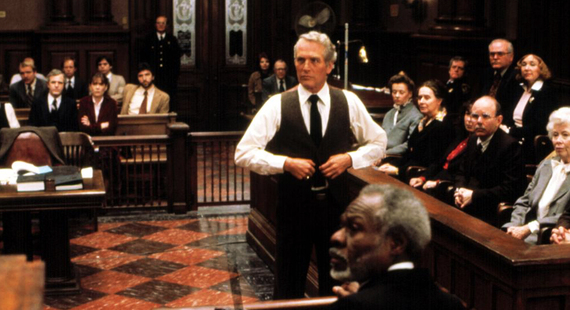 Lawyers in motion pictures have been portrayed as one of two extremes, devils or angels, almost since celluloid was invented. The first film dealing specifically with a law firm and attorneys, 1933's Counsellor at Law, starring John Barrymore, portrayed its J.D.s as upstanding citizens, as did the early Perry Mason films of the same period. This quickly changed, however, with many attorneys portrayed as being capable of the same brand of skullduggery as their shifty clients. With that in mind, we bring you a list of the good, the bad and the ugly of lawyers in movies. Enjoy, and please refrain from suing us if you feel otherwise...
1. Devil's Advocate (1997)
Keanu Reeves plays Kevin Lomax, a hot-shot young Florida lawyer who is all about climbing the ladder. When he gets an offer he can't refuse from a high-powered New York firm, led by the legendary John Milton (Al Pacino). Soon Kevin's wife (Charlize Theron) is plagued by demonic visions and he realizes he's literally sold his soul to the Devil Himself. Pacino has one of his greatest, scenery-chewing roles this clever hybrid of Rosemary's Baby and The Firm. Although his character's name should be an immediate giveaway for the literate viewer, Pacino's John Milton delivers one of the great speeches in movie history about the notion of righteousness in the post-modern world.
2. 12 Angry Men (1957)
Sidney Lumet's classic film from Reginald Rose's script boasts an amazing star turn by Henry Fonda as the voice of reason in a sequestered jury room full of men anxious to wrap things up and go home, even if it means sending a teenage boy, accusing of stabbing his father to death, to the electric chair. A dream cast of character stars to be (Jack Warden, Jack Klugman, Robert Webber, Lee J. Cobb, E.G. Marshall, John Fiedler, Edward Binns, Joseph Sweeney, George Voskovec, Ed Begley, Martin Balsam) provide electric support to the dramatic proceedings. Although there are no lawyers present on-screen, the opposing counsels are constantly hovering in the heated debate.
3. Chicago (2002)
Richard Gere follows up his turn as a slick lawyer in Primal Fear (1994) with an even more flamboyant performance as uber-mouthpiece Billy Flynn, who has made a specialty of getting murderesses off of Death Row, the more glamourous the gal, the better. When the double golden geese of Roxie Hart and Velma Kelly present themselves, Billy literally gives a song and dance for his girls that not only exonerates them in the eyes of the law, but makes them stars, as well. Gere's performance and his beautifully-drawn character is the ultimate satirical slap in the face to officers of the court.
4. Presumed Innocent (1990)
Harrison Ford shines in one of his few morally ambiguous roles as Rusty Sabitch, a Deputy D.A. who finds himself a murder suspect when his former mistress (Greta Scacchi) is found bludgeoned to death. As Rusty scrambles to prove his innocence, the evidence against him mounts with alarming rapidity, making this both a cautionary tale and a frightening variation on Kafka's The Trial. Based on Scott Turow's best-selling novel, the film adapted by Oscar-winner Frank Pierson and director Alan J. Pakula, featuring fine support from Raul Julia, Bonnie Bedelia, Brian Dennehey and John Spencer.
5. The Accused (1988)
Jodie Foster took home a Best Actress Oscar for her incendiary performance as a working class woman who is brutally gang-raped at a local tavern. When attorney Kelly McGillis takes the case, it becomes glaringly obvious how the legal system not only discriminates against victims of sex crimes, but against the wrong social class, as well. When McGillis decides to prosecute the men in the bar who didn't participate in the crime itself, but cheered the perpetrators on, the film takes on uncharted territory, and becomes one of the greatest legal dramas ever made.
6. The Verdict (1982)
In a legendary career, this might contain Paul Newman's finest performance. As Frank Galvin, a washed-up, alcoholic Boston attorney whose once promising career has collapsed into chasing ambulances, Newman is alternately riveting, repellent and heartbreaking. When a medical malpractice case comes Galvin's way, the powers that be try to buy him and his clients off with a quick and easy settlement. Seeing a final chance at personal and professional redemption, Galvin takes the case to trial, facing off against a legendary fat cat attorney (the great James Mason) and a stack of odds that are decidedly against him. Jack Warden, Charlotte Rampling and Milo O'Shea are just a few of the fine actors offering excellent support in director Sidney Lumet's masterpiece, penned by David Mamet from Barry Reed's novel.
7. Primal Fear (1996)
A creative writing professor I had in college had a terrific analogy for stories about protagonists who think they're in control during the duration of a story, only to have "a hammer come out of the sky and tap them on the head" in the end. This perfectly summarizes what happens to dapper, wealthy attorney Martin Vail (Richard Gere), Chicago's most high-profile mouthpiece, in director Gregory Hoblit's 1996 hit. When the Archbishop of the city is brutally murdered by a disturbed young man (Edward Norton, in his star-making debut) Martin eagerly takes on his defense, knowing he'll have an open and shut case with an insanity plea. Oh Marty, you have no clue. Fine support from Laura Linney, John Mahoney, Alfre Woodard, Frances McDormand and Steven Bauer.
8. A Few Good Men (1992)
Writer Aaron Sorkin had his first bona fide hit with this Broadway smash, which he later adapted for director Rob Reiner to bring to the screen. Tom Cruise plays Daniel Kaffee, a navy JAG corps attorney who has never seen the inside of a courtroom. When he assigned the case of offending two Marines accused of killing one of their comrades, the young men claim they did it under orders from legendary marine Col. Nathan R. Jessup (Jack Nicholson, in one of his most iconic roles). One of the best courtroom dramas ever committed to film, Cruise's character goes from being callow and indifferent to a full-blown crusader by the film's now-legendary climax ("You can't handle the truth!"). Fine support from Demi Moore, Kevin Bacon, Kiefer Sutherland and the late J.T. Walsh.
9. Anatomy of a Murder (1959)
The most controversial mainstream release of its era, Otto Preminger's courtroom drama stars Jimmy Stewart as a small town lawyer who finds his defense for client Lt. Frederick Manion (Ben Gazzara) becoming increasingly complicated. Accused of murdering a local bartender who he claims raped and beat up his wife Laura (Lee Remick), Stewart soon finds out that Laura has a reputation for promiscuity and Lt. Manion a notoriously violent temper. Wendell Mayes' screenplay, based on John Voelker's novel, contained frank dialogue for the late '50s, such as "bitch", "contraceptive", "panties", "penetration", "rape", "slut" and "sperm." In fact, Stewart's real-life father was so appalled that his son had appeared in such filth, he took out a full-page ad in his local paper, urging people not to see it! While quite tame by today's standards, the film still boasts fine performances by an expert cast, and Stewart's masterful portrayal of a seemingly mild-mannered fellow whose determination won't be swayed once he's made up his mind.
10. Better Call Saul (2015)
Okay, so it's a TV series, not a movie, but it's a TV series that's better than 98% of the mainstream releases that are currently filling the multiplexes, so here it joins this auspicious list. Bob Odenkirk is a revelation, reprising his role from the iconic Breaking Bad as shifty lawyer Saul Goodman, featured here in a prequel to BB, tracing Saul's evolution from small-time Cicero, IL. con artist Jimmy McGill, to the kind of attorney whose name and likeness adorns matchbook covers and bus stop benches. As much a dissection (and indictment) of the American Dream as Breaking Bad was, with a character who is sometimes pathetic, often unintentionally comical, but utterly human in the end: an everyman for the 21st century who is more like most of us really are, as opposed to whom we'd like to be. Michael McKean is Odenkirk's equal, playing his long-suffering, successful older brother, a legendary Albuquerque lawyer who suffers from a host of psychological maladies, as is veteran actor Jonathan Banks, as ex-cop turned dirty tricks-for-hire covert op Mike Ehrmantraut.
Calling all HuffPost superfans!
Sign up for membership to become a founding member and help shape HuffPost's next chapter