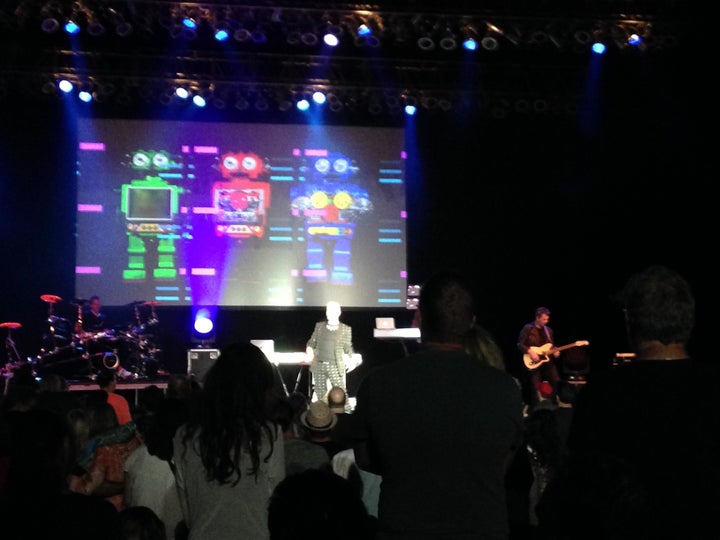 If you're like me and you're always hankering for the '80s on a daily basis, caught in an era you'd rather not be in, and you find yourself road tripping this month to Orange County (tonight), San Diego (tomorrow Jul. 20), Saratoga, Calif., Vegas, Salt Lake, Denver, Dallas, Atlanta, Charlotte, Baltimore, or the Midwest and New York and Boston in August - you can experience a night that takes you back.
With music as the closest time machine for our minds, Paul Young, Howard Jones, English Beat, Men Without Hats, Modern English and Katrina (sans the Waves) gives almost four solid hours of New Wave-soundtrack-to -your-life music that will take you back to that world that no longer exists. Except in our minds - a simpler time of funky haircuts, oversized antique blazers, boom boxes and things we're "viral" or "trending" yet and photos we took of ourselves didn't have a narcissistic name. Though the tour isn't a name that rolls off the tongue, Retro Futura, it's not about the name. What matters is these acts were part of the framework of many of our childhoods.
And though I went in thinking about how long it will be, and how quickly I could leave before traffic and life's reality hit, I left feeling I had honored a bit of my past. And been present in doing so (as much as one can in with our devices all around us). By supporting, in person, those who made my childhood what it was, that we were all there in that world together. I found myself present in the music, despite this spyPhone era we're in (made by the very company that made fun of a Big Brother time in that famous TV ad back then), as I was reminded of that by all the little lit screens in front of me (back then we lit our Bics).
This little road trip wasn't just a way to see the first stop of this retro tour or experience a concert at the historic Greek Theater in Los Angeles, it was more of a chance to experience a taste of the '80s with a friend I wished I knew then, a kindred soul who had the same musical tastes then. Katrina opened the show on the dot at 7 p.m. and even if you're not familiar with the entire lineup or catalogue, the energy of the night was exuberant. I learned a new song I'd never heard of from Men Without Hats and am still trying to figure it out (Shazam didn't work).
I was there to see two acts mainly - Paul Young and Howard Jones, having heard Young hadn't done a U.S. tour in years. I was surprised he was second, but then the daylit stage and his dancing around with the microphone stand took me right back to his TV set in that once in a lifetime musical '80s event - Live Aid.
I hadn't known many of Modern English's songs besides "I Melt With You," but their outfits of white suits and hats were a nice compliment to their positive energy. English Beat was up next, but with the crescendo leading up to headliner Howard Jones, I felt they would have been better suited as the act right before Jones, because their full band and sound left the stage and the audience on such an upbeat energy, that it lost some momentum at the break after that. Having been clueless and relying on mix tapes and radio in the '80s, I hadn't known lead singer Dave Wakeling was also General Public, until he sang my favorite General Public song, "Tenderness," though his voice was that recognizable voice. That song always brings smiles.
I hadn't known or seen many of these bands back in the day, so I didn't know what they looked like and it was nice to hear so many of their voices were still the same. Time and age hadn't really touched their precious and recognizable gift. You can just close your eyes and feel like you're back there. If you're like me in this era and don't like public spaces and crowds can make you claustrophobic, just focusing on the music and positive vibe and it's a thoroughly enjoyable the night.
With so many icons from our childhoods passing daily, such an event is also about supporting a piece of my own life's history, and these (mostly British New Wavers) who blessed it with the music they gave us, and not just about worshipping at the altar of the '80s. Though it was a nice respite to feel at one with others from that time (there seems to be few of us around now from that era for some reason). Many of them knew more songs and words than I did.
Men Without Hats was the last act before Jones, and their energy was so upbeat and free, it made up for the fact that I only knew two songs. They sang "Safety Dance" once in the beginning and another time at the end of the set, which I enjoyed, but in many markets we're plotting how early we can leave the venue before the crowds, so it would've been nice if Jones had gotten on stage even a few minutes earlier than when he did at 10 p.m.
Jones has more hits than you might recall. Just when you thought he sang one, there was another, and I even learned a new old song from back then I hadn't heard of (love when that happens), about the benefits of delayed gratification, apropos now - "Everlasting Love."
While he opened his set with interesting, almost subliminal images on the large screen behind him (that you will miss if you're not present and looking down at the unimportant), many of his songs are just as relatable in our time now, maybe even more so than when he wrote them 30 years ago, such as when he displayed the words from "New Song" that I hadn't really thought about or known then - "Don't crack up, bend your brain, see both sides, throw off your mental chains."
Jones played his biggest U.S. hit "No One Is To Blame" early in his set. With just the first few notes you knew it was the song that is perhaps the best in underscoring irony and dichotomies in life. It's a song I always put on mix tapes and one you can recall when and where you heard it in your life.
In our robotic era we're forced to be in, where we communicate device to device, rather than on a landline like in the '80s when we talked for hours with friends, or pulled all-nighters in person during college years talking about life, the universe and everything, there was one song Jones played that seem to again play on our current time and the dichotomies of it all now. He displayed the lyrics on the screen behind him like "human touch," "engage," all the while playing them against the backdrop of robots.
We wanted to hit the road before the crowd, but Jones' final song drew me back, as I ebulliently grabbed my friend's hand as if we were back the age we were in the '80s when we should've been friends, and for a brief moment, we giggles and ran back in to catch his parting message - "Things Can Only Get Better." I had thought he played earlier, but again, he has more hits than you might recall.
So if you do get to see this tour this summer, enjoy it in its entirety and take a brief road trip back to the '80s. Their music, their voices, these live acts from that second British invasion - the New Wave - are the closest thing we have to a time machine back to that world that no longer exists, except in the memories. And, for a brief four hours, live at the Retro Futura tour, create a new memory, with friends we should've experienced the '80s with.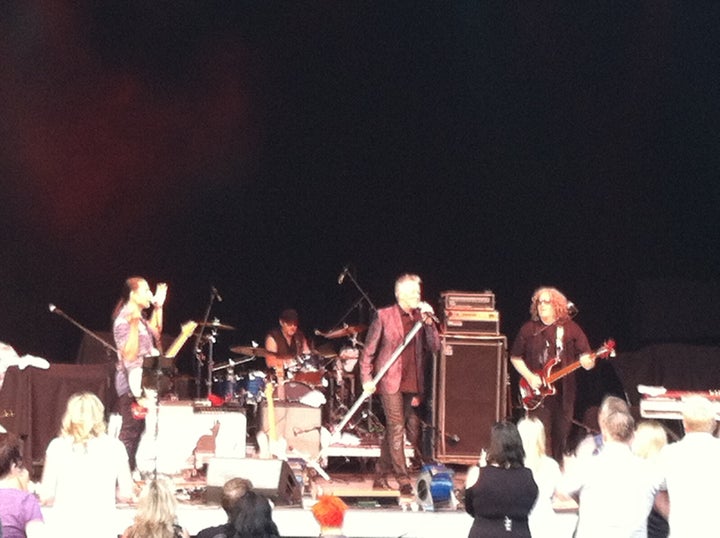 Related
Popular in the Community