Like so many, I was saddened to learn of the passing of Catherine Eugenia "Jean" (Finnegan) Biden, Joe Biden's mother. Having been raised by an Irish Catholic mother myself, I have a strong affection for straight-talking but supportive matriarchs, and Mrs. Biden was clearly one of them.
By way of tribute, I thought I would share a few snippets of Mrs. Biden's proud heritage. As noted in her obituary in the New York Times, she was born in 1917 to Ambrose J. Finnegan and Geraldine C. Blewitt, and as can be seen here in the 1920 census, she grew up in a tri-generational family: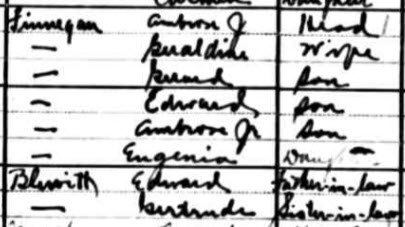 Young Eugenia was probably named after her oldest Finnegan uncle, Eugene. Mrs. Biden's father, Ambrose, lost his mother before his second birthday and his father when only ten years of age, so Eugene (who was 17 years older) was likely a substitute parent for his orphaned brother.
Ambrose's parents, James Finnegan and Catherine Roche, were both immigrants who came to America as youngsters with their respective families. In fact, James Finnegan arrived in New York within five weeks of Fulmo(u)th Kearney, future great-great-great-grandfather of Barack Obama. In both families, the patriarch came first, with the wife and children following a year or two later. Curiously, both were also shoemakers, suggesting some sort of correlation between Irish cobbler immigrants and politically-inclined descendants.
Mrs. Biden's grandparents, James and Catherine, would meet, marry and have several children in New York before moving to Lackawanna County, Pennsylvania, the coal-mining region now so strongly associated with Joe Biden. James worked at several jobs, but in his later years, was literally a blind fiddler. Several records pertaining to him indicate that he was blind and give his occupation as musician. How important music was to him can be seen in his will where he leaves his violins to his youngest son, Ambrose:

Ambrose would eventually become the grandfather that Joe Biden has so frequently cited as an early influence. In his autobiography, Promises to Keep, he wrote, "The first principle of politics, the foundational principle, I learned in the 1950s in my grandpop's kitchen when I was about 12 or 13 years old." And it was his mother who took him for those frequent visits with his grandpop.
When honored by the American Ireland Fund in 2006, Joe Biden used the moment to make a touching tribute to his mother, one which will resonate with many of Irish heritage. Reading it, I felt as if I knew Mrs. Biden.
When my own mother passed away several years ago, a friend who knew her well shared his thoughts, writing, "She was a powerhouse of a woman. The world is unquestionably a better place for her saunter across the stage. I'll bet she's even now demanding to see someone in charge and wondering aloud why this heaven place is not any better organized than it is, after all this time." I found these words comforting, and though I never met Mrs. Biden, I'm quite sure they would apply to her as well. RIP, Mrs. Biden.
Popular in the Community