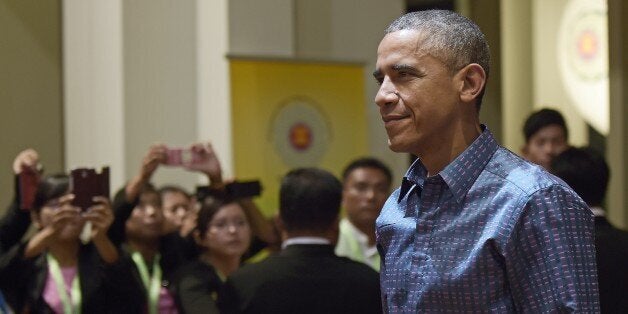 Barack Obama badly needs a foreign policy win. He could get it in Myanmar if he makes the right moves in a crucial visit to the country.
Two years ago, Mr. Obama became the first sitting US president to visit Myanmar. He went to 'extend the hand of friendship' as a military dictatorship of five decades began to unclench its grip. Since then, Myanmar has become Washington's new friend in Asia. Most sanctions have been lifted and the country is very much open for business.
As President Obama returns to Myanmar, questions are being asked about what change his new approach has actually delivered for ordinary people. One of the best ways to answer those questions would be to focus on cleaning up the natural resource sector.
For years, Myanmar's valuable gas, jade, rubies and teak have served as a war chest and piggy bank for hard-line generals and their friends. Deals done behind closed doors have not benefitted the vast majority of the population, for whom the resources have been more of a curse than a blessing.
The U.S. is well aware of the problem. For years it has taken a leading stand against the secrecy and corruption that plague these trades, most famously through sanctions on rubies and jade. It must not forget the need to sort this out because the Myanmar elite is coming in from the cold.
The Thein Sein government understands the benefits of being seen to take such transparency seriously. In July, Myanmar became a candidate member of global anti-corruption scheme, the Extractive Industries Transparency Initiative (EITI). This followed the White House's announcement last year of a 'G8 Partnership with Myanmar on Extractives', aimed at supporting reform. But so far there is little progress to report, causing some to question the government's commitment to real change.
If real change is to happen, President Obama must use this visit to push for delivery on the reformist rhetoric, focusing on three main priorities.
Firstly, measures are needed to protect the ability of citizens to hold the government and companies account; Myanmar won't clean up its natural resource sector without it. However, civil society groups working on this issue continue to come under surveillance, with many encountering obstruction from local authorities and threats from mining companies. This month, 650 civil society representatives raised concerns over laws limiting freedom of expression, and arrests of journalists. The government's failure to deliver on its promise of full public participation is escalating tensions between companies and local communities across the country.
Second, reforms are needed to reveals who owns oil, gas and mining licenses. Historically, military families have helped themselves to some of Myanmar's most valuable natural resources, often using anonymously owned front companies to hide what's going on. Until citizens can see who owns the firms that hold these licenses, those hard liners who resist democratic reform will carry on getting the funds to rig elections, bribe judges and finance political violence. There's no reason why this can't change: recent research by Global Witness shows that oil and gas firms in Myanmar can and will disclose this data when put under pressure to do so.
Lastly, deals between the government and companies need to be brought into the open. As things stand, Myanmar's people have no way of knowing the terms on which government officials have handed over their resources. Very often, the first people know of a new concession is when heavy machinery arrives to rip through their property and security guards chase them off their land. Without knowing the terms of the deals and what the safeguards are, it's impossible to hold companies and officials to account. A clean allocation process and full disclosure of oil, gas and mining contracts is standard practice in many countries, including the US. The anti-corruption team at the World Bank Institute have created a new Open Contracting process to show how it should be done: the US should help Myanmar implement that advice.
Much has changed in Myanmar in two years. There is now a real opportunity for the government to learn the lessons of the past, and build a more peaceful and prosperous future around the natural resource sector. This would help millions of people in Myanmar, and bring President Obama a foreign policy success he can be proud of. But he needs to work to earn it. Delivering on his promise to help reform the natural resource sector is the place to start, and now is the time to do it.
Related
Popular in the Community