Write about what you know, have passion in it, and your audience will find you.
This kind of advice typically salves young artists struggling to find their voice. While sage, it feels half-baked. The work also needs to be good, interesting, exciting or timely in some fashion - or all of the above.
William Finn's A New Brain is all of the above. Finn, a celebrated musical theatre composer who defines quirky, wrote a musical loosely based on a very personal event -- his struggle with a rare form of brain aneurysm that occurred during a seminal moment in his writing career.
While such a topic could come across grim or self-involved, Finn (along with book writer James Lapine) sidesteps all that and finds a way to make it an every-man tale without compromising the oddball specificity of his experience and, more importantly, his writing. After all: Who hasn't faced a personal crisis, been forced to take stock, and then process the world anew?
Furthermore, A New Brain is one of my personal favorites. It's filled with outstanding character songs (and, boy, are these some characters who make up Finn's world), toe-tapping ensemble numbers, surprising bursts of emotion and humor, and a beautiful, pulsating heart of a message.
So, when I heard Theo Ubique, a well-respected Chicago storefront (which recently announced they are building a new performance venue in Evanston set to open in 2018), had taken on this production, I knew I'd be silly to miss it. And I'm telling you now: Get your tickets. This is what the Chicago storefront musical experience is all about. Director Fred Anzevino knows his stuff, and knows how to use this space so damned well.
You have a tight, uncommonly talented cast laying it all out there, sweating their faces off on an unseasonably warm fall evening as they fully commit to Cameron Turner's choreography, and -- oh hey! -- serving you drinks at intermission.
Meanwhile a rollicking pit band, literally tucked in a spare corner of the No Exit Café playing space, rival the musicianship heard in a Broadway in Chicago show (shout out to the Horn player – gurl, you crushed it!). Take a bow, musical director Jeremy Ramey. This is not a simple score, and I saw another production of this show where the band soured my experience. Here, the score soars with heart AND music.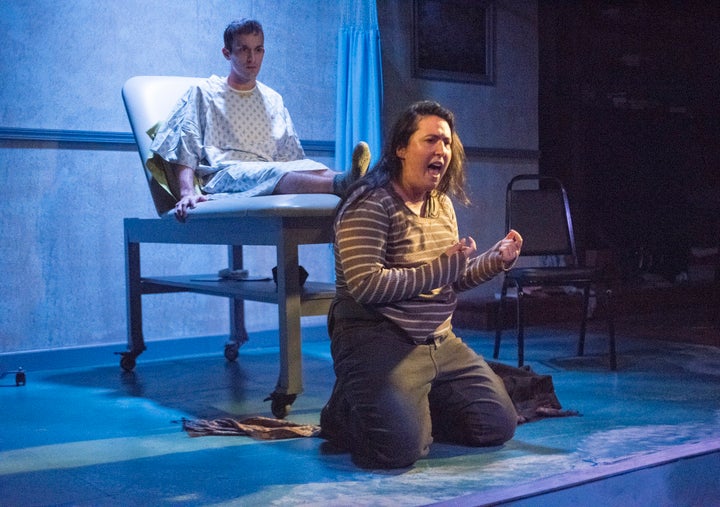 Now that I've told you to get your tickets – I'm going to do something different: A rundown mini love letter to each performer, because this is truly an ensemble show, and calling out one person seems shitty.
Chase Heinemann (Gordon Schwinn) – Ok, at first I was nervous because you seem so young! But you totally brought me along this journey and got me a little sniffly at the end. You're talented beyond your time. Bravo! Also – I see from your bio you payed George in Sunday with Holly. I bet THAT was something.
Colin Schreier (Roger) – This, to me, is the hardest role in the show. You're the emotional center and represent some form of an angelic figure who floats in to calm Gordon's nerves. Which can make the character wash away given all the insanity onstage. But – nope. Your gorgeous vocals and relentlessly honest performance made me take notice and genuinely care about these two lovers.
Liz Norton (Mimi) – Lady. WHERE HAVE YOU BEEN? From the moment I saw you, I couldn't take my eyes off you. You are a star and we need more. Also: You turned "Throw it Out" into the emotional equivalent of "Rose's Turn" and your "The Music Still Plays On" is a masterclass. Also: Dug the shoes in that scene!
Tyler Franklin (Rhoda) – Ok. Your emotional commitment was everything when you told Gordon what he didn't want to hear: That he needed to write his song before heading into surgery. As Rhoda, you knew it was the unpopular thing to say, but you also knew it was the important thing to say. And you were right. Brava. Emotional intensity for the win!
Tommy Bullington (Richard) – You diva. You owned that stage every time you were on it – and you KNEW IT. You were downright delicious. I'd also wager, the audience favorite. Also – same note as Liz: Dug the shoes!
Veronica Garza (Lisa, Homeless Lady) – Secret: this is my favorite role in the show. I have high expectations. You BLEW THEM AWAY. Also – how do you do that with your voice? It's unfair, really. Also, part two: Your visceral rage in the song "Change." Can we talk about this? It hit me, hard. Get it out, gurl. This song RESONATES – especially now.
Holly Atwood (Nancy D/Waitress) – You had so many small, delightful moments throughout the night. Don't think I didn't see your diva moment during the "Yes" song. You are like a spring filled with talent, ready to pop. What's next for you? Because I'm there.
Danny Dwayne Wells II (Minister) – Flipping from pious minister to wacky ensemble member, you made Every. Moment. Count. Also your vocals on "Heart and Music" were smoooooth. I'm gonna keep my eye out for you.
Kyle Ryan (Doctor) – Dude. Your voice. I'm a sucker for a glorious baritone. And the scene where you explained the surgery to Gordon, but then had to jet out because you had tickets to Chicago? That's how a comedic beat is done.
Andy Brown (Mr. Bungee) – OK. Chip Zien. You made me forget Chip Zien, who is a favorite of mine in many ways. Also, you get the delight of being the villain in this show – which is why it's so brilliant. The villain is a seemingly charming chap of a guy who runs a children's show. But he's really just an asshole. You were both – a charming asshole.
Did I miss anyone? I hope not. GET TICKETS. IT CLOSES OCTOBER 29.