There's wide global awareness today that we need an entrepreneurial approach to solving the challenges of today and unearthing the opportunities of tomorrow. Women are a key element of diversity and discovery in the algorithm of future innovation.
As "talking heads" tout the need for more women in leadership roles and especially as founders and tech entrepreneurs, I often wonder how authentic this call for action really is?
As someone that presently works in both the U.S. and Sweden, increasingly I feel that in America women are still "nice to have" while in Sweden women are a "must have." Gender diversity in the Nordics is core to the business model and seen as a source of startup creativity.
In Sweden, entrepreneurs start companies because they can. The country provides a social safety net and comfort level for young people to be able to take a leap without the cost of a fall breaking their necks, credit and bank accounts.
Stockholm was ranked number three in Europe for best startups and second place for ability to scale startups internationally, according to the European Digital City Index for 2015.
In 2015, for the first time ever half of the investment capital awarded to startups form prestigious incubator "Sting" went to those female-led and female-founded companies, according to The Local Sweden.
There was no quota or mandate behind this; the seed capital simply went to the best ideas. Women see the world differently, often following more empathetic and values-driven concepts, and different is good in the world of innovation.
Just ask Lisa Lindstrom, CEO and founder of dobermandesign.com, and one of Sweden's earliest and most successful female tech founders.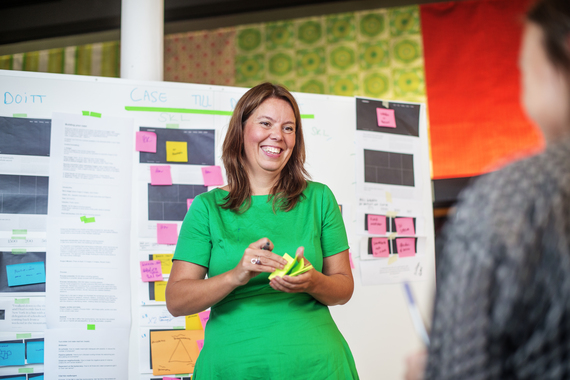 "I do see myself as different in why I chose to be a founder. For me founding a company was a necessity to nurture my curiosity, never a thought-out plan. I wanted to explore if it was possible to run a company combining an extreme commitment to quality with well-being and empathy. And the only platform to explore this was to found one myself, together with some friends. That's it."
I met Lisa several years ago when I first moved to Stockholm, and she changed the way I viewed leadership and innovation enormously from one based in sheer "American dream-driven" competition, to one steeped in inclusion, transparency and openness. She taught me that women can be both leaders and listeners, mothers and change-makers, CEOs and chief-communicators never afraid to take a stand and voice their own accomplishments and that of other women.
"I also remember our first meeting where we discussed how the Swedish work culture could be exported to the U.S., and the American confidence to stand out exported to Sweden. One way that Swedish culture empowers both male and female entrepreneurs is through paid parental leave. Swedish work culture makes it possible for both men and women to work, found companies and have a family."
Lindstrom and her co-founder, Anders Frostenson, who is based in New York City, have worked to coalesce a grassroots movement of New York's most creative leaders and agencies to advance parental leave called the Pledge Parental Leave.
"The PPL makes me really hopeful that we could change the world. In small steps."
Her disruptive leadership style and courage to use her voice to break down barriers are precisely why she is part of our multiplier community for Brilliant Minds thought leadership gathering, part of Stockholm Symposium.
Brilliant Minds is a thought leadership summit, which aims to find the next global disruptors before they hit the Ted stage and combine them with some of the world's most established entrepreneurs and leaders. This two-day conference is part of Stockholm Symposium week, a platform and bridge for the world's most creative and socially conscious minds to come together to redefine collaborative creativity and find ways to challenge the status quo for good.
Natalia Brzezinski: There are so few female tech founders, even in Sweden, where women "have it all" in terms of social and government support to work (maternity and paternity leave, daycare etc.), there seem to be very few women doing what you have done. Why?

Lisa Lindstrom: My generation was not raised with a lot of references to female founders. When I was a kid, I had rarely heard of any founders, and the ones I heard of were male, like Ingvar Kamprad (founder of IKEA) and Stefan Persson (Chairman of H&M). My hope is that my kids will be raised with different perspectives, finding it natural to have women and men inventing and running companies. And I do believe that change is already happening! Swedish women in their 20s and 30s will be an enormous force in the tech world!
What's the worst standard career advice out there that you want women to stop believing?

Women always need to be a little bit better than the rest, give 200%. I'm a little bit tired of that saying. You don't need to be better. You just have to tell the world how good you are. Be proud of your skills and be loud about them.
How did you develop a style that's both feminine and authentic not trying to be a bad copy of a traditional male CEO?
My leadership style has evolved a lot through out the years. In the beginning the only thing I was confident about was my values and that I always wanted to have fun myself.
I basically tried to make decisions that were both driven by the purpose of our business, humanity and a large portion of creativity. It led me to constantly explore, ask for feedback, try new ways of working and be musical to what made the organization tick. I was so busy building the company I did not really have time to reflect if this was a female or male leadership style.
"Culture" is the buzzword in the workplace today. You've developed one of the most innovative, flexible work cultures I've ever explored at Doberman. Can you describe the values that underpin your culture and how you maintain it?
The cornerstornes of Doberman are participation, inclusion and a tireless dedication to talent.
What advice do you have to big corporations or startups that have become big companies to remain entrepreneurial and innovative?
A few things: Delegate more decisions to the parts of your organization that are closest to your customers; Create a culture of trust so that your organisation starts acting on customer input instead of management assignments.
Companies need to gain huge levels of trust in larger corporations and it takes practice. My experience is that some organisations need to practice outside the larger body, in an innovation lab. But, the most efficient way in my opinion is to train the organization within your existing structure, which entails building multi-disciplinary teams cross silos, giving them business-critical problems to solve, and a set time to solve them.
A company must make sure the team constantly prototypes, that it's constantly trying new ways of working, new processes, new products, and that they include their management in the feedback loops not just the final sign-off.
What have you sacrificed to get where you are?
The famous "me-time". And I am not even sure that it has been a sacrifice. It is something that I intellectually think I should do more of, but I am not sure it would make me more happy. My "me-time" is spent with my family. And yes, a few more things: reading enough, exercising enough and singing enough.
Do you think a woman can have it all?
Not all at once, but during a lifetime. Yes. If one tries to go all in for all of it at the same time, my view is that you tend to spend your energy thinking about the part where you are not delivering. But, if you are thankful for what you are doing, your energy will work with you along the way.
Do you have "maternal guilt"? If yes, can you please give me some advice on how to deal with it since I am a perennial sufferer?
I feel like I'm always balancing between good-enough and guilt. And it's always in relation to my own definition of motherhood (whenever trying to figure out how to fit into the definition of the society I am living in I seem to fail more often).
My only advice is to set a few very strict rules for yourself and try to stick with them. Simple rules like:
- never work on Friday evenings, Saturdays and Sundays
- spend long vacations with my family
- involve my kids in important decisions that would involve me not being with them (for example: explaining to them why I am the chairman of certain boards, the purpose behind such work)
Does "ambitious" and "mother" blend? Can you be both?
Of course! But in some phases of your motherhood you cannot maximize on your ambition. It is like a volume button. Ambition also has several grades. Sometimes you can allow yourself a 10 and sometimes you just need to face it that you came to an 8.
You've been chosen by the Swedish government as an advisor on entrepreneurship-- What can governments and nations do to better spur innovation?
Governments should recognize that the main drivers for commercial innovation will always come from the companies themselves. The main task for a nation is to have the basic rights (competitive taxes, infrastructure, energy, rules, anti-corruption and all areas covered in the World Economic Forum's index for a competitive nation).
But to really spur innovation, a nation also needs to make sure it has an adaptive educational system, faster moving policy-making to adapt to new disruptive business models, such as the circular economy, and focus their research areas with a digital edge.
It also needs to collaborate with entrepreneurs, corporations, academia and citizens to become more innovative. Future successes come from the nations that build a platform of co-creation.
And lastly, a country needs to have a strong vision. Individuals, organizations and companies are always longing for a bigger purpose. If this could be communicated by a strong and co-created vision it would align all under-utilized capacity to work together for a move innovative, sustainable and successful nation.
Have you ever experienced gender bias? How did you respond?
My experiences are mainly positive. In the early days of digital product development, our clients were not always expecting me to be the one in charge, and I gained mostly positive reactions when they realized I was.
In the beginning it was more difficult to be young or without a university degree than being female. To whatever unfair expectations I have met, my response has always been to be outspoken with my ideas and trust that fairness and great ideas always win. Maybe it sounds naïve, but it has always saved me from reacting with emotion or frustration.
What does feminism mean to you?

Feminism means being gender conscious. It means always reflecting and being aware that we live in an unequal society and that we all have a responsibility to do what we can to change that. As a leader I have certain power to make decisions that affect equality and I need to act on that. Always.
So my version of feminism is the one of a practioner. I might not always be the one who has read all the books, but I am the one to make sure to be on stages and in visible public roles trying to prove that women are allowed to be on stages. At work, I always try to make the decision steeped in equality, recruit in a conscious way and promote talent in all aspects. Feminism by doing, is my mantra.
How do you work on equality in your company?
Just the fact that our Design Technology team explored how Artificial Intelligence could be used to promote gender equality is such a great sign that our company has a culture of dealing with important societal issues creatively and with commitment.
We also make sure there is equal pay for equal work, be very fair in recruitment and also focus on values and uplifting talent in anyway possible by offering men and women flexibility around family and work life. Pushing equal rights is always going to be one of our missions. That's why I'm so extra proud of the pledge for improved parental leave in the U.S. The rules need to be fair, when they are, then the competition is going to show results. I promise.
Women like Lisa are the reason I'm convinced that entrepreneurship is the ultimate form of empowerment. The modern "women's liberation movement" is echoed in every startup pitch and innovation lab where women are putting forth unique and novel ways to modernize the modern workplace and create cultures of innovation not regression.
I'm convinced the future is one where women will lead through their authentic personal stories, with their hearts and with their brilliant minds.
REAL LIFE. REAL NEWS. REAL VOICES.
Help us tell more of the stories that matter from voices that too often remain unheard.