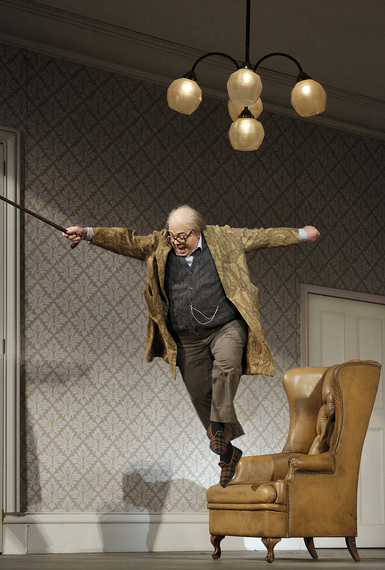 Donizetti's Don Pasquale has been called the last of the great Italian opera buffa, and it's easy to see why. The music is beautiful and the libretto is absolute fluff. That suits the conventions of opera buffa, of course; the form is meant to be comic and light, pure entertainment along the broad lines of commedia dell'arte, closer to Punch and Judy than, say, a comic opera like Verdi's Falstaff. San Francisco Opera, which had not presented this 1843 opera since 1984, thought it worth another look, and the approach that this new production (coproduced with Santa Fe Opera and Gran Teatre del Liceu, Barcelona) takes is brilliant: Get four of the best bel canto singers available, make sure they are excellent physical actors as well, and ramp up the silliness. Add fine orchestral work under conductor Guiseppe Finzi plus Ian Robertson's great San Francisco Opera chorus, and you've got a delightful evening.
The title character, foolish old Don Pasquale, has decided, after all these years, that he wants to marry and has tasked his physician, Doctor Malatesta, to find him a young, virginal bride. That creates a problem for Ernesto, Pasquale's nephew, who lives with his uncle and refuses to marry the woman his uncle has chosen for him, because he's in love with Norina, a young woman as poor as he is. Fortunately, they have a friend in Malatesta. As the opera begins, the doctor arrives to say he's been successful in his quest. In truth, he persuades Norina to impersonate his sister, Sofronia, fresh from the convent--at least until after the bogus wedding. Ernesto doesn't know of the plot and has two great scenes early on in which he expresses his sorrow: one in which he prepares to write Norina a note of farewell, the second as he packs to leave.
The humor in the libretto comes from the measures "Sofronia" takes to make Don Pasquale rue the day he wed her. These begin in Act II, right after the doctor's cousin performs a mock marriage. In this production, however, Ernesto and Norina are far from your typical romantic leads. He's a wastrel, sponging off his uncle--still in his pajamas, drinking his first cup of caffe, when his uncle informs him of his plans. And when we meet Norina, she's lounging in her messy bedroom in a black slip, drinking wine, reading a romantic novel, and laughing at it.
In this production, a good part of the humor comes from the disconnect between, say, the high-flown sorrow of Ernesto's beautiful, straightforward arias and the way he expresses it: knocking his head against a wall, lying on the floor and wailing, kicking his heels like a spoiled child. Similarly, the libretto calls only for Norina to read about the chivalrous love of a knight for his lady, while director Laurent Pelly has her throwing the book on the floor, pretending to gag, and otherwise indicating how stupid she finds it.
This clever business makes up for the thinness of the plot, which makes Mozart's Così fan tutte (in which two men bet a third that their fiancés will be faithful, then try to prove it by romancing the other's intended in disguise) look deep. The gorgeous bel canto melodies, of course, can't be denied; and some of the humor--such as the wonderful rapid-fire double patter of a late duet by Pasquale and Malatesta--is built into the opera.
But it's the expert comic timing of these four singers--soprano Heidi Stober as Norina, baritone Lucas Meachem as Malatesta, the nimble bass-baritone Maurizio Muraro as Pasquale, and, in his SFOpera debut, the elegant, sweet yet strong-voiced tenor Lawrence Brownlee--added to their terrific singing, that makes this production such a delight.
Suiting the times and the public, opera buffa dominated its opposite, opera seria, for the first twenty or thirty years of the nineteenth century. Indeed, by the time Donizetti wrote Don Pasquale, he'd had great success with the type of tragic Romantic melodramas that eclipsed opera buffa: His Lucrezia Borgia and Lucia di Lammermoor, for instance, helped establish that form's enduring popularity.
Don Pasquale--the last of the great opera buffa--came at the end of his career. It's kind of amazing to think that it premiered in the same year as Wagner's Der fliegende Holländer (The Flying Dutchman) and just a year after Verdi's Nabucco, whose famed chorus "Va, pensiero" was in the spirit of the Italian unification movement, which he supported.
So it's understandable that we hadn't seen frothy old Don Pasquale in San Francisco in more than 30 years. And yet, when it's this well done, what a great diversion!
Oct. 4, 7, 12 and 15, War Memorial Opera House, 301 Van Ness Ave., S.F., 415.864.3330, sfopera.com
Photo: Maurizio Muraro as Don Pasquale
Calling all HuffPost superfans!
Sign up for membership to become a founding member and help shape HuffPost's next chapter