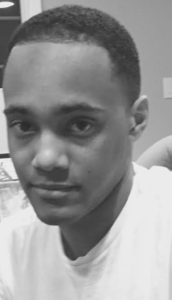 "Would you like to hold your sister?"
Mom's question frightened me more than the zombies in that haunted house last October. I was a six-year-old without experience holding a precious, delicate and fragile life. I wondered: "She is so small. She is related to me?" Gabrielle. All of a sudden, I loved the name I once hated. All the ill-feeling from arguments with Mom about the baby's name were instantly exiled. I joined the family circle of lovestruck faces. It was my awakening to responsibility and trust. After some coercion, I surrendered to the urge. I picked Gabby up. She immediately started to cry.
Since that day, my role in the family has always been clear. I was big brother to three boisterous little sisters. Instead of competing with their constant chatter, I became reserved. I was full of many ideas, but just couldn't get any airtime. I became more comfortable as a speaker in the classroom with students I had known since kindergarten. At school, I was at home as my favorite subjects, Latin and Classics, became passions.
My comfort at school unravelled when I came to the Lawrenceville School in Ninth Grade. The new environment felt as unfamiliar as that moment with Gabby. I saw many of my peers finding their own places in football, academic clubs, and the arts. They all seemed content, and I made it my mission to find my own comfortable niche at Lawrenceville as I had at my previous school.
As a sophomore, I joined Cleve House, one of six communities for male students. Since most of my fellow Clevies were athletes, I thought the best way to fit in was to squeeze into their world, so I shocked everyone by signing up for House Football. The sweltering September days felt even hotter under the shoulder-pads and helmet that weighed down my body, despite only playing as a five-second substitute all season. Clearly, I was not cut out for football but, to my surprise, my House brothers cheered me anyway. I didn't learn how to tackle, but I did learn how to support my House.
Still, I wanted to share what I really loved with others. By junior year, I started expressing my deep interests in acting to any Cleavies willing to listen. Surprisingly, they reacted to my tales of the grand set, striking costumes, and melodious musical with warmth and interest. They came to see me perform in Oklahoma! and in small one-act plays. In return, I watched sports with my new brothers and supported them at their games. The more of me that I shared, the more comfortable I became. My crowning moment came at the end of sophomore year, when I was elected "Cleve House Fact Man:" the comical emcee of Thursday lunches.
While acting, my characters became my messengers. From a cowboy in Oklahoma to an old gardner in The Secret Garden, I expressed different parts of myself. With this comfort, I also began finding ways to share my love for Latin and Classics. When I realized that they were not widely taught in other elementary and middle schools, I raised hundreds of dollars for a Latin program to teach to Trenton middle schoolers. Eventually, I taught my curriculum to the students.
I learned to accept others for who they are just as my housemates learned the same lesson. This realization that I could be as different as I wanted led me to other pursuits, like writing. The standard for "good writing" at The Lawrence are high and I was a latecomer as a junior when most writers started as freshman. Yet somehow I became the most prolific staff writer of the Opinions section.
As a brother to strangers with different interests, I drew on my experiences with sisters. After all, Jillian was the athlete, Sydney was the artist, and Gabrielle was the dancer. Eventually I became myself at home and at Lawrenceville--writer, actor, brother and friend.
Brandon Medina graduated from the Lawrenceville School last week. He will be a freshman at Amherst in the fall.
Support HuffPost
The Stakes Have Never Been Higher
Related
Popular in the Community