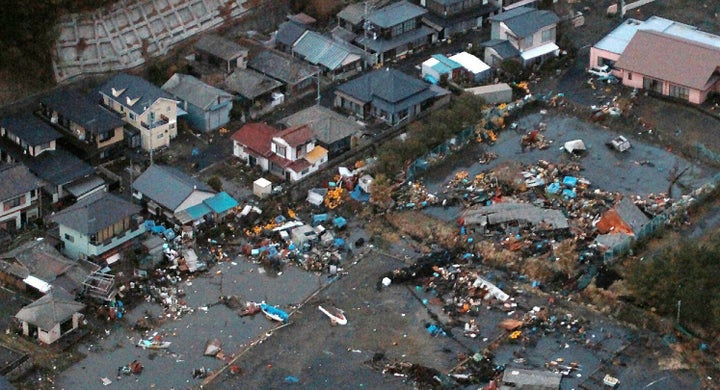 Before Siddhartha Gautama attained enlightenment he was a confused twenty- and thirty-something looking to learn how to live a spiritual life. Each week in this column we look at what it might be like if Siddhartha was on his spiritual journey today. How would he combine Buddhism and dating? How would he handle stress in the workplace? What Would Sid Do? is devoted to taking an honest look at what we as meditators face in the modern world.
Have a question for this weekly column? E-mail it here and I'll probably get to it!
I am simply horrified by what is happening with the Japan earthquake today. It's on Fox News, CBS News, MSNBC, everything. Thousands are dead or missing. What would Sid do in the face of such tragedy? ~ Sammy
Looking at the footage of the widespread destruction from the earthquake and tsunami on CNN I can't help but feel heart-broken, just like you Sammy. Natural disasters happen so suddenly and there is something that my mind cannot fathom about the sheer number of people who have been affected here (and may continue to be affected even as close as Hawaii and the West Coast). Yet there they are, images of today's devastating 8.9-magnitude earthquake which caused a tsunami that tossed cars like beach balls, left bodies in the streets, and tore families apart. It's absolutely horrible.
It can also feel disempowering for those of us overseas watching these events unfold. If Sid was sitting beside me on my couch watching this footage I have a couple of ideas as to what he might do.
When one becomes a member of Shambhala there are three things requested of them: that they practice and study the teachings of the Buddha, that they offer their service in the form of volunteering to help their local meditation center operate, and that they give something financially to help pay for the space and staff that keep the place open. I think this model for membership can be applied to a Buddhist response to the tsunami crisis.
Even if we are novice meditators we can keep our hearts open to the suffering we see and hold the victims of the earthquake in our meditation practice. If you know tonglen practice you can do tonglen for Japan, for the victims and their friends and families. At the very least you can meditate on loving kindness and, in your own words, dedicate your meditation practice to all of those suffering in Japan.
Opportunities for people who want to volunteer in Japan have not been announced, to the best of my knowledge. If anyone has a lead for medically trained or other types of professionals who wish to offer their services in Japan please leave that information in the comment section. If you are like me and unable to offer your services directly to the victims you can help raise awareness about this tragedy so our collective prayers may travel to Japan and anywhere else this tsunami may strike.
Many organizations state that in the midst of a crisis like this the most highly recommended form of support is through making a donation. There are a number of organizations that you will likely be able to donate to in order to support Japan. The Red Cross is just one of these organizations who, incidentally, are also providing solid information on what is happening on-the-ground. In the days ahead I am sure more information will be made available on this front. I hope people will list other worthwhile organizations in the comments section.
The important thing to remember is to continue to keep an open heart and not shut down and ignore the suffering of our fellow human beings in Japan. If we can offer our practice, service, or generosity to the victims of the tsunami then we no longer need to feel disempowered. I invite others to share their own reflections on how we can help our friends overseas.
Related
Popular in the Community