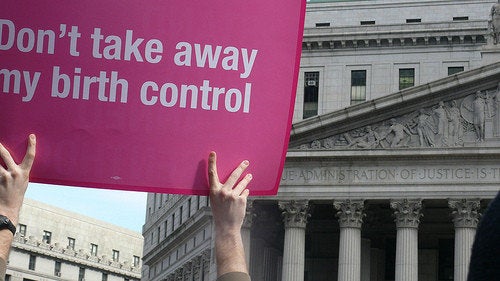 For all the fine talk about making the "hard choices" to reduce the budget deficit, the current Republican House budget proposal is principally distinguished by one thing. It is hard on women and children. From birth to old age, the Republican budget cuts treat women and children as if their lives and their health just don't matter. If passed in its current form, the House budget would make the life harder, unhealthier, and shorter for many. The program cuts would act as a tax on women and children that will be paid for, not in dollars, but in despair.
It is simply magical thinking to suggest that the radical Republican budget cuts to health-related programs would not result in the death of more infants and children, the occurrence of more unintended pregnancies and thus abortions, a higher incidence of cancer at the curable stage going undetected, and the virtual certainty of greater hardships for the elderly poor.
The Republicans have proposed a plan that will change the daily lives of millions of women and children for the worse. And the hard cruelty of the cuts spans all ages, starting in the womb.
According to the CIA World Factbook, the US currently ranks 46th in the world for infant mortality. Our rate of infant deaths per 1,000 live births is already more than twice that of Singapore, Bermuda, Sweden and Japan.
And yet the House Republicans propose cutting Maternal and Child Health block grants by $50 million. Among the goals of those block grants are the reduction of infant mortality and the incidence of handicapping conditions among children.
The House Republicans also propose a cut of $1.1 billion in the Head Start program. This would force almost 218,000 children nationwide to leave the program this year.
One of the many benefits of the Head Start program is that it results in reduced mortality rates for children 5 to 9 year olds by up to 50 percent. If you force 218,000 children out of a program that saves lives, the results are foreseeable.
Children that participate in Head Start are also more likely to receive necessary vaccinations and less likely to become obese. Participation has been shown to lower family Medicaid costs by $198 per family. Budget cuts to programs like this are not really about saving money. They are about saving face for ideologues.
The House GOP budget also eliminates funding for the Teen Pregnancy Prevention program. A report by the Guttmacher Institute found that beginning about 1991 there was a steady decrease in both birth and abortion rates among teens. And that almost the entire decline in the pregnancy rates for teens 18-19 years old between 1995 and 2002 was attributable to increased contraceptive use. So if you zero out a pregnancy prevention program, the results are foreseeable.
The Republican House budget cuts the Child Care and Development Block Grant by $39 million, leaving 150,000 children with no place to go. More women will have to choose between working and supporting their families or providing childcare.
Job Corps funding would decrease, leading to 10,000 fewer program slots.
The Health and Human Services health professions training programs will be cut by $57 million. This would hit women especially hard since about 75% of health care practitioners and technicians are women.
The GOP budget cuts Title 1 education grants to states and localities, which would result in a loss of jobs for teachers and aides. Those are job losses that would disproportionally affect women.
The Senior Community Service Employment Program faces a 63.6% decrease in funding. This is a program that provides subsidized, service-based training for low-income persons 55 or older who are unemployed and have poor employment prospects. 70% of the program's 89,300 enrolled participants were women.
And for senior women on Medicare, if the House GOP bill becomes law, the costs of the Medicare Donut Hole come back and the free yearly wellness exams and preventive services go away. The loss of all those cervical cancer screenings, Pap smear tests, pelvic exams and mammograms, will have foreseeable consequences.
Virtually everyone agrees that the deficit issue needs to be addressed. But we disagree about how to do it. I believe strongly that the current bill is just not the way to do it, because I believe that women's lives matter.
REAL LIFE. REAL NEWS. REAL VOICES.
Help us tell more of the stories that matter from voices that too often remain unheard.