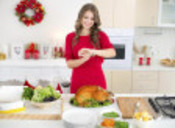 If the onslaught of seasonal imagery and TV specials hasn't tipped you off, the holiday season is upon us. For some, this is a welcome development. For others... not so much. From the usual feelings of stress, anxiety, and guilt to the thought of a visit from the in-laws, the season never, um... disappoints. And this year there's a new addition to the list of things you need to worry about, thanks to the Starbucks cup-controversy, or as I like to call it, "Cupgate."
Let's face it, whether your issues are coffee cup-related or not, the holidays can be a difficult time for anyone. Don't be sad, though. Here at AOL, we have the remedy for your seasonal disorder.
One thing that weighs on the mind of anyone who is planning to host a large group of people is how to entertain them. If you find yourself in that camp, you know how stressful it can be. There are a million things to consider, like how much food to buy and how many dishes to make, not to mention the juggling act required to get them out of the kitchen at the same time. That said, there are a few things you can do to reduce your stress levels in the kitchen and -- here's the beauty part -- enjoy some quality time with your friends and family.
Stay Organized

Staying organized and on top of your to-do list is critical. If you plan ahead, the odds are pretty good that no potatoes will go un-mashed, no dip will be un-dipped, and no guests will go hungry. Here's a tip: You can save yourself a lot of aggravation if you prepare a few dishes ahead of time. As Chef Wolfgang Puck, in a special Thanksgiving edition of AOL BUILD, reminded us, dips, mashed potatoes, desserts, and other side dishes are good for preparing and storing ahead of time and then reheating as needed. And whether he's cooking for family or catering an event for a thousand, Chef Puck has another rule: Taste your food before serving!
That little rule we all learned in grade school math, K.I.S.S. (Keep It Simple, Stupid), also applies to holiday cooking. In a different interview for AOL BUILD, culinary expert and food writer Gail Simmons said she likes to focus her energy on creating one incredible dish, in the belief that quality is more important than quantity. Along the same lines, if you can manage to make your incredible dish in a single pot or pan, you'll spare yourself -- or significant other -- a long and messy cleanup. In his special, Chef Puck showed us how he combines ingredients, cooking his sweet potatoes and butternut squash along with the turkey in a single pan. Not only does the single-pan approach help reduce the post-meal cleanup, roasting lends a nice golden-brown color to everything and has the added benefit of sealing in all the flavors and nutrients -- the opposite of what happens when you boil your veggies.
If you're planning a big, elaborate meal with lots of courses and side dishes, be sure to delegate some of the responsibility. Gail Simmons says that it's okay to "ask your friends for help." You could, for example, put your friend Tom in charge of the antipasti, ask your niece Madison and nephew Dylan to set the table, and have Uncle Mike take care of the wine. Okay, maybe not Uncle Mike.
Remember What the Holidays Are All About
This time of year is all "about spending and sharing quality time with loved ones," says Simmons. So this holiday season, before you start to look ahead to the New Year and 2016, take a moment to look back and reflect. Think about what you are grateful for. Italian chef Gabriele Corcos reminds us that there are "more important and gratifying things than the paycheck ... love is important, health is important, helping people in need is important." In other words, you need to find a balance between the things you have to do and the things you love to do. And remember, adds Corcos, "Wine makes you happy and healthy and gives you a beautiful smile."
So before you head in to the kitchen this holiday season, take a deep breath and draw up a plan. Then cook a great meal and enjoy your family and friends. And don't forget to have a glass of wine or two!