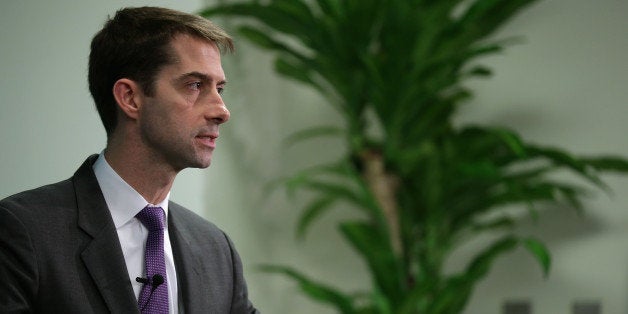 One of the ironies of life in Washington is that those most concerned with American credibility are often working the hardest to undermine it. Under the new "Cotton doctrine," unveiled in the now-infamous letter from Senator Tom Cotton and 46 other Republican Senators to the government of Iran, America's commitments are only good for as long as the President who signed them remains in office. This is the way banana republics do business, not the United States. It's an approach unworthy of our diplomatic traditions, and one that damages our ability to work with other nations and exercise international leadership.
As a former U.S. diplomat who served overseas under both Republican and Democratic presidents, I represented the United States, not the party in power in the White House. Whatever our political views, my colleagues and I were professionally obligated to secure America's long-term interests, not to service transient political needs. We took that commitment seriously, because the many hundreds of international agreements that the U.S. is party to rely on its status as a credible partner, invested in the international system -- a system it was instrumental in creating.
But I served in regions where the credibility of countries was often in question. Political upheavals and even coups were always a possibility; continuity between leaders was fragile, and figuring out who spoke for the country was challenging. These nations weren't respected in the international arena, and found themselves unable to exert leadership beyond their borders. That's the future that Sen. Cotton and his crop of banana Republicans have staked out for America: one in which America's long-standing agreements are no longer binding, but subject to the whims of whichever party or person happens to be in power.
Clear lines of authority and accountability have been the hallmarks of American power, and they're the bedrock on which our global leadership rests. By calling into question not only this potential agreement but all future international agreements, Sen. Cotton and his colleagues are eroding that foundation and instilling uncertainty abroad. They claim that the U.S. will not need to honor any commitment made by President Obama in a deal to prevent Iran from obtaining nuclear weapons. It may be true that the U.S. will not be bound by a legal enforcement mechanism, but as part of an international coalition entering a political agreement with Iran it will be expected to live up to the terms of any arrangement, or risk damaging the nation's credibility abroad.
The Republican senators who are opposed to any nuclear deal with Iran have not seen the terms, but nevertheless claim that the Administration is basing the deal on a false hope that in 10 or 15 years, when some terms of the deal will likely begin to expire, Iran will have a new, less dangerous regime. But it is clear that any deal will be based on its own merits over the life of the agreement and is not premised on wishful thinking about regime change. (The latter being -- at least recently -- the preferred GOP approach to foreign policy.)
The kind of agreement that is anticipated would block all of Iran's possible pathways to a nuclear weapon and would subject the country to intrusive inspections and severe limitations on its uranium enrichment capacity for civil uses. After limitations on Iran's civil nuclear program begin to ease in 10 or 15 years, the increased transparency into Iran's nuclear activities would remain, and the requirements of the Non-Proliferation Treaty to which Iran is a party would still pertain. In addition, all of the options available now to the P5+1 countries to prevent Iran from obtaining a nuclear weapon would still be available at that time, including renewed sanctions, new negotiated limits, or military action if necessary.
The U.S. and its partners are dealing in a realistic world in which countries are expected to live up to their agreements and domestic political change is not a way to renege on deals. Hardliners both in Iran and the U.S. who are working to prevent or undermine an agreement are placing partisan politics ahead of their country's long-term interests and damaging prospects for a historic deal -- a deal that remains the most feasible and effective way to prevent Iran from obtaining a nuclear weapon.
Calling all HuffPost superfans!
Sign up for membership to become a founding member and help shape HuffPost's next chapter