Wednesday-night dinner turned into a big surprise and a super-big score for folks lucky enough to be eating theirs at Bocanova Pan-American Grill in Oakland, Calif. Between the fourth course and dessert, officials from LAN Airlines -- the main carrier in Chile, Ecuador, Peru and other countries and the only airline to run nonstop flights between San Francisco and South America -- stood up from their table at the back of the room to announce that every single diner was about to receive a voucher for a free round-trip ticket to anywhere in South America.
Naturally, everyone flipped out. Here's how they looked before the announcement -- a full house of unsuspecting diners enjoying one of chef/co-owner Rick Hackett's locally famous wine dinners: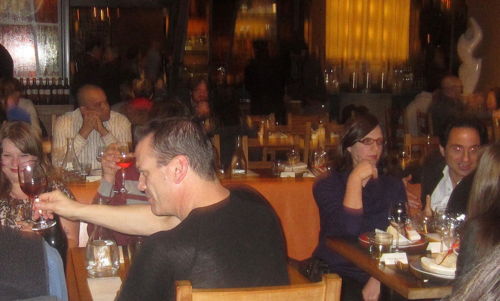 And here's how they looked immediately after the announcement: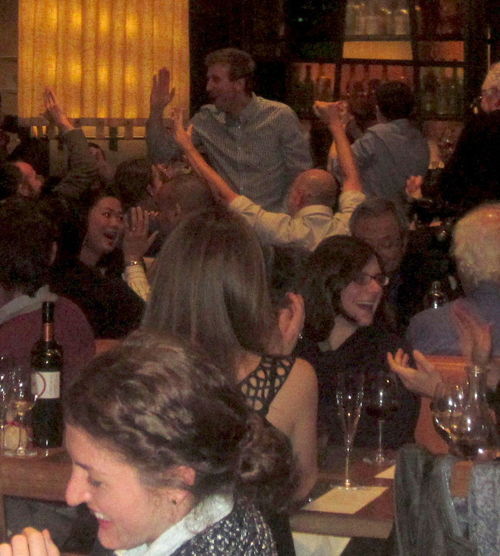 Here's how they looked as their vouchers were being handed out: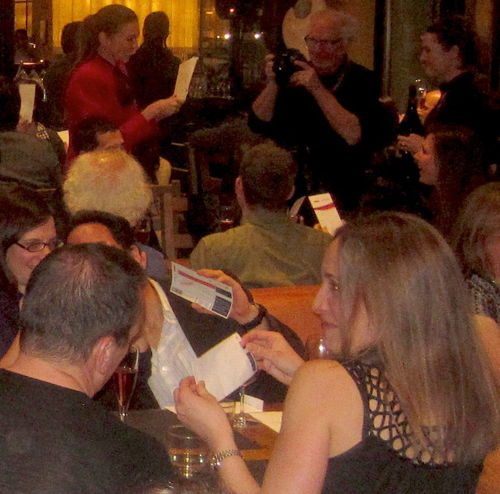 And:
They were screaming. They were hugging. They were jumping up and down in the aisles. It was weird watching faces turn from mild smiling complacency to staring pop-eyed shock. Someone near me shouted, "Oprah moment!"
I asked one quartet of hipsters where in South America they might go with their generous new vouchers.
"Probably Peru," one of them said, looking dazed. "I've always wanted to see Macchu Picchu." Then she too was swept up into the shouting and hugging.
The wine dinner had begun innocently enough. Each place setting bore a menu and a gift: a little bag of quinoa.
First came the starters: velvety-soft black and green Peruvian olives, wild shrimp and lobster ceviche with passion fruit, and Pacific rockfish ceviche with tomatoes, zucchini and that Peruvian favorite sauce, aji amarillo: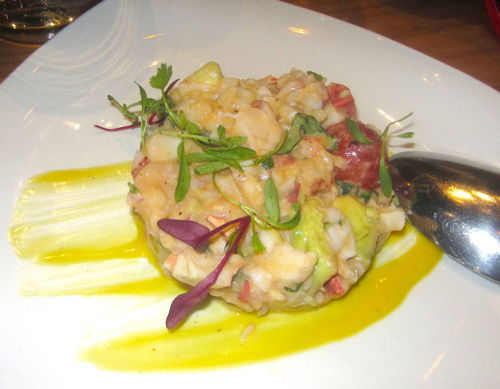 The next course included quinoa-and-grape salad and green salad. Next up was seafood-coconut-milk black rice, steamed mussels with smoked tomatoes, and grilled octopus with preserved lemon and chile flakes: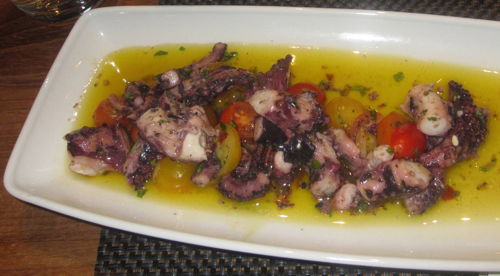 The main course included braised beef, wilted winter greens, and roast marinated chicken with dried-shrimp-and-peanut sauce: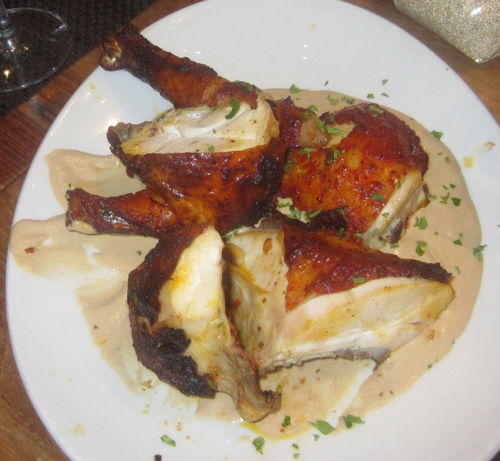 Dessert was cream-cheese flan with blood-orange sorbet and popcorn brittle.
With their free round-trip tickets, all those folks can now indulge firsthand in an array of cuisines which are sadly underrepresented in the States. Argentinean steaks and Brazilian açai ice cream are just the tip of the Tierra del Fuegian iceberg.
What else might they try?
In Chile, they might try mote con huesillo, a cooling drink made from cooked wheat, dried peaches, cinnamon sticks and syrup. Or chunchules con harina tostada, beef or pork intestines stuffed with meat paste and then neatly braided, adorned with toasted flour, and fried.
In Bolivia, they might try caldo de cardán, a rich white soup whose key ingredient is bull penises and is said to be a natural Viagra. (It was featured on the Bolivia episode of Bizarre Foods with Andrew Zimmern.)
Peru is the land of skewered beef hearts and delicious steak sandwiches with a hidden treasure of French fries alongside the steak, inside the roll.
Visitors to Brazil will be astounded by its vast array of pizza parlors, where savory and sweet toppings range from mashed potatoes to cream cheese to curried meat to chocolate to guava paste to plantains to dulce de leche.
And did someone mention pisco, cachaça and locally grown coffee?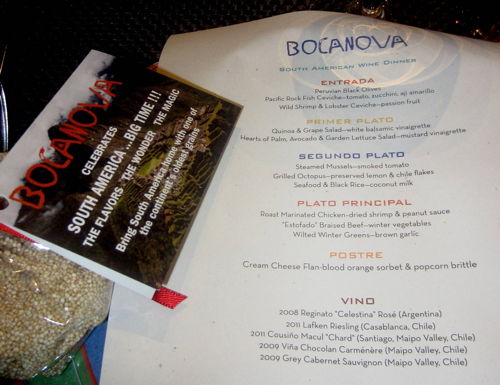 As for all the folks having dinner in other restaurants all over Oakland? They just got ... dinner.
All photographs taken by Anneli Rufus.
REAL LIFE. REAL NEWS. REAL VOICES.
Help us tell more of the stories that matter from voices that too often remain unheard.