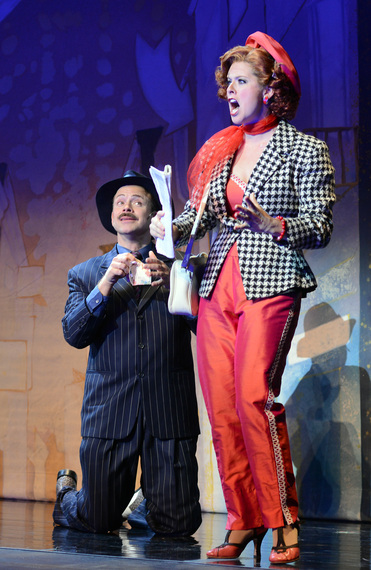 Segerstrom Center for the Arts -- Christopher Swan as Nathan Detroit and Lauren Weinberg as Adelaide in the national tour of GUYS AND DOLLS -- Photo by Gary Emord-Netzley
It's sexist, dated, it's simplistic, and stereotypical; and by many of today's standards, it's actually politically incorrect given the women-as-property tone. Yet, it's good fun, it's sing-along tunes, it's big numbers, flashy clothes and timeless love songs. It's Guys and Dolls enjoying a run at the Segerstrom Center for the Arts in Costa Mesa, CA through April 19.
The play, based on the writings of Damon Runyon from the 1920s and 1930s with music and lyrics by Frank Loesser and book by Jo Swerling and Abe Burrows debuted in 1950, yes, 73 years ago. It ran for 1200 performances winning a Tony for Best Musical in 1951 and then again in 2009 along the way.
In 1955 the film was made with Marlon Brando and Frank Sinatra, Jean Simmons and Vivian Blaine. It was even a source of scandal when in 1951 it was nominated for and selected as the winner for Pulitzer Prize for Drama. However writer Abe Burrows ran up against McCarthy and the House Un-American Activities Committee and the trustee at Columbia University vetoed the win and awarded no prize that year.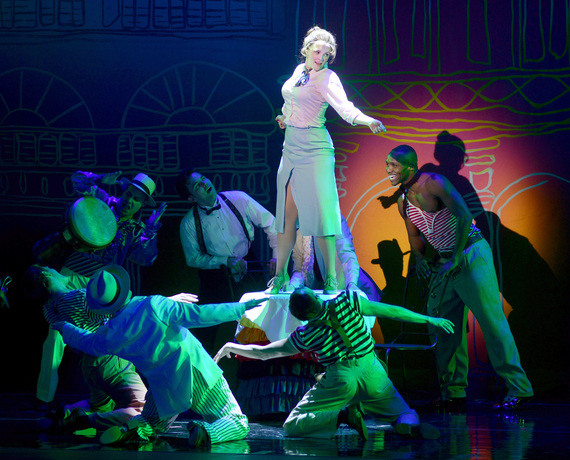 Segerstrom Center for the Arts -- Kayleen Seidl as Sarah Brown and the cast of the national tour of GUYS AND DOLLS -- Photo by Gary Emord-Netzley
Seventy-three years later hearing women referred to as "dolls" all the time and spoken about like things to be passed about or traded, I wanted to be appalled but I thought well, things haven't changed that much have they. In 2015 women's issues from workplace equality in wages and other serious issues like what constitutes rape, religious freedom laws set up to deny women access to contraceptives under Obamacare (no, they're not anti-gay, they're anti-women at their core)... well, let's just say women have come a long way, baby, from Runyon's days but have a long way to go.
Yet the play remains endearing, it's core characters likable, and the music timeless, holding up against all that Broadway has had to offer since. And the funniest of things, it even made me cry. You see, each night, before I went to sleep when I was young, my mom, gone now 12 years, would hug me and say, "I love you a bushel and a peck and a hug around the neck..." So when Ms. Adelaide and the Hot Box Girls broke in to that number, there I saw my red-haired, 4'9" little french fry (what I called her), hugging me, turning out a light, and I missed her in that moment more than I have in years. I could smell her, sense her, I could feel her hug, right there in Segerstrom Center for the Performing Arts, Row M, seat 21. All because of a musical number. How I must have looked, since it's not a sad song!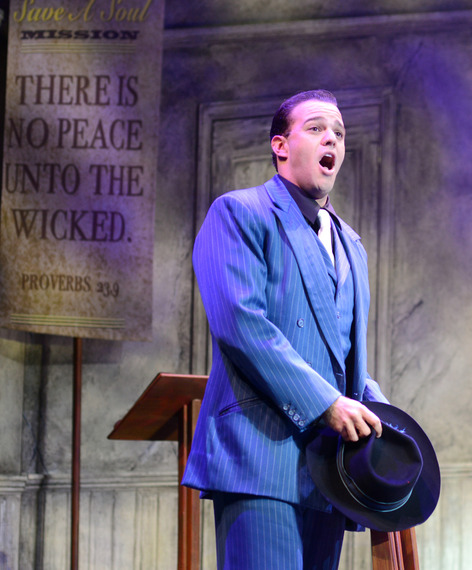 Segerstrom Center for the Arts -- Matthew J. Taylor as Sky Masterson in the national tour of GUYS AND DOLLS -- Photo by Gary Emord-Netzley
Luckily Adelaide's Lament is next and Lauren Weinberg is simply perfect in the role. I have the song engrained in my brain from Barbra Streisand and her Broadway album but Weinberg has the voice and performance skills to pull it off. In fact, she steals the show; every time she's in a scene the stage lights up. Not that the cast is bad; on the contrary Christopher Swan's Nathan Detroit made me feel like I was watching a great old movie with a wonderful actor on a Sunday afternoon... and that's a good thing. He plays the gambler torn between street life and married life perfectly with great comedic timing. Matthew J. Taylor's Sky Masterson has all the bravado needed as a soon-to-be-reformed "sinner" whose affair with the good girl Kayleen Seidl's Sarah Brown starts on a bet and ends at the alter. Taylor nails Luck Be A Lady and since that's the 11 o'clock song, that's a very good thing. The entire cast was pitch perfect for the roles, a slice out of Pleasantville or any 1950s pulp drama. The play's religious themes of redemption, sin and gender roles play thin in today's world, but luckily they're wrapped in enough comedy and song to seem almost comedic themselves.
The play wasn't packed and it's a short run but one worth seeing if you're a fan of classic theatre and movies. It feels like the others of its time, Music Man or My Fair Lady, a musical with fun tunes but doesn't skimp on dialogue.
To view the program of the play simply go here and to find out about the run and other stops on the tour check out the tour website. Segerstrom Center for the Arts can be found here.
To hear this or other interviews get the FREE Karel Cast App, subscribe in Spreaker to the Podcast or simply go to the most incredible website on all the planet, save this one, karel.media
Support HuffPost
The Stakes Have Never Been Higher
Related
Popular in the Community