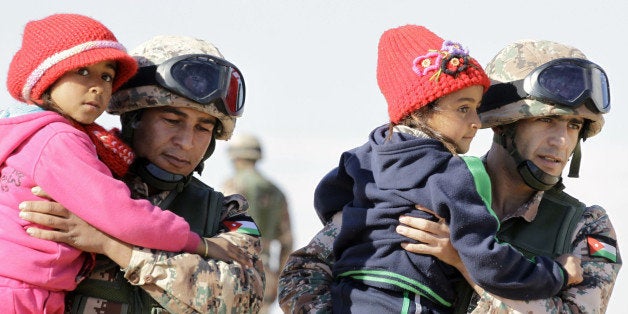 This week at Davos, businesses will launch a unique rescue effort to help children trapped in the biggest humanitarian crisis since 1945.

Today there are ​about 30 million refugee and displaced ​children who have been forced from their homes as a result of conflicts currently raging around the world.

Six million of these are Syrian boys and girls who have been forced to move from their local communities. Two million of them are now child refugees holed up in tents, shacks and hovels in Turkey, Jordan and Lebanon. They are the innocent and most vulnerable victims of the Syrian civil war.

At Davos a new public private partnership will be announced to provide teachers, books, internet facilities, classrooms and preschool amenities for refugee children
​ to support this year's response plan for the education of Syrian refugees​.

The 2016​ target is an ambitious one -- to deliver, through combined public and private endeavors, one million school places.

What has unlocked the capacity to deliver hundreds of thousands of extra school places is the introduction of the 'double-shift' school system.

This unique experiment is currently operating in Lebanon. 207,000 local Lebanese children are educated in the morning and early afternoon in the same classrooms that Syrian refugee children then use in a second late afternoon and early evening shift.

Because the double-shift system avoids the huge capital costs of building hundreds of new schools, the plan is cost-effective, with the average cost of school places just $500 dollars per child per year.

Currently 260 Lebanese schools are offering double-shift education and now there are ambitious plans to double the number of places by expanding the programme.

​Building off the work in Lebanon, Turkey and Jordan are also using double-shift schools as ​the centrepiece of this year's educational efforts for refugees alongside several other strategies to expand educational opportunity.

Working with UNICEF, Turkey has set out a bold plan to double school places for refugees from just over 200,000 to 450,000 this year.

In Jordan, where just over 100,000 are in school, the plan is to double refugee places to 200,000.

There are good reasons why we must act urgently if Syria's refugee children are not to become a lost generation. The average time that a refugee is out of country is well over a decade. If we do nothing, then thousands of refugee children may reach adulthood without ever setting foot in a classroom.

As more and more girls and boys arrive on the streets of Lebanon, Jordan and Turkey, disturbing new statistics show that rates of child marriage among refugee girls have doubled in some camps in Jordan ​and child labour among out-of-school boys and girls is rapidly worsening.

Yet humanitarian aid for education falls through the net. Funding is trapped between humanitarian budgets, which focus primarily on food, shelter and healthcare, and ordinary aid budgets which cannot respond quickly enough to emergencies.

So a plan has been drawn up to create a humanitarian fund for education in emergencies -- with business, philanthropists and foundations as partners in this public-private effort.

In the past few months, in response to the humanitarian crisis, the Global Business Coalition for Education will announce at Davos how it will help refugees secure books, teachers and internet support for their education.

And if we can show that business and public sectors can help Syrian refugees, the plan is then to secure help for the 24 million out-of-school children spread across conflict zones in Africa and Asia as well as the Middle East.

In June this year in Istanbul at the World Humanitarian Summit business will offer to be a partner in a new humanitarian platform to assist refugees secure their right to education.

Without education young people will be forced into child marriage, child labour and child slavery. Without education young people are prey to extremist influences that will ruin their lives and damage the world around them.

But with education we give young people the most valuable resources of all -- hope for the future.
This post is part of a series produced by The Huffington Post to mark The World Economic Forum's Annual Meeting 2016 (in Davos-Klosters, Switzerland, Jan. 20-23). The theme of this year's conference is "Mastering the Fourth Industrial Revolution." Read all the posts in the series here.
Calling all HuffPost superfans!
Sign up for membership to become a founding member and help shape HuffPost's next chapter