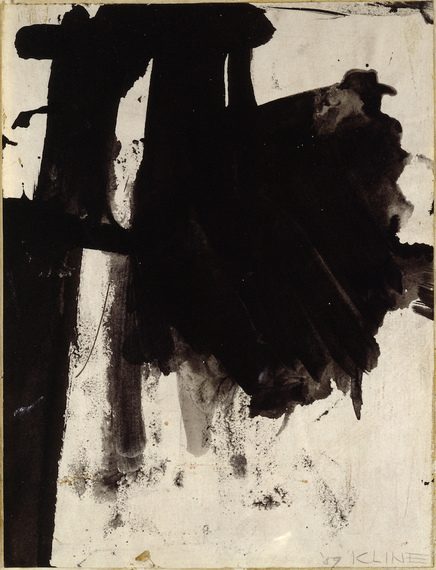 Franz Kline, Study for Mr., 1959. Ink on paper mounted on board 11 3/4 x 9 in. 29.8 x 22.9 cm. Allan Stone Collection, courtesy of Allan Stone Projects, New York. © 2014 The Franz Kline Estate / Artists Rights Society (ARS), New York. Reproduction, including downloading of Franz Kline works is prohibited by copyright laws and international conventions without the express written permission of Artists Rights Society (ARS), New York.
Last year in The New York Times Roberta Smith called for another Franz Kline retrospective in New York.
I couldn't agree more. The last one was at the Whitney Museum of American Art in 1968. Kline's paintings need to be re-introduced to American artists.
Why have New York museums passed over Kline? Here are a few reasons:
He emerged late
Kline came to public recognition relatively late (1950) compared to the other major Abstract Expressionist painters (Jackson Pollock, Willem de Kooning, Mark Rothko, Clyfford Still). Also Kline had not spent years progressing towards abstraction. He created Ashcan School-related representational work until 1946 and only then began to inch towards abstract work. 1949 was the year of his so-called "wholesale conversion" to abstraction. As the story goes, de Kooning, a friend of his, had borrowed Kline's Bell Opticon opaque projector. When they were both at de Kooning's studio, de Kooning enlarged some of Kline's small sketches and Kline came to the realization that they could function as large-scale works.
His work is often considered too simple and derivative
Many people remember Kline because his large-scale zoomed-in gestures resonate at both four feet and hundreds of feet away. This has led to the view that his works are just big black-on-white gestures, akin to big details of a de Kooning, and in this way, what art critics have referred to as "one-liners." Why derivative? Pollock combined drawing and painting and de Kooning and Motherwell had created black and white works before Kline. Also, the works in Kline's first solo show, in 1950 at Charles Egan, were described as "melted Mondrians."
His work is believed to not progress stylistically much after 1950
It's thought that Kline is a one-hit wonder, the Egan show being both the beginning and end of his contribution to abstract art.
He didn't talk much about his work
One critic has noted, "most of [Kline's] remarks about his own art amount to attempts to change the subject." He was also fond of quoting Louis Armstrong: "Brother, if you don't get it, there ain't no way I can explain it to you." In contrast, Rothko, de Kooning and Pollock did write important statements about their work, establishing certain terms which would help others to better understand their process and motivations. Examples would be Pollock's Guggenheim application and Rothko's "The Romantics Were Prompted."
His personality didn't equate with the seriousness of his paintings
According to those who knew him, Kline was social, affable, and humorous, and accompanied by a constant legion of hangers-on. People have found it hard to see this personality as behind such somber and forceful paintings, particularly when compared to how the lives of Pollock and de Kooning were related to their works.
However Kline's work contains so many fascinating aspects.

A retrospective--or at least a large-scale exhibition of his iconic 1950s paintings in New York--would allow us to better appreciate his contribution to both Abstract Expressionism and the subsequent history of American art. Here are two major reasons why:
His paintings are so much more than blown-up gestures
Like Pollock and de Kooning's works, Kline's paintings express dynamism and movement and large-scale expression but are also premeditated, labored over and highly-constructed. These were not just quick, instinctual gestures. Each line was often moved around and reshaped until Kline found his ideal composition. Also Kline didn't only paint black on a white background but used black and white both as positives. Upon close-looking you can see how his whites are not just backgrounds but actively used to engage with the blacks. In this way, layers of both black and white construct the finished works.
Influence
We're still digesting Kline's influence. Would de Kooning have painted his abstract landscapes without knowledge of Kline's work? Would the paintings of "second-generation" Abstract Expressionists, hard-edge abstractionists and even figurative 1950s painters like Joan Mitchell, Grace Hartigan, Al Held, Alfred Leslie, Cy Twombly, Alex Katz and Philip Pearlstein have taken the same course without Kline's presence? Probably not. It's also been said that Kline's work should be looked at within the history of constructed American sculpture, tracing back to David Smith. Accordingly, Richard Serra's sculptures have been called Kline's "made solid and three-dimensional" and Kline's archetonic forms proved to be an inspiration to minimalists like Donald Judd. More broadly, Kline set down an American model for serial abstraction with limited tools and vocabulary. For almost a decade he made just black and white paintings. How does the seriality of minimalism or the black and white paintings of Robert Rauschenberg or the work of Robert Ryman or On Kawara relate? Finally, would Judd's approach to meanings in his work be possible without Kline's example?
These are some initial thoughts. What do you think? Should a New York museum devote the time and space to Kline? Should we care more about other Abstract Expressionists? Or should we focus mostly on artists who have never even had one New York retrospective?
As always, please feel free to send me your feedback, either here or on Twitter. This is the ninth in a series of posts on individual artworks and series. Previous posts have concerned Cindy Sherman, Jean-Michel Basquiat, Keith Haring, Banksy, Damien Hirst, Vik Muniz, William Eggleston and Richard Prince.
REAL LIFE. REAL NEWS. REAL VOICES.
Help us tell more of the stories that matter from voices that too often remain unheard.