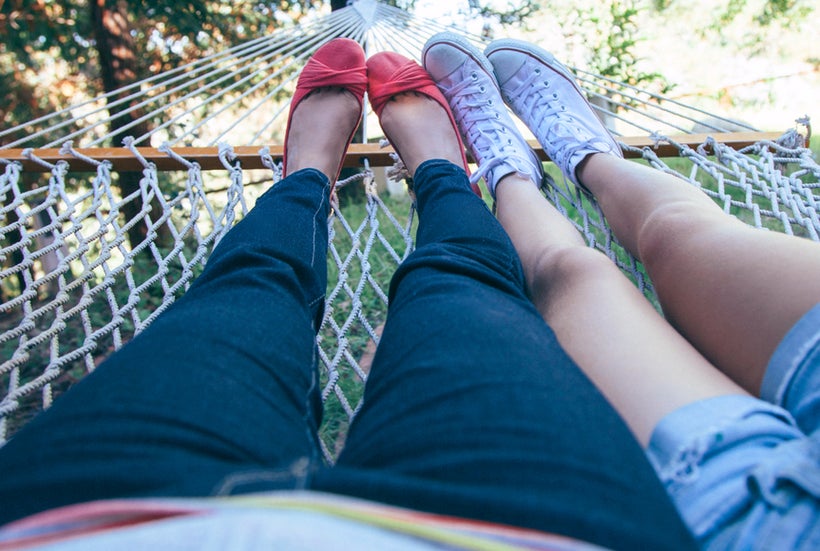 As we arrive at the last month of summer, you may be wondering where summer went, or if the thing we used to call summer even exists at all. I certainly am.
The lazy summer days of our youth, in which I rode bikes with friends and worked in my grandparents' stationery shop, are historical fiction for most of today's teens. They're too busy attending leadership camps and ACT prep courses to enjoy their time off school, or to explore any interest that's not scripted. In the Race to Nowhere era, it seems, summer is just another season for résumé-building.
The consequences of this year-round race run far deeper than lost nostalgia. The new California Healthy Kids Survey, released last week, reveals that nearly one in five ninth and eleventh graders seriously contemplated suicide in the past twelve months. One-third of California's eleventh graders and one-quarter of its seventh graders felt chronically sad or hopeless for at least a couple of weeks during the same period of time. 
These numbers signal a crisis of epidemic proportions. Our overscheduled summers certainly did not cause this crisis. But they are not doing anything to ease it, either.
I used to hear reports from pediatricians across the country that children's chronic conditions, such as migraines, indigestion, and anxiety, routinely eased up in summer and returned in September. But now kids' ailments run straight through the seasons. I even feel the strain of unrelenting work myself, as I stay chained to my email inbox while my kids, for once unscheduled, relax outside. After the especially mad dash of junior year, a sustained sprint that ensnares the entire household, we as a family are all depleted. 
So here is a rebellious proposition, a veritable revolt in a society obsessed with achievement: Take an actual break in August. We will have much to do this school year; our fight to reduce extreme demands on kids and reclaim healthy childhood is going strong. Right now, let's rest—parents and students alike. Let's resist the race and take the last month of summer to unplug, unwind, and recharge.
I understand the temptation to spend school breaks burnishing résumés. Despite all I know about the Race to Nowhere, I still doubted myself when I allowed my seventeen-year-old son to pursue his passions this summer instead of pushing him to work on his art portfolio or his college application essays. But I have watched him grow so much during these past two months. While volunteering at a windsurfing camp last week, he taught a hearing-impaired woman how to surf and discovered a knack for teaching. He also has had the time and space to draw, a hobby that allows him to relax and express his creativity. He has, in short, had the opportunity to learn essential skills beyond the academic and to see his own value outside a classroom. When do we ever give kids that chance from September to June?
If you, like me, feel a twinge of guilt about resting, remind yourself that downtime is no luxury. It is as essential to our thriving as sleep, exercise, and good nutrition. Mary Helen Immordino-Yang, a neuroscientist at the University of Southern California, and author of Emotions, Learning, and the Brain, has studied the impact of downtime. Her research reveals that our minds are better able to recall memories, envision the future, and develop morality when allowed to wander. (Watching television and playing smartphone games doesn't count. Having a reflective conversation with friends does.) As our book, Beyond Measure, explains, rest is also a key ingredient in creativity. 
With this knowledge in mind, I am taking my own advice. For the first half of August, I'm taking a sabbatical. I'm stepping away from my email, spending time with my children and extended family, allowing my mind to wander, and hoping to restore my fried brain circuits to their full capacity. I'm finally making time to read my aunt Jacqueline Wein's compelling novel, Connections, which she published several months ago.
The idea of building scheduled pauses into our lives is hardly novel. Many European workers take off the entire month of August. Theirs is a cultural moment of pause, enshrined in both tradition and policy. In addition, for centuries scholars have recognized the importance of taking "a creative academic break thought to fulfill one's ancient human need to build periods of rest and rejuvenation into a lifetime" (Catherine Allen, Reboot Your Life: Energize Your Career and Life by Taking a Break). When did we forget that?
I know that not every parent can afford to take a long break. But everyone can take a weekend off, or a night off. Turn off the electronics after dinner. Or choose one day per week to unplug. Spend that time outdoors enjoying the fresh air with friends and family. The oxygen released by trees helps reduce respiratory illnesses, a simple walk in the park can boost your immune system, and taking time to smell the flowers can make you feel happier and less anxious. See what your freed mind discovers.
You and your children can venture into downtime together. Let this last month of summer be a chance for your children to explore interests they don't have time to engage during the school year. Let it be a time to cultivate real-life skills, self-direction, and autonomy. Let your children daydream, take risks, play, fail. Let them be kids again.
And use this time, parents and kids alike, to reflect on the healthier pace you want to set come September—and how to make it happen. Because the status quo cannot stand. When the fall comes, we will all possess renewed energy for dismantling the education race and new ideas and clarity about the richer experience that we want to replace it. All because we insisted on a résumé-free August.
REAL LIFE. REAL NEWS. REAL VOICES.
Help us tell more of the stories that matter from voices that too often remain unheard.
This post was published on the now-closed HuffPost Contributor platform. Contributors control their own work and posted freely to our site. If you need to flag this entry as abusive,
send us an email
.