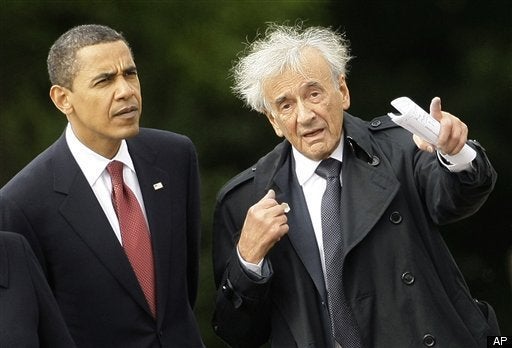 Last week, I attended a dinner on the top of the Mutual of America building at 320 Park Avenue, where Nobel Laureate Elie Wiesel made a call to the room full of executives to become more engaged; to give real service, not lip service. It was a far cry from the typical New York fund-raising dinner. We were there to celebrate the American launch of FIDESCO, an international non-profit that recruits volunteers, who take their faith to heart, to share their professional skills by living and working in developing countries.

Yes, the purpose was to raise money, but the more radical premise of FIDESCO is that they want people--CEOS, doctors, teachers, lawyers--to give their time (two years, in fact). The introductory film began with images of New York at its shiniest: gleaming Mercedes, glittering store windows, sleek restaurants but slowly reflected in their surfaces emerged the faces of sick and starving children. As FIDESCO's U.S. president explained, the fact that the volunteers live among the poor has a multiplying effect. The actual work that they do is one element but then they come back, resume their professions and spread their perspective among others. Cartier executive Frederic de Narp, who is involved in the organization, is just such an example. After working in Tokyo for Cartier, he spent two years in Haiti working with children. He returned, rose to head the brands operations in Italy and Switzerland before becoming CEO in America. He is on the board of FIDESCO and clearly believes as much in corporate excellence as he does in committed community service.
Elie Wiesel, the winner of the Nobel Peace Prize and author of Night, learned about FIDESCO from de Narp. He began his talk with a story from his native Romania:
In winter, a man in his house says to his son, 'It's cold outside. Close the door.' The son replies, 'If we close the door, will it not be cold outside?' Today, I would say, 'If I leave the door open it is because I would like to invite those who are cold to come in.'
The spiritual Wiesel, who has come to be known as the voice of silent victims of the Holocaust as well as other genocides, then spoke about the one area where we should be atheists. "When it comes to those who need help, don't rely on God," he said. "When that beggar is here, give him something. God has other problems." He went on to say that giving is reciprocal because it rewards those who receive as well as those who give.
"The beauty of FIDESCO," he argued "is that we all do what we can. The idea is that you can help children, if not all, at least one." Throughout the evening we had heard individual stories of children in Rwanda, India and even Gainesville, Georgia who had been helped by FIDESCO.
Wiesel ended the evening by sharing the mantra that he repeats to all of his students. "When my students say, 'What should I take away?' I always say. 'Whatever you do, whatever the endeavor, the mantra should be think higher, feel deeper. If you bring joy to one family or hope to anyone, it should be enough.'" Spoken like a true beacon of peace but also an incredibly powerful reminder of what matters during a typical busy New York season.

Related
Popular in the Community