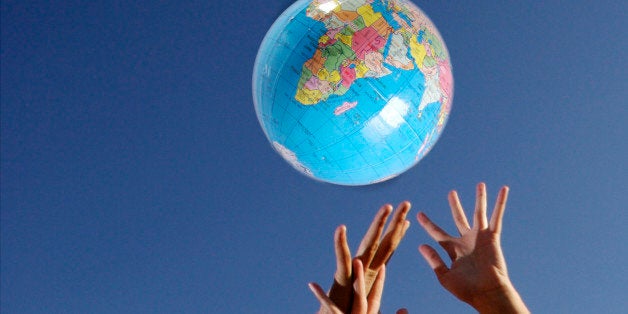 At the World Economic Forum in Davos last month, I joined 2,500 global leaders in business, government, academia and the arts to discuss the state of the world. It was my 14th visit to Davos, and as in past years, the agenda was packed with sessions on the global economy, environmental risks, geopolitics and health care.
Not surprisingly, technology moved from being one of many conversations to a fundamental part of all conversations at Davos. Every day the world is becoming more connected and open. Ericsson predicts that by 2020, 90 percent of the world's population over 6 years old will have a mobile phone. The mobile phone makes everything go faster and it democratizes communication, information, knowledge and even commerce. As The Gates Foundation wrote in its 2015 letter, having a mobile phone opens a wide range of possibilities for economic advancement, such as having a bank account for the first time and access to online education.
But throughout the conference, the debilitating effects of economic inequality and the rising dangers of climate change were at the forefront of discussions. Rising youth unemployment is a constant source of instability, and it is being amplified by the coming wave of artificial intelligence and robotics. The UN estimates that there are more than 200 million unemployed worldwide -- 33 million in the US and Europe. Talent development, lifelong learning and career reinvention will be critical to addressing the global unemployment problem.
As practiced today, capitalism too often becomes a race to the bottom. In low-growth economies, a focus on earnings-per-share (EPS) is leading to more unemployment and deepening inequality. According to Oxfam, the richest 1 percent in the world are expected to hold more than 50 percent of the world's wealth by 2016. In fact, today just 80 individuals account for the same amount of wealth as more than 3.5 billion people. Imagine what would happen if those 80 individuals made a simple decision to give a large portion of their wealth back before they die? What progress could we make?
Greenhouse gas concentrations in the atmosphere are estimated to be at their highest level in 800,000 years, with strong evidence that climate change could have profoundly adverse effects on economic and human development. The oceans have risen to record levels, rising an average of 3.2 millimeters per year, about twice the average of the preceding 80 years.
As UN Secretary General Ban Ki-moon said in Davos, "We are the first generation that can end poverty and the last generation that can take steps to avoid the worst impact of climate change. Future generations will judge us harshly if we fail to uphold our moral and historical responsibilities."
We now have an imperative to address expanding economic disparity and environmental hazards, which are adding fuel to geopolitical tensions around the world, and to reassess the role of business can play in improving the world for future generations.
The renowned economist Milton Friedman preached that the business of business is to engage in activities designed to increase profits. He was wrong. The business of business isn't just about creating profits for shareholders -- it's also about improving the state of the world and driving stakeholder value.
That was the vision of Professor Klaus Schwab when he founded the World Economic Forum in 1971, and it remains the core principle underlying the annual Davos gathering. He believes that we have an imperative to shift from creating shareholder value to stakeholder value. His "stakeholder theory" asserts that corporate management isn't just accountable to shareholders, and that businesses must focus on serving the interests all stakeholders -- customers, employees, partners, suppliers, citizens, governments, the environment and any other entity impacted by its operations.
To be successful in business, we have to be ready to buy into the stakeholder theory. When I launched Salesforce, we created the Salesforce Foundation, a 501(c)(3) public charity and the 1-1-1 model of integrated philanthropy-donating 1 percent each of equity, employee time and product to our communities and causes. It is integral to our company and employee values, and adheres to the notion that no business should remain at odds with its community -- whether it's a small town or the entire world.
But we have to do more. We have to build radically higher levels of trust and transparency with all of our stakeholders. We need legions of "stakeholder activists" who seek to hold companies accountable for all constituents, going beyond the role of investor activists, who focus on holding CEOs and boards of directors accountable in terms of share price.
Ultimately, the most effective way to create shareholder value is to serve the interests of all stakeholders.
Wall Street analysts recently asked Mark Zuckerberg whether Facebook initiatives to connect people in less developed countries to the Internet should matter to investors. "It matters to the kind of investors that we want to have, because we are really a mission-focused company. We wake up every day and make decisions because we want to help connect the world. That's what we're doing here." Zuckerberg said. "If we were only focused on making money we might put all of our energy on just increasing ads to people in the U.S. and the other most developed countries, but that's not the only thing that we care about here." Over time, bringing the Internet to underserved communities will be a good business for Facebook.
As I wrote my 2004 book, Compassionate Capitalism, which was inspired by Prof. Schwab, "The competitive advantage you gain from being a caring and sharing company is significant; it instills in your people a higher integrity level. In turn, stakeholders want to be associated with a company that has heart. Community service: You do it because it's the right thing to do, but it's also the profitable thing to do."
________________
Marc Benioff is the Chairman and CEO of Salesforce.