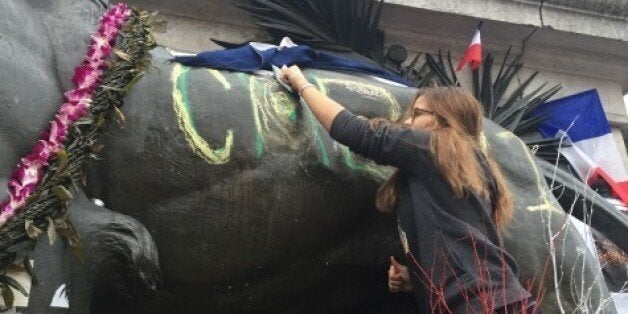 I felt wounded by the clashes that took place on Sunday at the Place de la Republique. I felt hurt to have witnessed the madness of a few people who used candles, the candles we lit in memory of those we lost, as projectiles against the police, who represent our first line of defense against terrorism. I was again overcome with anger and needed a way out. So I sent out a call on Twitter to restore the memorial that was erected after the attacks of November 13.
Tomorrow, appointment at 10am in front of #Republique to restore the memorial. Who's coming? The next day, I visited the square with a garbage bag. I picked up pieces of broken glass, a burned flag, I picked up a few pots of flowers, and soon felt uncomfortable. I did not know how to go on. Standing at the base of the statue surrounded by flowers, drawings, photographs of victims, I felt dizzy. I had underestimated the symbolic power and the emotional charge of the task. It was like an intrusion on the collective subconscious of France. I was physically at the heart of a national tragedy. Like walking into history, it felt unreal and outside the realm of time. So I took my bag and the two or three things I had picked up to throw away, and I started heading home, telling myself that I had done my part.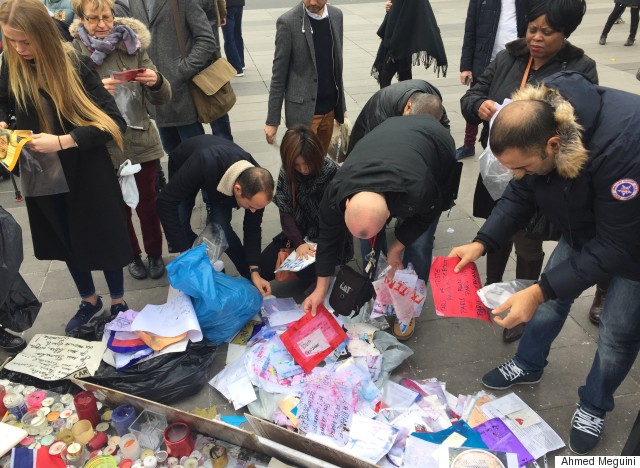 That's when I met a journalist from France Television, who had seen my tweet, and we talked for a while. "Where are the others?" he asked. I replied that I did not know, that they would come when they could. We didn't look at each other as we talked, and he seemed to be just as troubled as I was. But at noon, a woman supported by a cane climbed up to the base of the statue and started to call out to the crowd. She had garbage bags and latex gloves with her, as well as plastic sleeves to protect notes that had been left at the memorial. Like a modern-day Marianne walking with a cane but still standing, she enlisted passing pedestrians and assigned roles. Eventually, people could approach the task with open hearts.
We were a collection of anonymous citizens of all ages and of all colors -- if we had planned this, we couldn't have planned it as well. At the statute of the Republique, we made choices about what could be discarded and what should be preserved. We managed each other. Sometimes, I looked up to see if we were in agreement: we had to save as much as possible. A group of tourists and Parisians took a group of drawings damaged by the rain, and, one by one, put them in plastic bags to protect them from further damage.
Some of the volunteers who restored the memorial #Republique
Some went to the Monoprix supermarket nearby to buy pouches or bags. Equipped with a water bucket, detergent and a sponge, a young woman helped me scrub off an inappropriate drawing at the base of the statue.
I stopped for a moment to appreciate this scene: two Parisians who didn't know each other started washing the lion; a schoolboy pushed a broom around the statue, staring at the base. I realize that this boy was initially very shy, and had to overcome his feelings to join us. It was clear that he hadn't spent much time sweeping, so I showed him how to use the broom.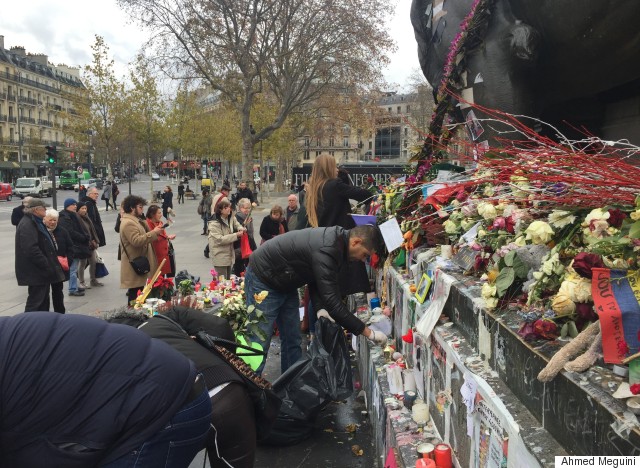 With the hope that we will never again have a reason to lay flowers at the foot of the Republique, we formed an informal collective called "17 Never Again," to take care of the flowers currently blooming under the statue. It's a collective of citizens that would take the initiative to clean the monument.
And this movement calls on all Parisians, those who love the city and those who love France, to take five minutes from time to time to take care of the Republique.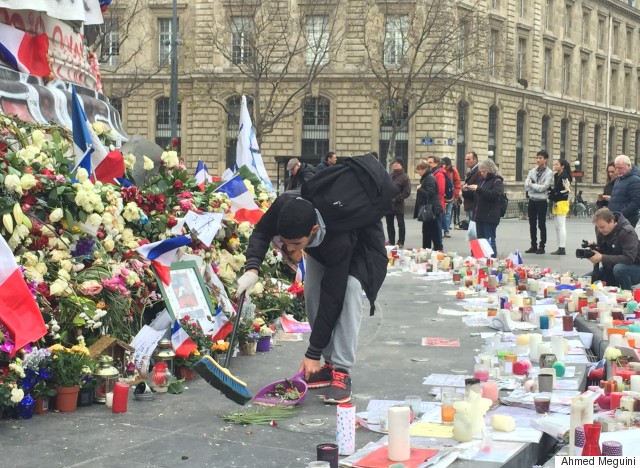 This post first appeared on HuffPost France. It has been translated into English and edited for clarity.
Calling all HuffPost superfans!
Sign up for membership to become a founding member and help shape HuffPost's next chapter