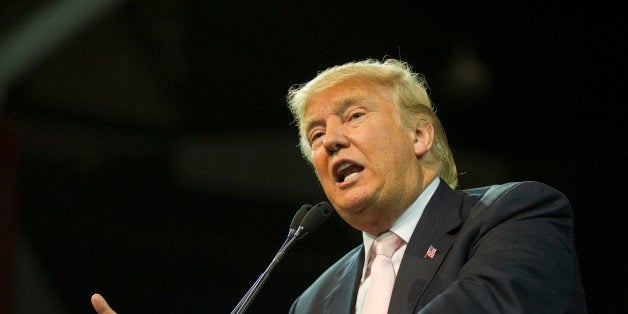 The ascendency of Donald Trump in this U.S. presidential election year is a wake-up call for every Muslim in America to get more actively involved in politics and civil society.
The notion that Trump can be the Republican nominee in November's election becomes more real with every primary. The brusque New Yorker says he would consider demanding Muslim-Americans register with a government database, or even forcing us to carry special identification cards. He's not the only candidate seeking attention by Muslim bashing -- Ben Carson says he believes a Muslim should never be allowed to occupy the White House. All this racist and unconstitutional rhetoric is covered by some cable news channels as if it were entertainment.
It's little wonder that Trump is targeting Muslims. The rising fear and distrust of Muslims among average Americans that Trump feeds into has been exacerbated by groups such as ISIS -- terrorists that abuse the word Islam by including it in their name, the Islamic State in Iraq and Syria. Terrorists appropriating Islam is a common trope. One dozen groups using some variation of Islam in their name are designated as terrorist organizations by the U.S. State Department.
The nightly recitation of the name Islamic State on news coverage is bound to beat the connection between Islam and terrorism into the heads of millions of people. However, ISIS is neither a State, nor is it Islamic. Instead, groups like ISIS shield themselves behind the word Islam to obscure their real agenda -- the corruption of power. Muslims in America condemn violence in the name of Islam and fear for their lives just as any other non-Muslim.
For America's 3.3 million Muslims, about 1 percent of the population, this was a difficult time even before Trump began his verbal assaults. Hate crimes against Muslims in the United States jumped after 9/11 and have remained high. In 2014, FBI data shows that 16.1 percent of hate crimes were against Muslims--184 attacks. According to Pew Research, 59 percent of people believe American Muslims face a lot of discrimination--more than any other religious group.
Thankfully, it's not all been negative lately. Republican John Kasich has dismissed anti-Muslim rhetoric as un-American. Democrat Bernie Sanders tweeted, "I have a message for Donald Trump: No, we're not going to hate Latinos or Muslims."
We should work to stamp out discrimination against all, whether it is based on distrust against Muslims, Jews or any other religious group, or against other ethnicities, such as Latinos.
Johah Dov Pesner, director of the Religious Action Center of Reform Judaism, told Al Jazeera that combating anti- Muslims sentiment should be a priority for all religious leaders. "We must ... work as an interfaith community to stand up against religious bigotry, because an attack on one faith is an attack on all faiths."
Whereas Catholics have Pope Francis and Anglicans have the Archbishop of Canterbury, there is no singular voice speaking for Islam, making it even harder to overcome the negative perception of Muslims in America.
Award-winning journalist and filmmaker Anisa Mehdi says improving Islam's image in America is a lengthy process, begun in the 1960s by her late father Dr. Mohammad Taki Mehdi--known as the father of the Arab movement here. She says a new generation of American-born Muslims working in media, law and government will collectively make a difference.
Mehdi urges all Muslims to get involved. "Don't be shy," she says.
Develop a philanthropic ethic that shows interest in and participation in the arts and social services. Get involved in the public sphere. Do something in the American mainstream that demonstrates how you value community and strive to assist people that are down on their luck.
While American Islam lacks a central voice, regular Muslims can still help improve Islam's image by engaging in interfaith efforts, politics, schools, the media, and in the workplace.
• Interfaith connections foster understanding through such events as mosque open days and visits to other houses of worship. Public service work also improves the image of Islam. Mehdi notes many Christian-Muslim and Jewish-Muslim groups do good work, such as Sisters of Salaam Shalom and the Abraham Path Initiative, where she is vice-chair.
• Muslims should engage in politics. Nationally, the community could learn from the example of the Catholic Church which hosts presidential candidates at its Alfred E. Smith Memorial Foundation Dinner in New York to raise money for Catholic charities. Muslims have not been very active in giving to political campaigns, however, politicians pay attention to their donors.
• Since attitudes form at a young age, Muslims should encourage schools to teach a better understanding of Islam and major events such as Ramadan.
• Leading American Muslims--business leaders, celebrities and political commentators--should join the discourse on television and write Op-Eds reflecting the mainstream opinion of our peaceful community.
• Since only gays and lesbians in America suffer more discrimination than Muslims, workplace sensitivity and discrimination education should include information about Islam and its positive and peaceful influence.
As Muslims in America, there is no doubt that we face a crisis. However, while we lack a singular authoritative voice, together we can take matters into our own hands, one small action at a time by getting involved in American politics and civil society.
Calling all HuffPost superfans!
Sign up for membership to become a founding member and help shape HuffPost's next chapter