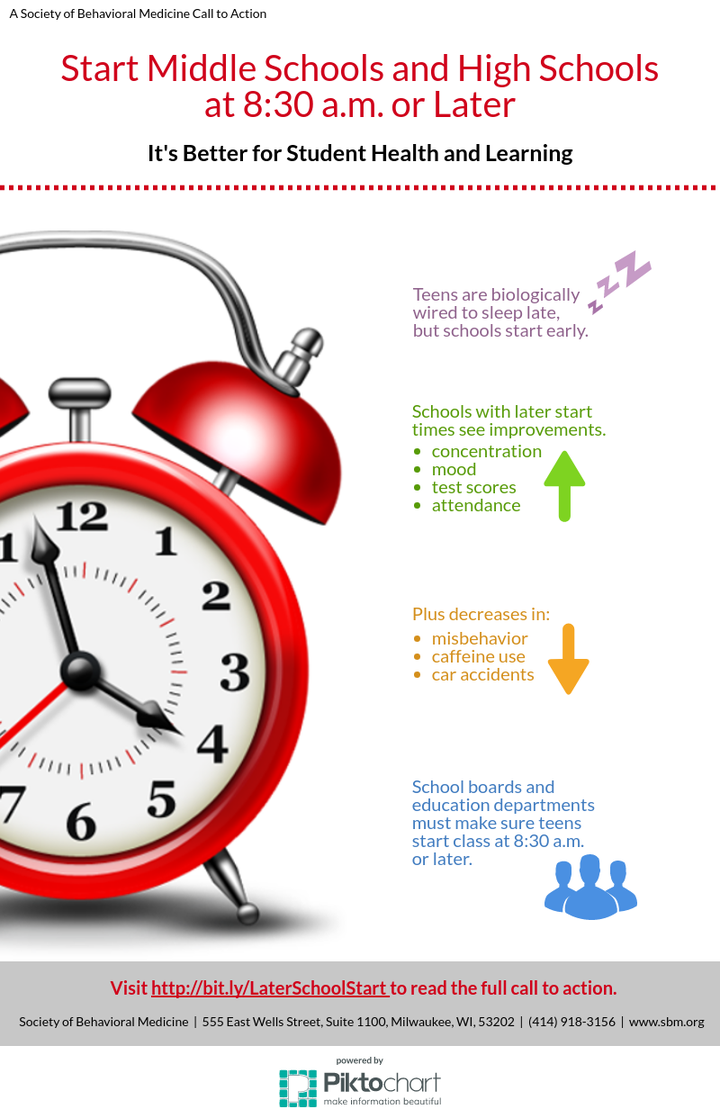 The Society of Behavioral Medicine (SBM) has issued a new position statement recommending that middle and high school start classes no earlier than 8:30 a.m.— and is urging local, state, and national leaders to take action to help schools make this change. Such a schedule gives students a chance to get healthy sleep and has been shown to improve physical health, psychological well-being, attention and concentration, academic performance, and driving safety.
With this call to action, the SBM joins a long list of notable health groups making similar recommendations, including the American Academy of Pediatrics, the American Medical Association, the American Academy of Sleep Medicine, the National Association of School Nurses, and the Society of Pediatric Nurses.
Calls to start school later are based on well-documented biologic changes during puberty that shift sleep cycles later than those of younger children or older adults. Even teenagers with reasonable bedtimes cannot get sufficient sleep if they wake for school at dawn. Disrupting the natural sleep cycle impairs mental and physical health, safety, and learning.
Recommendations for Changing School Start Times
The SBM recognizes that this change will require a multi-pronged effort from a wide variety of stakeholders, from students and parents to sleep professionals to policymakers. They recommend a four-tiered approach to promote later start times for middle and high schools:
1. School board members "must enact an 8:30 a.m. or later school start time policy in their school districts. It is fundamentally at the school district level that administrators can prioritize school start times that promote students' health, well-being, and learning."
2. State departments of education and state legislators, "should advocate for later school start times for middle and high schools. This advocacy can be achieved by including student healthy-sleep promotion on committee agendas and by lobbying school board members to enact an 8:30 a.m. or later school start policy."
3. Health and education advocates "should lobby the U.S. Department of Education through congressional representatives, particularly those on the House Committee on Education and the Workforce, and the Senate Committee on Health, Education, Labor and Pensions, so they understand the value of later school start times and can enact pertinent legislation."
4. School communities should raise awareness. SBM suggests "school-level promotion of education about the importance of sleep through in-services, workshops, curriculum changes, and family and community events." They also urge media to "to promote the public's understanding of the benefits of later school start times for middle and high school students.."
Endorsements from the NEA, National PTA, and More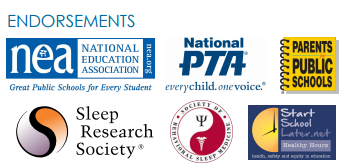 Stacy Simera, Start School Later's Communications Director, says it is no surprise that a society of behavioral health professionals is joining forces with other health and education groups on this issue. Behavioral health professionals were among the earliest proponents for healthy school start times, she says, dating back to Minnesota psychiatrists who pushed for later start times in their state in 1993.
She encourages colleagues across the nation to speak to their local school boards and state lawmakers about the need for healthy school start times. "Child health is worth adult effort," she says.
And that effort is making a difference. As the SBM statement concludes: "It is no longer a question of whether policies promoting later school start times should be adopted but rather how they should be implemented."
Popular in the Community