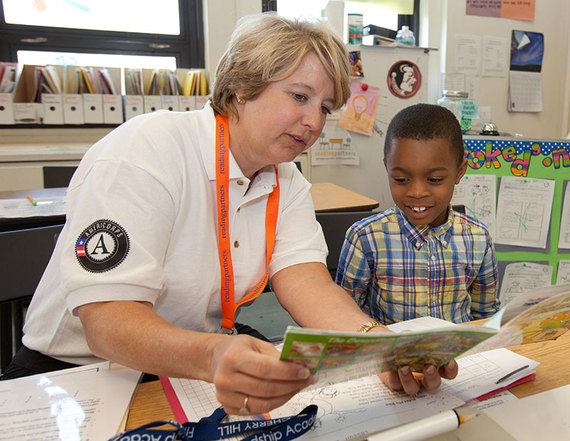 As a mother, I always strived to ensure that my children had access to educational opportunities that extended beyond the traditional school year.
And as the CEO of the Corporation for National and Community Service (CNCS), a federal agency that engages millions of Americans in service and volunteering activities, I work to ensure that more of our nation's children have access to these opportunities, too. As the school year comes to a close, I shift my attention to what we can do to inspire our students to continue learning well after the last school bell rings.
Education is at the core of what our agency does. And I see the amazing results of this investment each and every time I visit one of the 10,000 schools in which our AmeriCorps members or Senior Corps volunteers are serving.
Through programs like STEM AmeriCorps, School Turnaround AmeriCorps and initiatives sponsored by the Citi Foundation and AT&T, our AmeriCorps members have mentored thousands of our nation's students, developed new curriculums in urban and rural schools, supported teachers in the classroom and recruited and managed thousands of volunteers who use their skills and expertise to enrich the service experience.
Our summer initiatives build on this success.
Across the country, AmeriCorps members tutor students enrolled in summer enrichment programs and connect them to projects that help protect and preserve the environment and encourage healthy living. For example, through the eight-week Energy Express program, 500 AmeriCorps members in West Virginia are set to connect 3,000 children to nutrition, reading, writing and art workshops this summer.
We also are continuing to make summer about STEM (science, technology, engineering and mathematics). Last summer, 256 AmeriCorps VISTA members in six Southern states engaged 18,000 students in activities that focused on STEM.
Whether I travel to big cities or small towns, I hear from AmeriCorps members whose service experience transformed their lives.
Last month, I met Nathan Raichel, a Chicago native and an AmeriCorps member serving with City Year. When he was an economics major at the University of Illinois at Urbana-Champaign, Nathan did not have any plans to pursue a career in education. But the students he connected with through City Year motivated him to become a teacher and to pursue a master's degree in education. Nathan is a great example for two very important reasons: we need more young Americans pursuing teaching careers and we need more male teachers in our nation's classrooms.
"It feels great to give back to a school system where I grew up and to be able to help improve it in any way that I can," Nathan said. "My students have inspired me to be a better person."
Let the spirit of service of AmeriCorps members like Nathan inspire you to support First Lady Michelle Obama's Let's Read! Let's Move! initiative. Through this initiative, we call on all Americans to help combat summer reading loss and prevent childhood obesity by participating in local volunteer or service projects while encouraging youth to do the same. So, please go to Serve.gov to find an opportunity to start your summer of service.
If we continue to work together, we can ensure that more young people feel empowered to take an active role in making our communities better. And if we continue to work together, we can ensure that future generations are healthier and more academically engaged. We have the ability to ensure that more of our students are prepared for any obstacle that gets in their way.
Wendy Spencer is the CEO of the Corporation for National and Community Service, the federal agency that engages more than 5 million Americans in service through its AmeriCorps, Senior Corps, Social Innovation Fund and Volunteer Generation Fund programs.
REAL LIFE. REAL NEWS. REAL VOICES.
Help us tell more of the stories that matter from voices that too often remain unheard.