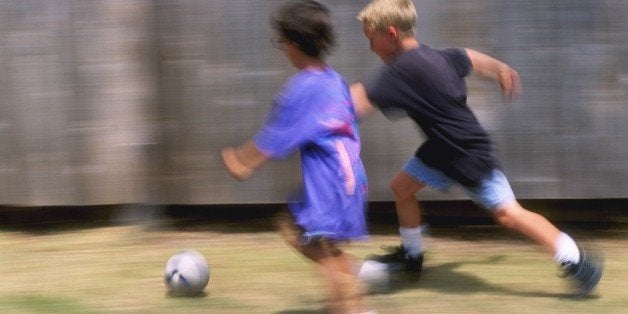 As an athlete, I believe that one of the greatest traditions of this country is the importance we ascribe to playing sports at an early age. The baby boomer generation grew up playing on the hometown baseball diamonds and basketball courts of America, a practice we've tried to pass down to our children so they too can learn important values like perseverance, respect, teamwork and integrity on the playing field, and develop healthy habits that will carry on through the rest of their lives.

Unfortunately, we are now seeing our young athletes dropping out of organized sports at record levels: according to an annual survey conducted by the Sports & Fitness Industry Association, participation in team sports nationwide declined from 44.5 percent in 2008 to 40 percent in 2013 -- the sharpest decrease in the history of the survey. Last year, Pop Warner, the nation's largest youth football program, reported that its nationwide participation rates had dropped 9.5 percent, largely due to the attention on concussions and other serious head injuries to young players.
Earlier this month, ESPN released the results of a nationwide survey of parents conducted on behalf of espnW and the Aspen Institute's Sports & Society Program, gauging the respondents' opinions on issues in youth sports that could potentially shed light on this worrying trend of declining participation. They found that nearly 90 percent of moms were concerned about the risk of injury to their children in sports, particularly for those who play contact sports like football or soccer. Over two-thirds of all parents were concerned that their children were being taught a "win-at-all-costs" mentality, rather than a lifelong love for the game. A majority of parents also voiced fears about the quality and behavior of coaches, as well as unreasonable time commitments for practices and steeply rising participation costs.
At the LA84 Foundation, we believe that we're at a crossroads in the youth sports reform movement-- an effort to make these programs safer, more enjoyable and more beneficial for all young people. On October 9th, we assembled more than 100 representatives from leading sports organizations, including the Women's Sports Foundation, Positive Coaching Alliance, Up2Us, Notah Begay III Foundation, Access to Sport (a division of Nike), Play Like a Champion Today, US Soccer Foundation, Play Rugby USA and the Aspen Institute's Project Play to discuss this very issue. Our consensus was that the existing model for youth sports is broken, and that change will be needed from the highest levels down to individual teams and coaches in order to increase public confidence in these programs.
Since LA84 was established as the legacy of the hugely successful 1984 Olympic Games in Los Angeles nearly 30 years ago, our mission has been to improve and expand youth sports opportunities for children across Southern California. We've accomplished this primarily by expanding access to programs by providing more than $220 million in grants to over 1,100 leading youth programs, reaching upwards of 3 million youth. In addition, we've developed an outstanding coaching education program, and regularly commission research studies and convene conferences of national experts to increase our knowledge of major issues in youth sports today.

Changing the culture in youth sports may take time, but as a leading advocate for youth sports, LA84 is taking important steps to endorse best practices that protect the interests of young athletes. As an example, following many months of conversations with coaches, administrators and medical experts last year, LA84 established a set of grant guidelines for youth football organizations that apply for our funding. Out of the 30 such applications that we received for our last round of grants, we withdrew 20 from consideration because they failed to meet our minimum standards, which include the following: barring tackle football for children eight years of age or younger, limiting contact drills and regularly including safe tackling techniques during practice.
I'm proud to say that our conversations on concussions and other issues have led to some positive changes in local programs. For me, it's gratifying to see that LA84's vision and goals are starting to gain traction around the country as youth sports organizations change their practices and new programs emerge pursuing innovative missions in an effort to provide a better experience to young athletes.

And to pave the way for future change, foundations, corporations, education officials and policymakers alike can play a pivotal role: they can choose to invest in sports programs that promote positive youth development and address the various challenges we see in youth sports today. Providing excellent programs that are available to all children will take an investment in time and money, requiring attention from a variety of stakeholders. However, I believe that this investment is critical for our society, and it will pay dividends in the long term as our youth learn to play safe and play fair.
Early next year, the Aspen Institute's Project Play will issue a report outlining goals to improve youth sports and providing recommendations on how to move forward. This will be a valuable guide, and I encourage you to watch for it and read it. But guidelines and reports will never be useful unless the public takes action in response. In order to increase youth sports participation nationwide, we need a diverse chorus of voices in every community to call for increased access to safe, high-quality sports programs for all children. We will need every one of you to join us in making this a reality for our children.
REAL LIFE. REAL NEWS. REAL VOICES.
Help us tell more of the stories that matter from voices that too often remain unheard.