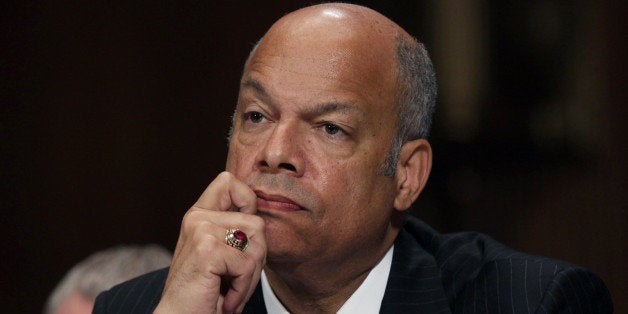 Department of Homeland Security (DHS) Secretary Jeh Johnson testified before Congress last week about his proposed three billion dollar increase to DHS funding for the next fiscal year. Earlier this year, Republican wrangling over the DHS budget temporarily put a spotlight on DHS funding, an issue that has received little scrutiny since the agency's founding in 2003. Yet, media coverage of the DHS funding debate has missed the reason why we need to step back and assess the agency's budget. Notably absent from the conversation is how the massive diversion of resources in the name of "homeland security," threatens the human rights and security of countless individuals, families, and communities across the United States.
In the 12 years of its existence, DHS has fueled the most massive surveillance, policing, prosecution, detention and removal of U.S. residents in history. Below is a snapshot of government's investment in "security" post 9/11:
• The annual budget of DHS has more than tripled since its founding in 2003, today totaling more than $60 billion.
• The U.S. spent nearly $18 billion in 2012 on immigration enforcement, more than all of its other main law enforcement agencies combined.
• The U.S.-Mexico Border is home to the largest police force in the country -- the Border Patrol, whose numbers have doubled since 2005 -- a vast surveillance infrastructure, and a $2.4 billion border wall.
• Congress has mandated a bed quota requiring ICE to hold 34,000 people a day in immigration detention at a cost of $2.2 billion a year.
• DHS has played a key role in helping to arm local and state police, handing out grants worth $41 billion since 2002 -- eight times more than the military equipment given to police by the Department of Defense.
• The U.S. has vastly expanded the federal prosecution and imprisonment of people charged with immigration violations at an unprecedented rate, at a cost of approximately $1.02 billion in 2011.
DHS is like a multi-headed hydra -- the mythical creature that grows two heads each time one is cut off. In its mission to "Keep America Safe," DHS and its champions justify ever-increasing levels of intrusion into many realms of US society by invoking a number of threats, with the emphasis shifting with the political moment. National security is so broadly defined that it has been used to justify funding the detention and deportation the greatest number of immigrants in U.S. history. In the past 10 years, the U.S. had deported more people than in the previous 100 years combined.
Rather than continuing the conversation of tying funding to the further marginalization of immigrants, it is time to acknowledge that DHS and its definition of "security" is the problem.
Under the veil of protecting national and public safety, the massive "homeland security" apparatus is increasingly drawing on the ideologies and practices, such as hyperpolicing and criminalization, of the decades-long War on Crime. DHS was created under George W. Bush to ostensibly "defend against another terrorist incident on U.S. soil," and the Obama Administration has honed in on the "criminal alien" -- a label for people with a wide range of offenses, some convicted decades ago -- as the key threat to public safety. Obama has named "felons, not families" as the priority for the government's mass deportation program and vastly expanded the criminal prosecution and imprisonment of people charged with immigration violations at an unprecedented rate. More than half of federal prosecutions initiated in 2013 were for crossing the border without authorization. By merging the threat of criminality with the War on Terror, the conventional solutions flow logically -- more surveillance, police, militarization, mass imprisonment and deportation.
By evoking increasingly ill-defined threats to national security, DHS has collapsed the boundaries between policing of the borders and of the interior, expanding the surveillance of all and fueling a racialized police state. Under a shroud of secrecy, DHS and other agencies have given billions of dollars in aid to local and state agencies to fund surveillance technologies, such as Closed Circuit TVs that share data with DHS and other federal agencies, and "fusion centers" -- created post 9-11 to facilitate info-sharing between the federal agencies and local and state governments.
The use of military-style equipment against protestors in Ferguson provoked sufficient outrage to force the government to review its policies of supporting the militarization of police, a trend that has been growing since the 1960s with the War on Drugs and given a tremendous boost with the War on Terror. Since 9/11, DHS, the Department of Justice, and the Pentagon, have armed the police with assault rifles, armored trucks, night-vision goggles, and more. Though hard-pressed to identify when this equipment has been used to combat terrorism, after several months of review the government has determined it necessary to continue its police militarization program.
While the financial cost of building and maintaining this "security" apparatus is astronomical, the human cost is even more so. Any accounting must include the massive insecurity to millions of deportees and their loved ones, thousands who have perished crossing the border, and millions whose rights are at stake due to the sprawling police and surveillance state that DHS has helped underwrite. It must also take stock of what we lose by allowing billions of dollars to feed an infrastructure that destroys communities rather than strengthens them.
It is time to invest in policies that uphold our values, protect human rights, and provide true security for our communities.
Special thanks to IDP's Policy & Community Outreach Coordinator, Mizue Aizeki, for her assistance in researching and writing this piece.
Popular in the Community