Nested in the hills of the Hudson Valley, a group of men took the stage to talk about what it means to be a man. The conversation continued throughout the weekend and was the first time men were invited to the annual conference Women and Power.
Carla Goldstein, co-founder of the Women's Leadership Center at Omega Institute, invited speakers like Tony Porter, Prime Minister Kevin Rudd, Carlos Gomez, and Ted Turner to join Diana Nyad, India.Arie, Stephanie Coontz, and Elizabeth Lesser (among others) on the stage for the weekend-long conference that focused on topics such as gender in the workplace, gender identity, gender IQ, and the term feminism. This all happened on the same day Emma Watson took the stage at the United Nations to re-claim the word feminism.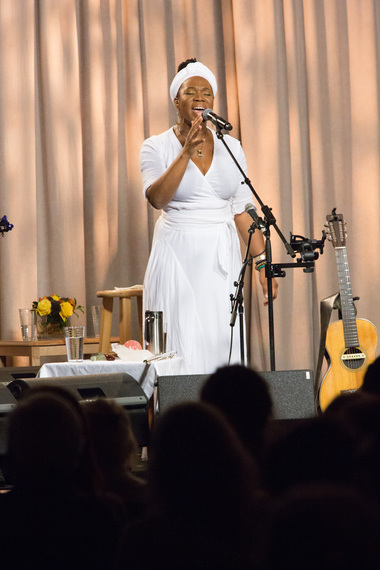 Tony Porter, an educator and scholar on social justice, began the conversation by opening the door into the mind of a man. He asked the audience to question the traditional definitions of what it means to be a man and how patriarchal society has shaped the role women play in the lives of men.
He asked the audience, "What world do we want our daughters and granddaughters to grow up into?"
Spoken word poet, Carlos Gomez, called out toxic masculinity. The mindset where being a man means to compete with other men over who is more manly. Where machismo precipitates violence. The reason many men make a fist instead of shedding a tear.
What if, instead, we teach our boys that to "man up" means to ask each other what does it mean to be a man? To talk about emotions and create a platonic brother-like bond.
Recently, Carlos shared his poetry at Rikers Island Jail Complex in front of a line of incarcerated men. Men serving a sentence for violent crimes once committed.
In the middle of a poem, Carlos shed visible tears. At the end, when the prisoners began their march back to the cell, a line formed to give Carlos a hug and an offering of thanks.
Carlos said on stage at Omega, "I realized then (at Rikers Island) that I gave these male prisoners permission." Permission to snuff out the machismo that slapped the cuffs on their wrists. Permission to be emotional without being violent.
At the end of the night, former Australian Prime Minister Kevin Rudd shared that he believes men crave the deep meaningful relationships that women have had for quite some time and men have not felt comfortable trying to create out of fear of being labeled feminine. When men learn that it's possible to do this and not be perceived by society as unmanly, we can move forward in our conversation with gender. And we can then "man up."
Popular in the Community