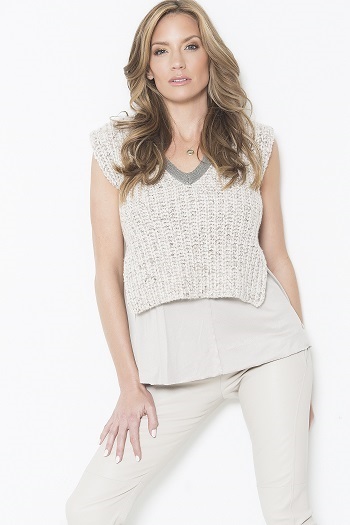 Cary Deuber is on The Real Housewives of Dallas Mondays at 10pm on Bravo.
Cary Deuber's Twitter & Website.
Photo by Peter Svenson.
Okay, this lady Cary Deuber cracks me up. You know how, like, someone is funny and you just can't figure out why you're laughing, yet you are? Exactly.
So, here I am shoving a baby Snickers in my jaw and hoping I don't drool all over my keyboard while looking at this pic of Cary Deuber.
Cary is an avid practitioner of yoga, and spends her downtime meditating. What downtime, Cary? You have a baby daughter, two step-children and three dogs!

You're on the shamelessly addicting Bravo docu-series The Real Housewives of Dallas. Why did you want to join this show?
I'll try anything once in life. The more risks you take the higher the reward. I felt like this show wasn't something on my bucket list but once it was presented to me I couldn't turn it down. It's not like Bravo comes knocking on doors every day!
You're originally from the East Coast! What's the best childhood memory you have from Connecticut?
I loved the fall. The leaves and going to the pumpkin patches to pick out a pumpkin. I miss the four seasons but love the warm weather here in Dallas.
You're a CRNFA certified registered nurse first assistant that has actively led and participated in multiple medical mission trips, focusing on pediatric surgeries in various third world countries. Why did you choose pediatrics? What did you learn from your experience as a nurse?
I love giving back. I feel like helping others is one of the best things you can do for yourself. It teaches you compassion and what life is all about...giving. I work with adults in the states so it is a nice change of pace to work with children. These kids can't eat and are struggling to survive. They have craniofacial congenital anomalies that are fixable with surgery. It is the most amazing feeling being a part of a team that saves and betters their lives.
People PRETEND to find balance in their life. What are your priorities?
My priority is my family and work comes second. Everything I do, I do to benefit them. I also think it is hard as a mother to juggle hubby and kids. Husband comes first! Happy parents are better parents and that trickles down to the kids.
How did you meet your plastic surgeon husband Dr. Mark Deuber? Have you had plastic surgery?
I met Mark when he was a resident at UT Southwestern and I worked at Baylor University Medical Center. I have had plastic surgery. I have breast implants and had liposuction many years ago. I also have Botox and fillers.
What's your favorite cartoon?
Tell us a story about the most horrible airplane flight you took.
While traveling home from our family trip in Switzerland, we got on three different planes to get from New York to Dallas. Our first plane was already delayed because it had hit a bird. Once we got on the flight, there were major mechanical problems and so we had to get off and wait for a new plane. Our second plane arrived and we all piled on, but 10 minutes after taking off, we hit another bird. Our third plane didn't arrive for another hour, so our first estimated time of arrival at 8:30 pm turned into 12:30 am.. All this with the kids in tow!
If you could keep one thing the same forever, what would it be? Why?
My relationship with my husband. He is an amazing man and I love what we have together. External stress can affect relationships and just life! I always worry that we are too good to be true!
How do you handle people who are jealous of you?
I always take the highroad. It does suck up here sometimes but it is always the best way to go. I believe in building people up with positivity. Now, if that doesn't work, I just separate myself from them. Take a step back and tell them farewell!
Anything else you'd like to say?
I'm excited to see what the upcoming year holds. I turn the big 40 this month! My husband and I are building our business together and are going to do a big office remodel project. I'm looking forward to more #BoobsByDeubs and lots of fun family travel.
Calling all HuffPost superfans!
Sign up for membership to become a founding member and help shape HuffPost's next chapter