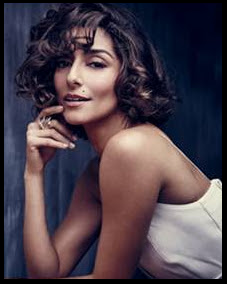 Necar Zadegan plays powerful lawyer "Delia Banai" on Bravo TV's Girlfriend's Guide to Divorce.
Necar Zadegan's Twitter: @zadegan
You know the saying that goes something like "beauty and brains"? Well, it's actually TRUE in the case of actress Necar Zadegan.
I'm also adding funny to this category. Really funny, as in I actually laughed out loud at some of Necar's responses!
I find it fascinating that Necar was Born in Karlsruhe, Germany and raised in San Francisco. Not sure why, but maybe it's because when I was a child, we had a German exchange student...?
You'll recognize Necar from Extant, Masters of Sex, The Fosters ... the list goes on and on!
Necar currently resides in Los Angeles, and devotes her rare free time staying active (swimming, hiking, dancing, Pilates, yoga) with her rescue dogs, English bulldog, Charlie, and Chihuahua named Sylvie. Necar speaks four languages (French, German, Farsi, and English) and also serves as the cultural ambassador for the Levantine Center Organization.
You're now on the second season of Girlfriend's Guide to Divorce. Tell us about your first day back on set. How was craft services? (food)
The first day back was so celebratory. It felt like we had never been gone. We had finally found such a groove by the end of the first season it was like we couldn't wait to get back.
Our craft service? It's great. They are very vegetarian and whole food driven. Everyone on the set always appreciates that kind of mindfulness in cooking because we have long work days so it's important to eat clean. I might appreciate it the most.
Which movie soundtrack is your all-time favorite?
There are a lot of good ones. Pretty in Pink and Above the Rim were my all-time faves for years. Frantic is a really good one too.
What are your best and worst qualities?
You're supposed to say "perfectionism", right? For both, so I'll go with that.
You're well known as "Dalia Hassan" from the eighth season of FOX's 24. What was your reaction when you won the role? Who did you tell first?
I told my dad first; I was thrilled. It was my first series, and it's one of the all-time best.
New York or Calif? Tell the truth.
What's it like working with @LisaEdelstein? Please don't tell me how wonderful it is.
I have to tell you it's wonderful because it IS! She's extremely committed to this show. When we work, she really goes for it, and I love that about her. Without spoiling anything, I'll tell you we get physical in a few scenes during the upcoming episodes. We are truly so comfortable with one another anyways, but she is very accepting of where the scene goes so it's really free and takes you to the point that it's real. You'll see what I mean; keep watching.
Are you tired of people staring at you when you walk down the street?
Haha. That's a funny question. Women are always stared at. It just goes with being this gender so I think we are more accustomed to it already.
Do you prefer lead roles or recurring roles (like on Extant?) Why?
I am interested in roles that are pivotal to the storyline. That can come in different titles.
What's the first thing that comes to mind when I say "watermelon"?
Feta cheese. If you haven't had the combo, you should try it. It's a delightful summer snack.
In Elena Undone, you kiss actress Traci Dinwiddie. Besides being sick that day, what else was going through your mind at that very moment?