Everyone is always going on about how great it is to have a wardrobe of five grey t-shirts and little else. It apparently makes getting dressed and packing a joy, and clears your mind of clutter. While there probably is something to be said for that, I like to collect. Choice is my addiction. But there is one area of life where your bases can be covered with relative ease, and that is in terms of your face.
Obviously I'm still crappy at this, because for each "capsule" category, I have at least three options. But you get the idea. If you like wearing makeup (and if you don't, I fear you may be in the wrong place) then one from each category will probably have you covered (puns are still funny, right?).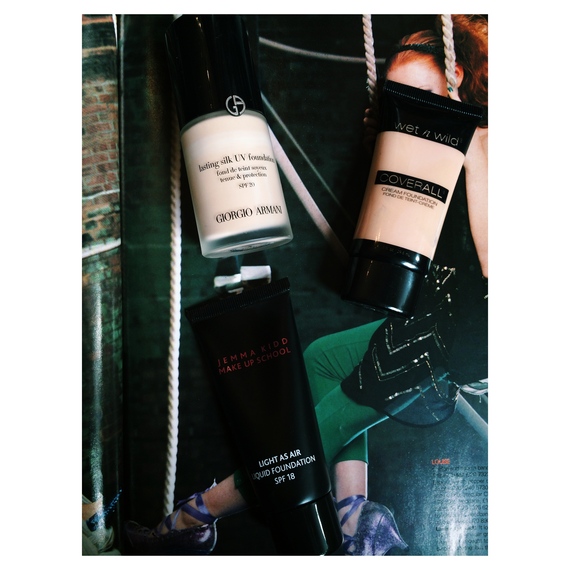 Our first category is the straight-up, good skin stalwart: foundation. These are good for partying, important occasions and for days when you just want to wear a lot of makeup. Even when I'm wearing something "heavy duty," I don't like anything too covering or cakey, and always require a whole bunch of luminosity.
The three here all fit the complicated bill of being both covering and perfecting, but also near-invisible. The Giorgio Armani Lasting Silk is expensive, both in price and texture, disappearing into the skin and leaving behind skin which looks naked, yet perfect. The Wet 'n Wild Coverall is cheap in price (I got mine for $2.33 -- wtf), but feels luxurious and looks comparable to something much more exorbitant.
The Jemma Kidd Light as Air (now discontinued for reasons I can't fathom) feels like nothing, but looks like everything. Good coverage without any feeling of being "covered," and it lasts for 12 hours plus.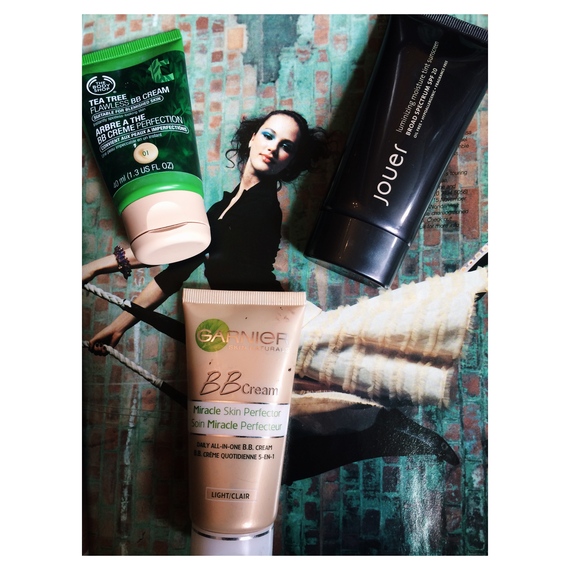 Category two is something light and breezy, adding a hint of good-skinned-ness without looking like you're trying too hard (my biggest fear). The Body Shop Tea Tree BB Cream is my go-to because there is nothing irritating in it to wake the beast that is my acne-prone chin. It can break down weirdly on the face unless it's properly meshed with skin, so I apply it with a duo-fibre brush and spend a few minutes swirling it all over my face -- which isn't an unpleasant experience, I must say.
Also, it only comes in three shades, which strikes me as stupid, although the lightest one suits me fine. The Jouer Luminizing Moisture Tint is great for days when you don't really want coverage, but do want a face which glows like the moon. It is luminous in the extreme, which I love, but others could possibly find too shimmery. The Garnier BB Cream is a good, standard, light coverage base. Slightly glowy, slightly covering, with fair lasting power and great for "waste-of-makeup" occasions.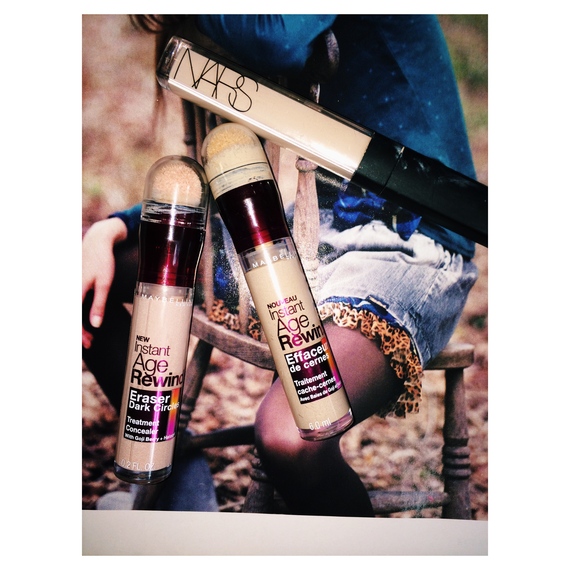 On days where I need coverage in very specific places, but generally want to look nude, just wearing concealer is my exclusive and innovative hot tip -- you heard it here first (definitely not true). The Nars Radiant Creamy Concealer is, quite simply, the best one. When tapped in with fingers it melts into your face, leaving behind undetectable but high coverage that lasts. On the cheap side, these Maybelline Instant Age Rewind Eraser Dark Circles reign supreme. The shade "Llght" provides heavy coverage in an incredibly thin and light formula, while the shade "brightener" both conceals and highlights, so it looks great down the schnoot, on the Cupid's bow and in your inner-eye-corner.
Now onto my preachy message of the day. In a world where perfect skin is constantly beamed into your corneas, from adverts, television and the worst offender of all, the evil internet (just kidding, love you), it's easy to forget what actual skin looks like. While it feels good to have a perfected, evened-out, illuminated face, I think it's really important to not see that face as your "normal" one.
Feeling okay with your skin is a two-pronged battle -- of skincare, and of mental conditioning. Getting your skin to a fair appearance can be done with products -- but you'll never feel great about it if you don't accept blemishes, wrinkles, discoloration and pores as normal and acceptable. Finding a face base you love can make you pretty happy, but feeling good naked brings a deeper and truer happiness. It's ok to be flawed, and you should certainly never feel the need to apologize for it. You're born naked, and the rest is extras.