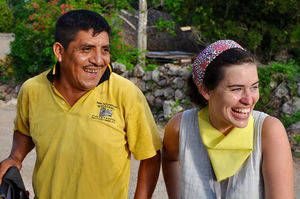 When a compassionate heart is moved to make a difference, it ignites change. Through advocacy, awareness, information, and resources this week's grantees are creating sustainable communities that care about the needs of people. Through daily seed grants The Pollination Project supports grantees who care about, not only the communities in which they live, but communities around the globe. Whether it's peace and social justice, reproductive health, farms and pollinator gardens, inclusion, animals rights and food justice, or creating sanitary conditions for a community center in Mexico -- global compassion is evident.
Congratulations to our most recent grantees:
Linda Pieri and Gerald Waite, Peace Booth, Goshen, Indiana. One of the largest county 4-H fairs in the United States, which disseminates literature from local, national, and international peace and justice organizations.
Vweta Chadwick, ASHA Sheroes Academy, Lagos, Nigeria. A community-based initiative geared towards the education, empowerment and social inclusion of girls, single mothers and disabled young people in Lagos and Calabar.
Holly Chaille, The Herb'n Goat Garden, Indiana. A farm for rescued and special needs horses, goats, dogs, and ducks.
Michael Sullivan and Sarah Lucas, Education Everywhere, Australia. Books stalls at university open days and events, markets and music festivals to educate the public on social justice issues, including animal rights and food justice.
Sinazo Didiza and Lalama Criswell Tsengiwe, Sexual Health Rights and Advocacy Foundation, Mthatha, South Africa. Advocates for access to accurate information, as well as affordable and dignified reproductive health care for adolescent girls and women.
Do you have a project to change the world for the better? We accept grant applications for Pollination Project seed grants, every day of the year. We love learning about new changemakers and all they are doing to spread compassion, peace, environmental sustainability, generosity and justice all over the globe.
REAL LIFE. REAL NEWS. REAL VOICES.
Help us tell more of the stories that matter from voices that too often remain unheard.