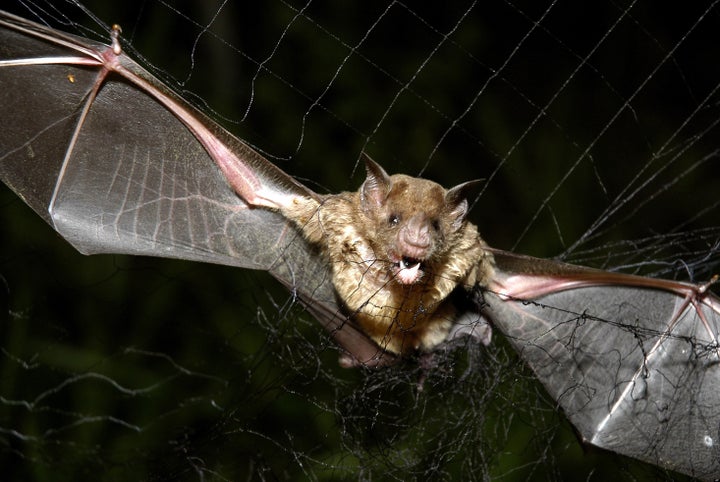 Lately, I have been thinking a lot about vampires. Not those clingy ex-boyfriend kind of emotional vampires that end up stalking you, nor the ritual vampires who host balls and craft fangs (though they are cool, too!) And not even the True Blood or Twilight Saga type of vampires. I have been thinking about straight-up Bela Lugosi style vampires: batwing-caped, pale-faced, handsome men who creep into your room at night and make you one of them. Maybe it is the countdown to Halloween. I've seen candy corn and plastic pumpkins lining the shelves of my local drug store, and I am thrilled. It couldn't come early enough for me! This year is the first Halloween for my tiny son, and it seems that bats are playing a role in shaping my costume-making psyche. Standing in the novelty aisle in the drug store, fingering rubber bats, and wondering where I can get one of those pacifiers that make your kid look like they have fangs, I remembered a headline I had seen earlier this month. Students at Csiky Gergely High School in Arad, Romania (read: TRANSYLVANIA!) were greeted by dozens of bats in the classroom. When the students arrived in the morning to take an exam they found bats -- some flying around the room, some sleeping (sounds like a room of unsupervised high schoolers).
I realized I really need my vampire fix and so spent a couple of recent ultra-late nights watching vampire movies, including the 1931 version of Dracula, which I had to follow up with the 1992 Francis Ford Coppola version. Both have merit but they are not quite equal. While the modern film does have Tom Waits in a cameo role as Renfield, the original stars Bela Lugosi. Lugosi is the end-all, be-all iconic pop-vampire that any good goth girl would willingly and lovingly die for. No one can hold a flickering candle to him.
Of course the morning after my vampire frenzy, I needed to listen to the sweet-freak crooning of Tom Waits. As I sat there listening to song after song, swaying (exhausted) with Baby Ventura to Waits' gravely and gorgeous voice, I fixated on one particular song called Poor Edward.
Maybe being a mom has made me more sympathetic to the plight of every freak, because a rush of concern came to me -- was this Edward real? Did he really suffer so? I had heard the song dozens of times but really hadn't thought about it being a real person. A quick internet search revealed that the song is about a late 19th century man named Edward Mordrake, who was supposedly born with two heads. Unlike other two-headed marvels of his day, Mordrake was never exposed as a charlatan. In fact, he begged doctors to remove the head. Though it demonstrated the remarkable ability to laugh and cry, it remained silent during the day. Mordrake claimed that the head did talk. Only at night. And it told him to do horrid things. Ultimately, he was so tortured by his plight that he offed himself at the young age of 23. You can read more about the story of Edward Mordrake online.
In the carnival of celebrity freakery, some endure and endear. Take the case of Nicolas Cage being a vampire. A Civil War era photo has surfaced on eBay, which looks uncannily like Nicolas Cage. The seller asks the question: Is this Cage, roaming the earth as the Undead or just a lookalike? Truth be told, I kind of hope for the former. I have had a mini-crush on Cage since Raising Arizona. If the rumors are true, consider that crush reignited. Varla likes vampires.
In freakitude, Varla Ventura