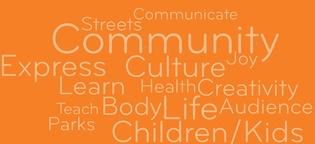 Today I add new learning about the importance of "community" to discussions underway about including a comprehensive cultural plan requirement in the New York City Charter. In doing so, I invite attention both to the role of community in the potential planning process and to community as a vision achievable through cultural planning.
Why "community"? It is the most frequent answer given by participants in NEW YORKERS FOR DANCE, a new initiative featuring statements from residents of all 51 City Council districts on why dance and culture matter to their neighborhoods. I offer a reading of the term that involves both "working directly with people" and "service to the community," lenses that may be of use to the arts and culture and to the art of planning (citing Raymond Williams's Keywords: A Vocabulary of Culture and Society, page 76).
This learning, which coincides with the City Council's latest proposal for a cultural plan, supports the Council's stated interest in "community input" as well as testimony by the Cultural Equity Group and other colleagues who are weighing in. It encourages bringing together and taking seriously multiple and alternative voices in the planning process, from arts and cultural workers to the general public.
If pursued by the City, cultural planning could leverage the momentum toward collaboration and common messaging that is currently observable among advocates, service providers and funders, all willing partners to City leadership. A recent example is the New York City Cultural Agenda Fund, jointly established by the Booth Ferris Foundation, Lambent Foundation, The New York Community Trust, and David Rockefeller Fund to strengthen and support cultural policy and equity.
By highlighting "community" while considering process and outcomes, I mean to suggest that planning could scale up the creative sector's capacity for "working with" and "service to" New Yorkers. I advocate an expansive view on the sector's impacts, sometimes too neatly described in terms of economic development and of art for art's sake.
At the same time, I recognize that addressing the scope of the sector's impacts poses a challenge to cultural planning, which, to be successful, must be feasible, focused and funded. The planning approach must also be flexible, allowing for discovery and iteration over time to manage evolving needs and opportunities.
In seeking tangible outcomes, which are necessary for effective planning, I am encouraged by the work of the Social Impact of the Arts Project, which is already collecting data in New York and has worked locally with Naturally Occurring Cultural Districts, among others. A review of its current literature reveals a set of concepts that can be tested empirically: for example, the ways in which the capabilities of economic well-being and of social connection as fostered by cultural engagement influence social stress, personal health, school effectiveness, and security.
I believe empirical evidence matters and that such testing could support a directive I find particularly compelling in the Council's latest proposal: namely, that City agencies submit "recommendations of how [their] services can incorporate the arts." By linking the arts and culture sector to the interests of other agencies, from public housing to education, a cultural plan could simultaneously expand the pie of resources available to the sector and extend the sector's value to New York.
Finally, I advocate deepening the sector's engagement with underserved communities as one planning outcome, working toward a framework for addressing inequality. Focused and fundable interagency strategy could be helpful, and there are already valuable case studies that could be mined in a planning process. For instance, Seniors Partnering with Artists Citywide is a collaboration of the Departments of Cultural Affairs and Aging. Recently, the service entity Dance/NYC has received invaluable support from the Mayor's Office for People with Disabilities in planning Disability and NYC Dance, a forthcoming initiative to increase inclusion and access to the art form for disabled people.
I thank our Council members Jimmy Van Bramer and Stephen Levin for introducing the cultural planning effort and the Council for inviting New Yorkers in. I am offering only one inclusive perspective on community, and I look forward to other meanings that further discussion and cultural planning, if pursued, may open up.
A version of this entry was presented as testimony to the New York City Council Committee on Cultural Affairs, Libraries, and International Intergroup Relations on September 29, 2014.
Calling all HuffPost superfans!
Sign up for membership to become a founding member and help shape HuffPost's next chapter