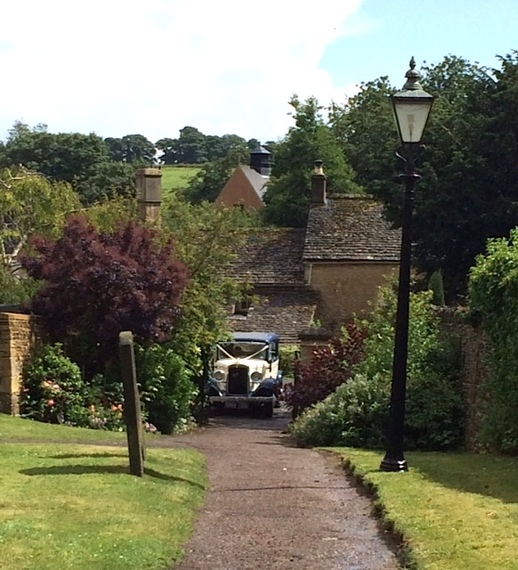 As is the case with many villages in England's Cotswolds area, the epicenter of the wool trade town of Northleach is the old market place -- which is dotted with small neighborhood eateries and watering holes like The Red Lion and the Black Hat Cafe. Beyond the square, lies a sleepy, close-knit community of private residences -- quaint homesteads, dating back to the 15th and 16th centuries, whose names are emblazoned on placards: Yew Tree Cottage, Old Manor Cottage, Providence Cottage, March Cottage, and Laurel Cottage.
Were it not for a relatively recent (2011) stylish revamp of the The Wheatsheaf -- a traditional 14-room 17th century coaching inn just steps away from the square -- I would not have had the impetus to visit this quiet and largely residential berg. The townspeople I happen upon on my amble around Northleach reveal different degrees of curiosity about yours truly -- and the pub-cum-boutique-property.
Some lament that the inn, apparently co-owned by one of the heads of British clothing company Superdry, has attracted too many cars packed with trendy London tourists (they like it nice and quiet around these parts). Others, like a shopkeeper at Keith Harding's World of Mechanical Music delight in the tasty seasonal British gastropub fare on offer at The Wheatsheaf's laid-back and unpretentious restaurant, overseen by executive chef Antony Ely.
I can personally attest to the latter, having enjoyed refreshingly healthy roast carrot, orange, avocado and cumin salad there myself, followed by roast hake with potatoes, leeks, tomatoes and creamed samphire. As an American in Britain, I have come to appreciate such foraged culinary accents as samphire which is found in coastal and riverside regions, the most prominent in the vicinity being on the banks of the River Severn.
Such natural wonders are de rigueur for visitors to the Southern English countryside. Accordingly, friends of mine familiar with The Cotswolds and Northleach, suggested I rent a car for convenience. However, after seeing the petite and walkable town center, I am relieved to have taken the train from London's Paddington Station to nearby Kemble station (altogether avoiding left-hand driving).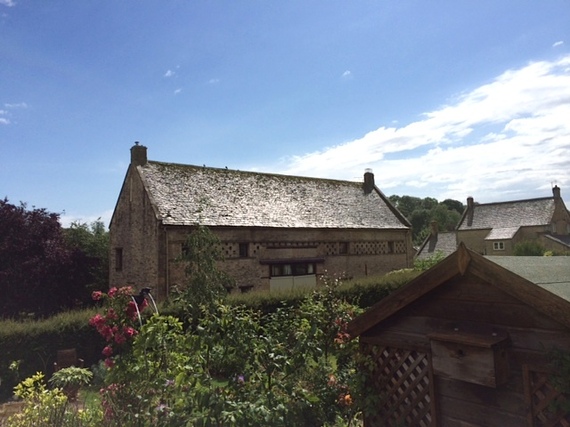 From my ornately wallpapered terrace-side suite at The Wheatsheaf Inn, with its en-suite claw foot tub, I'm just a three minute walk from one of the town's main landmarks, the museum pertaining to the aforementioned World of Mechanical Music shop --replete with festively decorated music boxes and toys akin to player pianos. For £8 visitors can do a bit more than loiter around such adorable music-makers and actually follow a guided tour of the premises, which features a Victorian music room, a '30s gramophone and a '20s Berlin cafe piano. And if one wishes to continuing exploring Northleach in the same quirky-cute vein, the The Dolls House shop is just across the tiny road. Its window display of toy model homes begs comparison with its real world counterparts.
The Northleachers occupying the village's real life homes are a friendly sort. I get to chatting with them, thanks to catalyst (pun intended) and neighborhood feline Norman. The coal grey cat wanders around town nuzzling up to locals and curious interlopers like myself, reminding us all of the berg's history, with his apropos name. Northleach -- and other English towns like it -- came to be in the centuries following the Norman invasion of 1066. And, a retired couple who live just off the main square are eager to tell me that their beloved town is also historically known for the Old Prison, built in the late 18th century, which served as the model for Pentonville Prison in London.
But it's not all coppers and capers in this intimate community. As church bells chime in the distance I'm drawn to the Church of St. Peter and St. Paul -- a stunning pre-13th century house of worship dubbed "The Cathedral of The Cotswolds" -- where a wedding ceremony is letting out.
I ultimately meet Vicar David, a friendly chap who invites me to Sunday communion, which will take place the following morning. All the happy guests spill out onto the verdant church grounds, ultimately heading back to The Wheatsheaf where they'll celebrate the union with perfectly blended libations on the lovely back terrace adjacent to my ground floor suite.
The inn is no stranger to such festivities; it's equipped with a trio of dining rooms for private hire, one of which boasts a stately long wooden table and equally substantial gold-framed Victorian portraits which hang over it as if to stand sentinel over guests. They also arrange so-called 'feast menus' for large parties of 15 or more (think whole suckling pig and hamhock galore).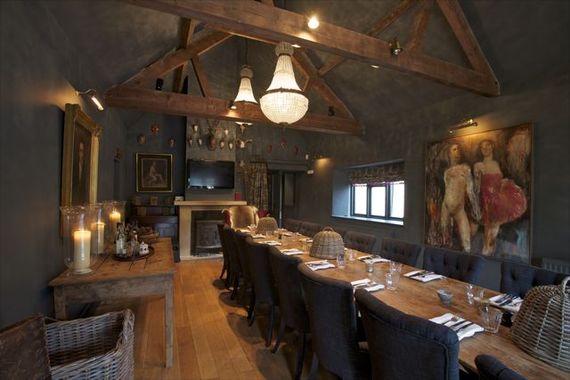 As a non-wedding guest, I camp out on a shabby-chic couch in their cozy nook area, downing my perfectly frothy egg white-based cocktail, a Pisco Sour. Beautifully unique infusions glike the local Cotswold Daiquiri and the gin-based Blighty also grace the menu. A grown-up dessert, the Espresso Martini just about does me in. Winos can indulge in 400 vintages at the inn or take a five minute walk to the Ox House Wine Company for a sociable wine tasting.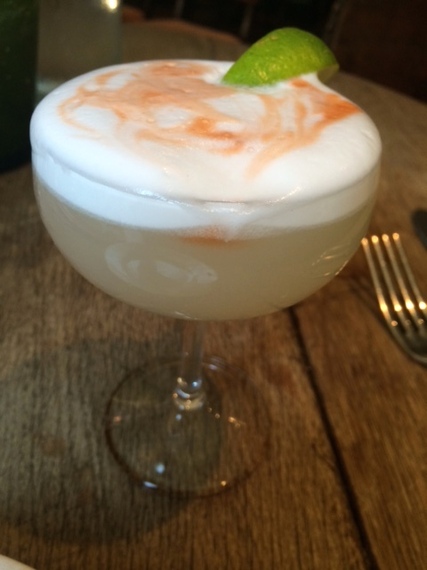 As I've made some new friends during my short stay in Northleach (apart from the ever-frisky Norman the cat), I'm sure to be back in this little Cotswolds oasis sooner than later. I'll have unfortunately missed the Northleach Steam and Vintage Show and Ale Festival in the first week of September but there are always other excuses to return.
One of The Wheatsheaf's staff members and a townsperson I met on one of my walkabouts lure me back with mention of the inn's Farmer's Feast on September 20th. For £35 a head (partly contributed to the Duchenne Children's Trust) we'll get a rustic lunch and a dinner featuring live music. Surely such a gourmand shindig will be enough to rouse even the most private and composed of Northleach locals.