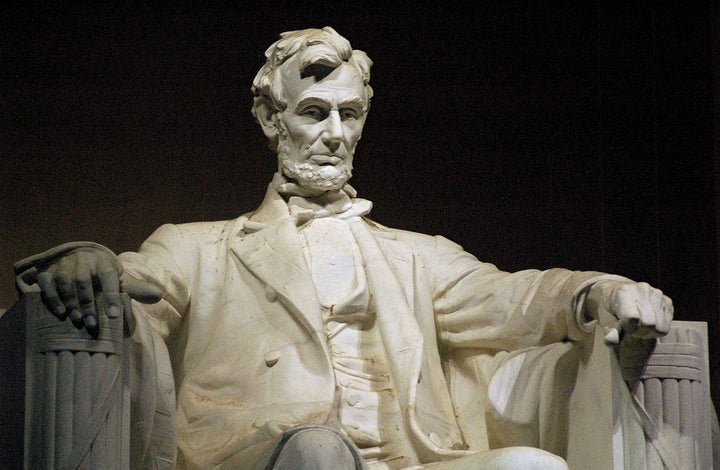 America's political life isn't polarizing. It's flying apart. Both Donald Trump and Bernie Sanders joined their respective parties out of necessity rather than desire. Each party rejected them in various ways. Our 2016 Electoral College map appears as a centrifuge, blue in the Northeast and West Coast, with a lone blue state in the center, Illinois, my family's home since 1811. Red everywhere else.
But some of us are Purple. Some of us are Centrists, whether we know it or not. More of us should own that and be proud of it. It's not a party, and perhaps it never should be. But it could be a movement. A movement of open-minded people who work hard to decipher what's really going on, who truly fact check, but who also don't dismiss a perspective or source simply because it is from one side or the other. They might have a point, and even if we believe it to be thoughtless or dangerous, to be effective we must seek to understand. Especially if it's dangerous.
I'm a centrist. I've voted Republican and Democrat in a variety of elections. I actively supported Hillary Clinton. I also voted for a range of Republicans for state and local elections, and even some Greens for local environmentally-related offices. But never imagine I'm weak in my positions, failing to take a stand. It is far easier to stand with millions under the comfortable tent of an established party. Toe the party line across the board even when you harbor differences with specific positions, and they'll always have your back. Dissent on too many points and you're at risk. It takes courage and commitment to stand between and reach in both directions.
It takes courage and commitment to stand between and reach in both directions.
We have normalized simply blaming those with whom we disagree for all failures in our society. Our economic malaise is all Obama's fault. Our economic malaise is all Bush's fault. This is simple-minded and bound to end badly, but it has become a drug for motivating partisans. Thoughtful people of all persuasions must do better.
Being Centrist isn't just about being 'inclusive' or avoiding conflict. It's about finding what we believe is right, and discovering how to make it happen. It might feel nice to espouse views we love, but if we can't enact them they're just dreams. Playing the Centrist is about taking a broader view, thus discovering what might be effective to advance within our pluralistic system. Anyone who more deeply understands other perspectives over the long run will be better at achieving objectives than those who fail to do so. Hillary Clinton honorably reflected during her concession speech that her and her party's failure to understand enough of their traditionally core voters contributed to her campaign's failure. Regardless of your political persuasions, her thoughtful and beautiful words deserve your respect.
And we should also respect Donald Trump's acceptance speech. Sure, it's easy to be magnanimous when one wins. But let's be fair, while Donald Trump can be a bad loser, he is also a great winner. His meeting with Barack Obama showed two men doing what's right to protect our American system of governance. We should applaud both men. Of course, this is only a modest light on our opaque path to come.
It might feel nice to espouse views we love, but if we can't enact them they're just dreams.
Centrifugal forces recently manifested in the rise of the alt-right as well as a powerful movement in favor of Bernie Sanders, stressing our political spectrum further outward. Anyone seeking thoughtful leadership from the Center has felt without acceptable options. While not a Centrist, Hillary Clinton was the closest we had during this election (evidenced by her reputation with U.S. Senate colleagues), but her flaws, perceived and real, limited her appeal to many voters. John Kasich is a good man with enormous experience and a willingness to reach across the aisle. Our angry and atomized electorate wasn't interested.
Of our two dominant parties— which have both changed markedly over time— we should never imagine we have a simple choice between right and wrong. This election has at times challenged this deeply held belief of mine, but by vilifying either side, nefarious forces gain power in opposition. I know many rational, smart, respectful people who supported Donald Trump. We might vehemently disagree, but these are precisely the people with whom we must engage through a perilous future. We must recognize that there are thoughtful people across the political spectrum. We must actively seek them and engage in dialogue, rise above, below and around our social media-enforced echo chambers. America used to be about compromise, and we've lost that. It's one of the most treacherous forces at work today.
Progressives fail if too many feel left behind. Conservatives fail if too few cherish what is being conserved.
Those seeking the long-term health of our Republic recognize that no one perspective can dominate for very long, except in a tyranny. Progressives fail if too many feel left behind. Conservatives fail if too few cherish what is being conserved. America simultaneously reached both conditions during this year's election. Dictating, even based on science and rigorous research or honestly-held social or religious beliefs, what is best for a vast, diverse population has resulted in resentment, alienation and backlash. This was recognized by our Founders and enshrined in our federated structure.
Consider trade. Economics is clear that free trade is overwhelmingly positive for our long-term prosperity. Tell that to parents who have lost their jobs due to global competition, perhaps to a factory in China, perhaps to robots. Either way, it can be absolutely terrifying. Explaining, even proving, that our economy benefits from competition does little to offer options for families under threat. Similarly, imposing social policy based primarily on religious beliefs not held by large swaths of our population or failing to respect the very real pain of some of our minority populations exerts a similar effect.
Those seeking to avoid strife― even civil war or tyranny— must reflect on the extent to which their actions push other Americans further away. Without question, the most radical Trump supporters (e.g.—KKK) should be isolated and at times sanctioned, but wholesale rejection of Trump supporters by the Left only serves nefarious interests. We must not enable small, vile groups to succeed by driving more clear-headed Americans from civility.
We must not enable small, vile groups to succeed by driving clear-headed Americans from civility.
We must all clear our heads and focus on the future. Seek practical, actionable steps we can take to navigate through wide disagreement, recognizing that most Americans believe they want what's best for America. Such solutions are less likely to come from a far right or far left perspective.
At our collective peril, our three coasts move further from the rest of our vast country. The United States prevailed in World War II largely due to our blessed geographic location and our immense, united productive capabilities. Americans committed, stunningly out-produced and defeated tyranny. Ancient Greece did the same when facing the Persian Empire, then descended into internecine warfare, falling to tyranny and eventually conquest.
We must resist the desire to divide. As good as a "Calexit" or an earthquake ejecting California to the ocean's floor (both notions are circulating) might sound to people with ever less trust of their fellow Americans, division will also mean a less capable, less powerful nation at a time when America needs a strong America more than ever.
Have we lost our sense of America being special? It is easy to argue against the notion of American Exceptionalism. But it is also a traditional American belief that drives us to rise above, to seek what's right even if it is not easy and to become, as our Founders envisioned, a "City on a Hill." I admit: I believe. While many in the world might resent the notion of American Exceptionalism― and it very well might be a convenient myth― many in our world also aspire to this notion and seek comfort that, perhaps, America will be there again when the world needs her.
America needs a vibrant Center. And you don't have to be a Centrist to benefit from the approach.
America needs a vibrant Center. And you don't have to be a Centrist to benefit from the approach. People― Republicans, Democrats or otherwise― who truly consider the perspectives of a wide range of Americans. People who make the significant effort to first understand others before speaking and acting. Citizens who don't simply default to a particular party's positions. Citizens who see the transcendent meaning of nurturing and defending a healthy, strong polity for the generations.
Certainly, the center is not always the answer. Navigating through World War II from the center would not have been a solution for the United States, or for the world. Many in Europe and Japan who tried to 'keep their heads down' ended in disaster. We must remain vigilant. But most of the time most people hold views based on some combination of biases, facts and facts modified by biases (i.e.— convenient lies). If we start from the assumption that most people hold their views based on at least a kernel of insight, we'll be more likely to achieve our own objectives, and we'll certainly be better at being together. Per Abraham Lincoln's poignant admonition, "A house divided against itself cannot stand." A stronger Center could be what helps keeps a diverse, rapidly changing America standing.
Calling all HuffPost superfans!
Sign up for membership to become a founding member and help shape HuffPost's next chapter