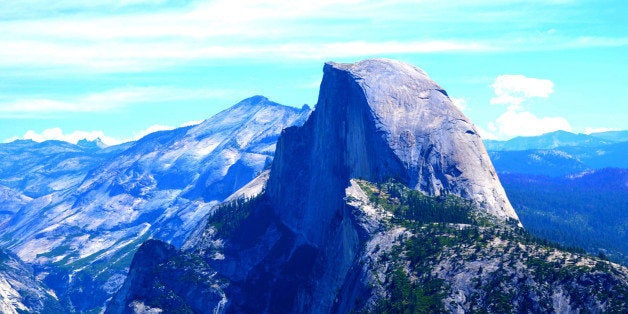 One hundred years ago, an idea was formed to protect America's most beautiful and significant settings from the threatening effects of time, development and misuse. Today, thanks to a century of conservation and preservation efforts undertaken by the National Park Service, national treasures across this country remain unspoiled. Our modern mission must maintain and grow those efforts so that our national parks endure to benefit future generations.
Spanning more than 400 areas in all 50 states -- from Carlsbad Caverns National Park and the recently designated Valles Caldera National Preserve in New Mexico to Lowell National Historical Park and the Cape Cod National Seashore in Massachusetts -- our national park system has lived up to its longtime label of "America's greatest idea."
On August 25, 2016, this idea will have been a reality for 100 years: a dream set in motion by legendary environmental advocates like John Muir, President Teddy Roosevelt, and the first National Park Service Director Stephen Mather.
While the National Park Centennial is a time to celebrate the park system's cherished legacy, it also provides America with an opportunity to recommit to the novel notion that some places are worth keeping just the way they are. It is a concept that was important to Americans a century ago, and that desire has not waned.
In 2015, the national park system welcomed a record-breaking 300 million visitors. The Find Your Park initiative has helped give voice to visitors' experiences through social media and other mediums, all while encouraging others to discover these extraordinary venues. President Obama's Every Kid in a Park program provided fourth graders and their families with free annual passes to national parks, helping spur interest in the newest generation of explorers and conservationists.
A study released in July 2016 by the National Park Foundation found that 95 percent of the American public thinks protecting national parks for future generations is important and 80 percent are willing to pay higher federal taxes to ensure the protection and preservation of the National Park System.
Our national parks and their future well-being are clearly important priorities for American families -- and rightfully so. The cultural, natural and historical significance of national parks, monuments, and public lands is indisputable. After each trip, visitors return home with a more intimate connection to nature and our nation.
But national parks also have an important community impact.
The numbers demonstrate that national parks are not just an investment in the preservation of our country's history. They are also an ongoing investment in America's communities. A recent economic study conducted by the National Park Service showed every federal dollar invested in our parks leads to 10 dollars in economic activity, supporting nearby restaurants, hotels, local outfitters, guides, and more. Nationally, the parks generate $27 billion dollars in economic activity and support 250,000 private sector jobs.
To maintain and grow these benefits, Congress has a role to play. The Democratic version of the National Park Service Centennial Act would generate millions in revenue and allocate an appropriate level of funding to the National Park Service so that they have predictable resources in the coming years to address a burgeoning backlog of maintenance and aging infrastructure projects that swelled after years of shrinking budgets.
This month, the National Park Service celebrates its 100th birthday, with celebrations and free entry to stunning vistas atop mountains, on battlefields, in hot springs, and among ancient ruins. The Centennial celebration is a chance for Americans to not only experience these extraordinary pieces of our shared national heritage, but to prove they must be preserved in perpetuity.
Our national parks belong to all Americans, and for more than a century, they have helped tell the story of who we are as a people and as a country. We have a responsibility to protect the places and traditions that define us, so that the story will still be told another hundred years from now.
Niki Tsongas is the U.S. Representative from the Massachusetts Third District and the Ranking Member of the House Natural Resources Subcommittee on Federal Lands; U.S. Senator Martin Heinrich represents New Mexico and is the Ranking Member of the Senate Natural Resources Subcommittee on National Parks.
REAL LIFE. REAL NEWS. REAL VOICES.
Help us tell more of the stories that matter from voices that too often remain unheard.